The nominations for awards are stacking up for author Kerry Drewery: A BRIGHTER FEAR was shortlisted for the Leeds Book Awards, whilst A DREAM OF LIGHTS was Carnegie nominated, awarded Highly Commended at the NETeen Book Awards and shortlisted for the Hampshire Independent Schools Book Award. Kerry is also a Patron of Reading.
Here's Kerry reading from her work at a recent appearance at Waterstones Lincoln: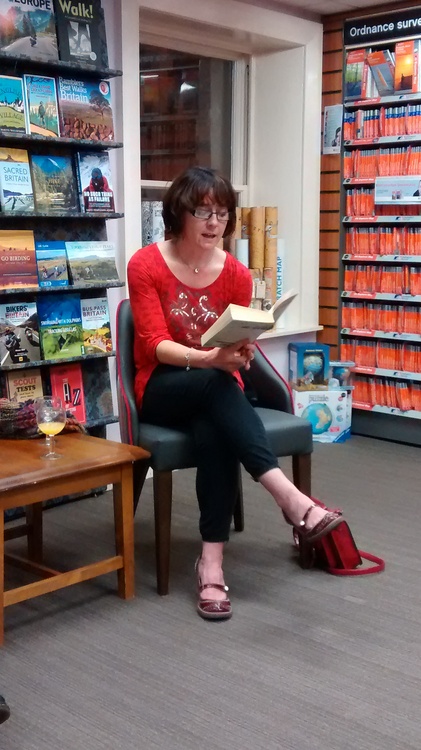 But I knew her way back when she was a student of writing, doing her BA in Professional Writing. We met as I was her tutor for Prose Fiction – we kept in touch and once I left the college we soon became friends and have been good mates ever since.
I remember one of the first homework tasks I set for Kerry's group was to create a new cartoon character and produce a basic script for a cartoon strip. Kerry came back with a tiny dragon who lived on the kitchen tap.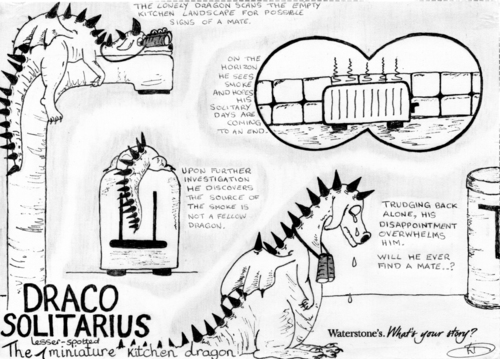 It was so imaginative and touching. I knew immediately that this was the product of a very interesting mind and as she produced more work, I could see that her writing skills absolutely matched that talent. 
I've asked Kerry some questions about her early writing and how it has influenced the rest of her career so far. 
What were your earliest full-length pieces of writing about? Do they have themes in common? 
My first full-length piece of writing was entitled 'On Mansgate Hill' and was about a teenage boy who started seeing 'apparitions'.  I actually struggle to remember too many of the details now (it was probably about 13 years ago I finished it), but I do remember the boy's mother had gone missing, the apparition things were helping him and it culminated in him nearly throwing himself off a cliff.  
My second was one I worked on while studying for a degree in professional writing which is called 'Office of Imaginary Friends' or OIF.  The basic idea was that it was a support agency sending out Imaginary Friends to children and adults in need.
Looking at it now, both have absent mothers.  A Brighter Fear also has an absent mother, and A Dream of Lights has a mother who is missing for most of the novel.  My own mother left when I was 11, so even though I'm reluctant to admit how my own life affects my work, I think it's pretty clear that it has.  
My novels also seem to have strong male family members such as the father in ABF and the grandfather in DoL, which I suppose could be attributed to my feelings for my own dad – a strong man who is always there for his family.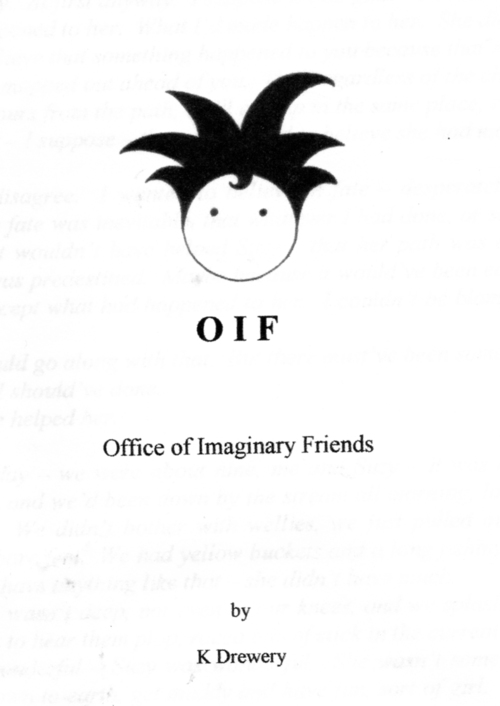 When you look back at your early work, do you see glimmerings of the writer you are now and if so, what elements were always there?
Hmmm…looking back at early work always makes me cringe a little!  I'd like to think that even in my early work I could get the emotion across to the reader and the relationships between the characters.  I like writing those small moments between two characters where every word and movement is so important and where readers almost feel like they're spying.  I think that was there then, but I've improved at getting over what I see happening in my head, to what I manage to portray to the reader.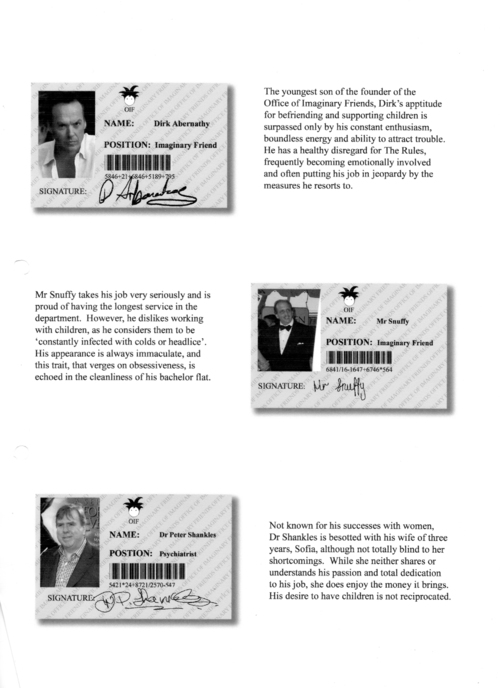 I read the Office of Imaginary Friends, the novel you wrote before A Brighter Fear and loved it. Can you tell us a little about this novel and how you came up with the ideas for it?
It was originally for a script-writing assignment for an on-going drama series.  I wanted something that had the ability to bring in new characters or scenarios each week, but have a core of main characters too.  Up to then, I'd always been drawn to things with a fantasy element, or 'magical realism' and pretty quickly the idea of having an Office that sent out Imaginary Friends to children and adults in need developed.
At the end of the assignment, I'd fallen in love with the idea and decided to turn it into prose for my final major project.  I did an awful lot of planning and background work for it, creating a whole system for how the Imaginary Friends travelled between worlds, Case Sheets for the clients, family histories for my main characters…
My main character was Imaginary Friend, Dirk Abernathy, who was the son of the Founder of the Office.  He was assigned to a young girl called Ella, whose parents had recently separated, but he was a bit of a 'wild card', going against the rules for what he thought was best.  While Ella was struggling with a new life and abusive step-father, Dirk was fighting his older brother who wanted to take charge of the Office and turn it into a business.  As Dirk helps Ella with her troubles, so she helps him with his too.
I really enjoyed writing it and found I had Dirk following me round all the time!  Maybe I'll revisit it some day.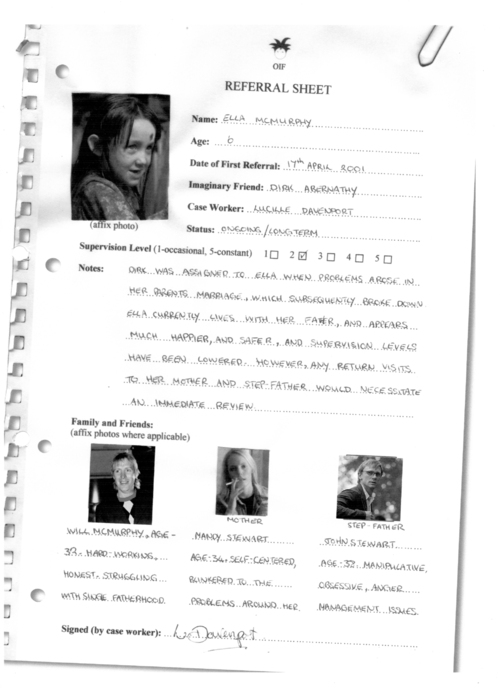 There was quite a change of subject matter between this early novel and the two that followed it; A Brighter Fear & A Dream of Lights deal with serious, real-world issues set in very specific places and times. They illuminate parts of history that might have been overlooked by modern teen readers. Where did the catalyst come from to begin A Brighter Fear? Were you aware you were perhaps moving in a different direction? Or do you see distinct connections between your early work and your published novels?
A Brighter Fear started off quite differently to what it became.  I'd followed the intricacies of the invasion of Iraq in 2003 very closely, trying to get to grips with my own feelings on it.  Part of me could see the need to rid the country of a dictator, someone who'd committed crimes against humanity, the other part of me didn't buy the reason we were given – the weapons of mass destruction argument – and frankly, the thought that we were being taken to war scared me.  
As I was finishing my degree in 2007 and starting to think of the next novel (OIF was then doing the rounds of agents), I thought how much I'd like to do something exploring the relationship between the UK, the US and Iraq.  But still with my head pretty much in a 'magical realism' mode the thought of doing it as 'people' wasn't even a consideration at that point.  Instead I had this mad idea of doing it allegorically – there would be this massive toy store with loads of different floors, (the store would be the world and the floors the different countries), and one toy department would infiltrate a different one….you get the idea.
I don't think I got very far into the 'thinking' stage before I decided it was un-do-able!  I still felt the pull of doing something looking at the relationship between the three countries though, but I was really cautious about taking the leap to writing about a factual situation because I didn't think I could do it.  I struggled with the confidence to believe I could adequately write something set in a country I knew so little about – that was the sticking point – BUT I wanted to do it.  I wanted to understand the situation and the people and find out what they thought of the invasion of their country and how they coped with it.
How I got over that, I think, was to research like my life depended on it! I was so wary of getting it wrong or not doing justice to the people who were suffering (from all sides).  
My first intention of exploring the relationships of the countries got lost somewhere along the way, and so it should have.  A story after all is about people.  The fact that the soldier was American, was purely because it was American soldiers in Baghdad (not British) and I wanted to set it in Baghdad.  How it became what it became was more a sliding process rather than an intentional step.  I hope that makes sense!
Is there a connection between this and my earlier work?  In that it has family at its core, yes, but that's maybe a little tenuous.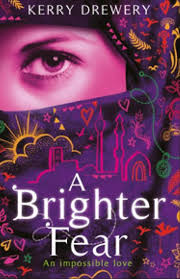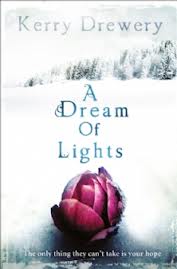 Can you share with us something about what you're working on now, perhaps just the genre or time setting?
Errr…I'm ridiculously superstitious about sharing work.  I worry about jinxing it – if I talk about it, then it'll never happen, but I'll share that it's set in two times and is a bit spooky…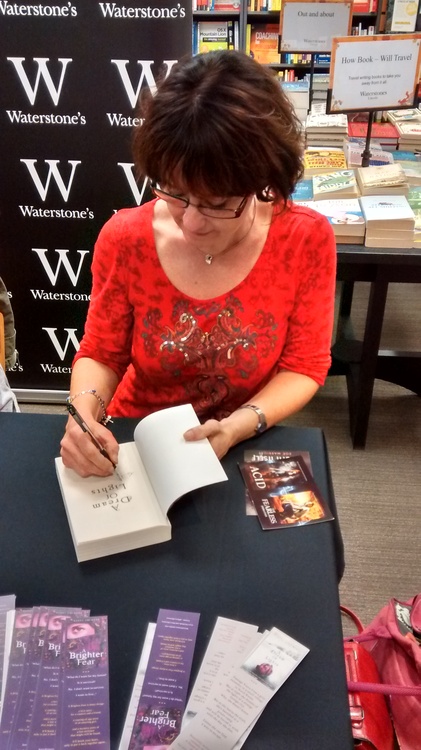 Kerry signing books at Waterstones.
Are there different genres, audiences or areas of writing different from your first published novels that you think you might try in the future?
As both my published novels have cross-over appeal, I'd really love to write for adults as well as the YA market.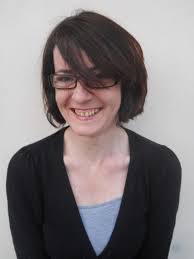 Check out Kerry at these social media sites:
and look at her novels here, as well as all good bookshops & online book retailers:
Thanks so much to Kerry for such interesting and thoughtful responses. Hopefully we've given a little insight into the evolution of a writer. I for one would love to see both the Office of Imaginary Friends and the warring toy shop idea come to life!! I'm fascinated to see how Kerry evolves in the next part of her writing career…