It's completely ace this morning to welcome a writer for young people to the blog, the delightful Lu Hersey, with her beautiful debut book DEEP WATER.
Here's the blurb:
When her mum vanishes, Danni moves to a tiny Cornish fishing village with Dad – where the locals treat her like a monster. As the village's dark, disturbing past bubbles to the surface, Danni discovers that she's not who – or what – she thought she was. And the only way to save her family from a bitter curse is to embrace her incredible new gift.
As often with writing for young people, ignore the designation and just read the darn book – some of my favourite books out there are aimed at young people and this one is no exception – I enjoyed it immensely! It had a gorgeous mixture of folklore and reality, so that the characters felt completely grounded in today's world and yet the mythological elements slipped in easily, making the change between worlds seamless and all the more magical. I loved the Cornish setting (my favourite place on earth – see my interviews with Fern Britton here and Sarah Vaughan here for more Cornish worship!) and I have a weakness for anything related to the legends of the sea (see my 2nd novel, Song of the Sea Maid!)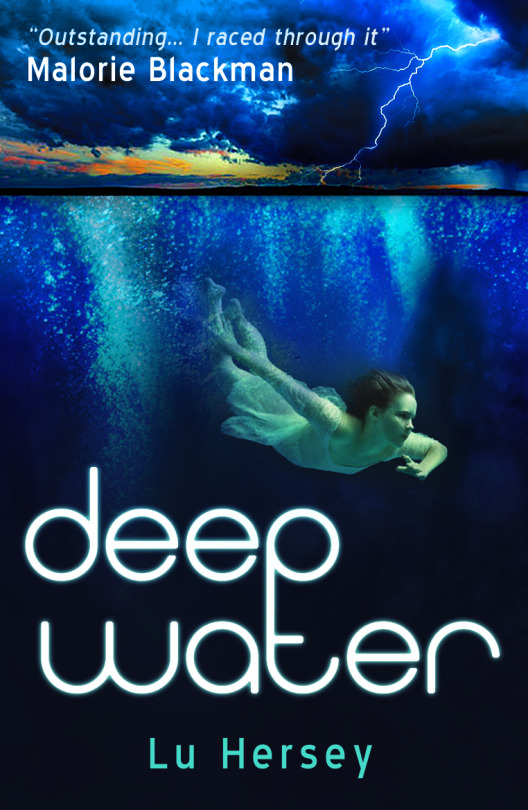 [1] I loved your
representation of the 'old ways' and the Cornish fishing folklore, such as the
knotted canvas, the wind sellers, weather charms, poppet makers and sea people.
Where did your interest in this begin and what do you love about it?
My grandmother lived with us when I was a child, and she was
an endless source of stories and superstitions, which I found fascinating – especially
as my parents dismissed practically everything she said, so we only talked
about such things when they weren't around.
Her purse was filled with lucky charms, and her knowledge of flowers and
herbal remedies was amazing. I wish I'd known at the time just how valuable
that knowledge was – but sadly only realised how much more I could have learnt
from her when it was too late.
I still have some of her charms hanging on a chain by my
writing desk. A tiny horseshoe, a lucky Cornish piskie, and a little brass
kettle (can't remember why the kettle was lucky, but it lived in her purse).
I've collected some of my own too. In fact my purse often holds more holey stones
than money. (Holey stones – or hag stones – are considered lucky, and are often
used as protection charms in buildings. Apparently you can see faeries through
them too if there are any about, though they generally seem to be hiding when I
look…*interrupts – there's a stone like that in the Coraline movie too*)
Anyway, a love of charms and superstitions led to an
interest in magic, country traditions and folklore – the stories and myths told
by ordinary people, often just to make sense of things around them that seemed
inexplicable at the time.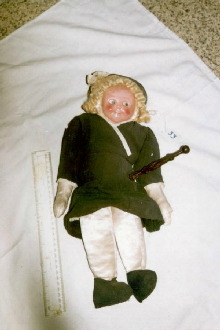 A poppet
In Cornwall, so many livelihoods depended on fishing, you
can imagine how important weather charms could be. And horrible as they are,
curses like the poppets in Deep Water have been around since at least Roman
times – they're a way of focussing negative energy with the intention of doing
harm. The idea of 'nailing' (which Elliot and Levi do to Aunty Bea in the book)
is a way of counteracting the curses, and preventing them reaching their target.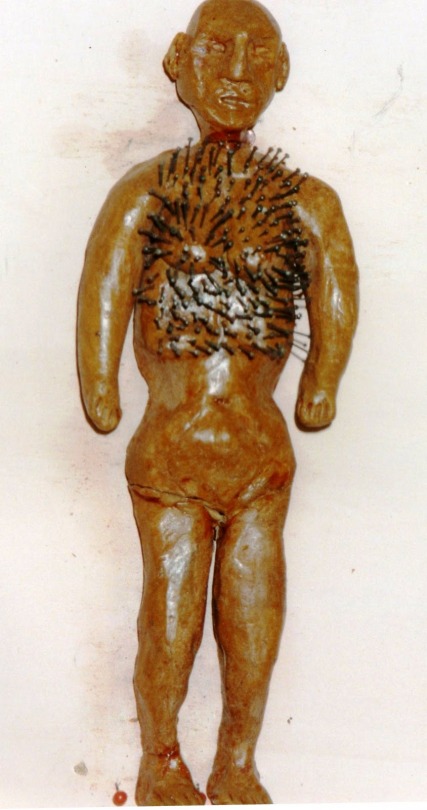 Scary stuff…
[2] Tell us about your fascination for the
sea.
We always lived close to the sea when I was a child. I loved
collecting shells and stones and bits of seaglass (or diamonds and emeralds as
my grandmother called them) on the beach, learnt to swim when very young, and spent
as much time as I could in the water, despite a terror of the deep. (I still
find encountering anything bigger than a mackerel underwater quite unnerving,
despite being a total Blue Planet geek!) *Me too! I feel exactly that way about the sea – in love with it yet spooked out by it.* As an adult, I find myself drawn to
coastlines, clifftops and beaches, as they are places filled with such
possibilities – a kind of divide between worlds. It's also why we find seals so
magical – as creatures able to inhabit both. *I was exactly the same as a child. On beach holidays I'd go straight to the sea and stay in there all day, only returning for sandwiches*.
For years I had recurring nightmares about drowning, or encountering
giant fish in deep water (probably very Freudian) and writing the book was a
way of exploring this. A clairvoyant once told me that I drowned in a previous lifetime.
If it's true, it would explain a lot… 🙂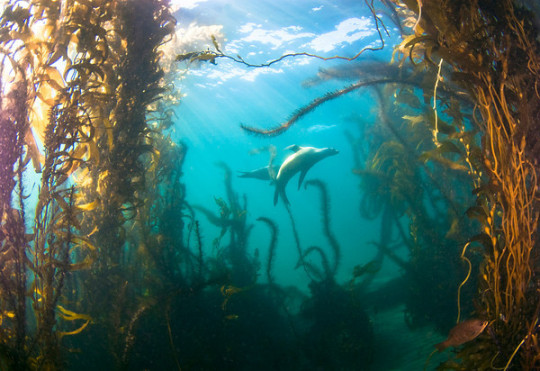 Somewhere both Lu and I would love to go (& yet would simultaneously be terrified). 
[3] The novel is set
in Cornwall – what does Cornwall mean to you? You're the 3rd writer
I've interviewed recently who loves Cornwall! (Also see Fern Britton &
Sarah Vaughan) So, I'll ask you what I asked them: name your top 3 places in
Cornwall to visit.
We lived in Plymouth for much of my childhood, so Cornwall was
just across the Tamar Bridge and we went there all the time for daytrips,
weekends and summer holidays, and I grew to love it. When I had kids of my own,
I took them on holiday there every year – and we still go now they've grown up.
Top three places to visit? Difficult! But I'll go with:
a) Men-an-tol and the area around it (full of standing
stones, stone circles and old tin mines) *Me too! Me too! I have a photo I took of Men-an-tol 20 years ago in my bathroom right now!*
b) Rocky Valley (between Boscastle and Tintagel) where the
river runs down to the sea from St Nectan's Glen and there are a couple of (supposedly
Bronze Age) Troy Town labyrinths carved into the rock. Troy town labyrinths are
allegedly maps of how the original Troy was built, and became a popular design
for hedge, or turf, mazes.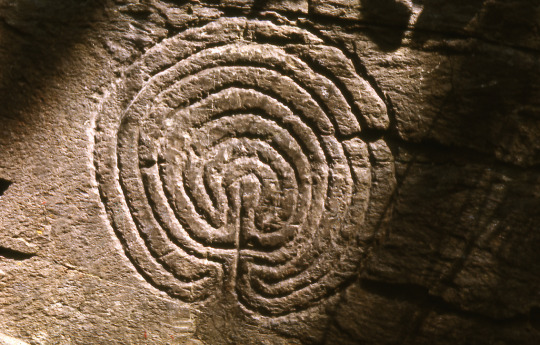 Labyrinth at Rocky Valley
c) Gorran Haven, because my kids love it there, the beaches
are fantastic and the coast path to Dodman Point is one of my favourites.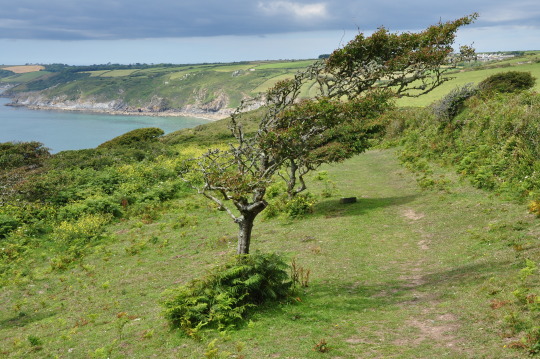 Coast path near Dodman Point
[4] Can you talk us
through some of the research you did when writing this book e.g. your visit to
the Boscastle Museum of Witchcraft?
A lot of my research has been into magic in its various
forms, including witchcraft, so yes, I'd definitely recommend a visit to the
Museum of Witchcraft in Boscastle – if only to see the difference between
objects that people have actually used to practise divination and witchcraft,
and the pretty crystals and dreamcatchers you find in New Age shops in nearby
Tintagel. 
In fact the sign outside the Museum of Witchcraft (an illustration of
people 'selling the wind' to fishermen) gave me the idea of including weather
charms in the book. Making knot charms is a very ancient tradition. Must admit,
if I was going to practise any kind of magic, I'd be tempted to try and
influence the weather…
Of course there's also a lot online, and I always look out
for old books on folklore in second hand shops as they provide a wealth of
information, sometimes things you won't have heard of elsewhere.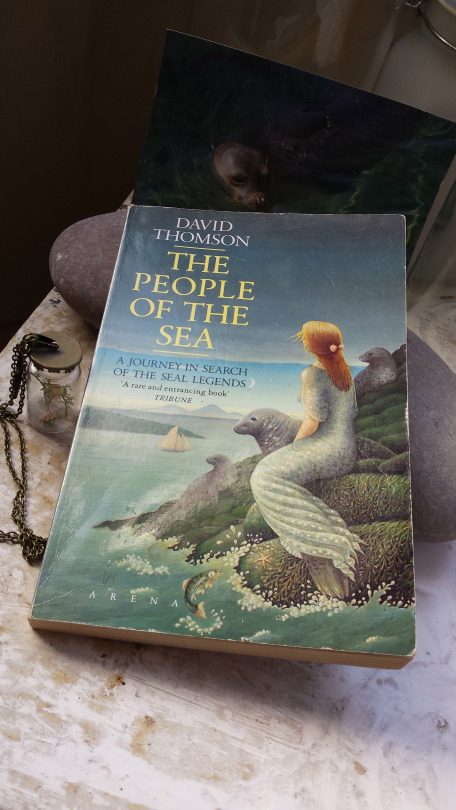 [5] You mention an
inspirational book was 'The People of the Sea' – tell us the story behind that,
how you found it and what role it played in the writing of this book.
I love old travel books, and as well as looking for folklore,
I always look through the travel section in second hand bookshops. One day I
picked up an old paperback edition of The People of the Sea and it immediately
grabbed my attention because of the picture on the cover. I read the blurb
about David Thomson's quest to gather tales of the selkie folk before the
stories died out, and had to buy it immediately. It's an extraordinary book,
written at a time between the wars when many people in the remote islands off
Scotland and Ireland still believed selkies (or selchies) really existed – and
who are we to say they don't? – It's such a haunting read, I ended up wanting
to explore the possibility of the myth having a basis in reality. *I believe! I believe!*
[6] Can you tell us
how you go about planning out your narratives? And how does this planning, and also
your research, manifest itself in your study or workspace e.g. picture wall, timeline,
post-it notes, chapter plans etc.
I wish I planned better. I know people who plan out the
novel, stick to the plan, and boom! Novel done in a year. Whereas I write a
plan, and my characters walk straight off it to do something completely
different that they want to do instead. They're really annoying and an unruly
bunch!
But I do start out with a beginning and an ending in mind, and
try to work the plot from that, a bit like the stages of a butterfly life cycle
diagram. I know the egg and the butterfly stage from the start, but the
caterpillar has a journey of its own before it makes its cocoon.
I keep at least one notebook for each book (there were
several for Deep Water) and write down ideas and plot changes as I go along,
which is helpful. I also create a Pinterest board for each book idea (I love
Pinterest! *Me too! Here's my Song of the Sea Maid board*) and surround myself with objects and pictures that relate to what
I'm writing. Finding pictures and objects is the perfect author procrastination
activity, kidding yourself you're working on visual aids for the story, when
really you're probably just wasting time and having fun.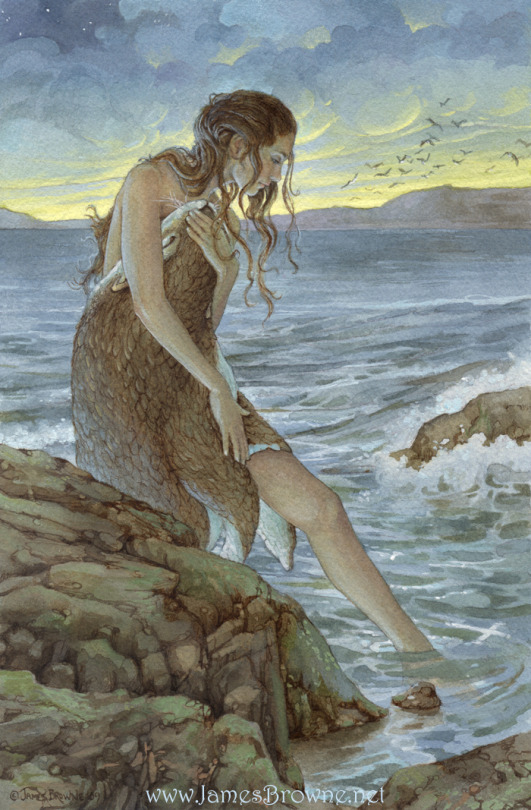 The mysterious myth of the selkie.
[7] You manage so
carefully the drip-feed of information throughout the novel, so that the reader
discovers the truth gradually and the enigma is kept up until the end. Do you
plan this out in advance or did it just come out that way in the writing?
I always wanted readers to experience what happens to Danni,
my protagonist, exactly as she experiences it herself – so things start out
fairly normal and become increasingly weird for her. But to get the slow drip
feed of weird right took quite a bit of toing and froing with Sarah Stewart, my
lovely editor at Usborne!  
[
8] I absolutely
loved the first metamorphosis scene: it was so beautiful! Reading it was like
entering into a kind of dream state. I'm wondering if you had to do a similar
thing when writing a scene like that. Can you explain how you wrote that first
scene of the changing and what was going on in your head while you did?
I've always been fascinated by the idea of shape shifting –
the ability of shamans to transform into animals or birds is a common belief in
tribal societies worldwide. I've read a lot of books about shamans and medicine
men, including many accounts by people who have experienced incredible
transformation of one kind or another first hand. Whether they actually
transformed or not is almost irrelevant – they believed that they did. So
basically Danni's metamorphosis was drawn from a lifetime of reading weird,
esoteric stuff!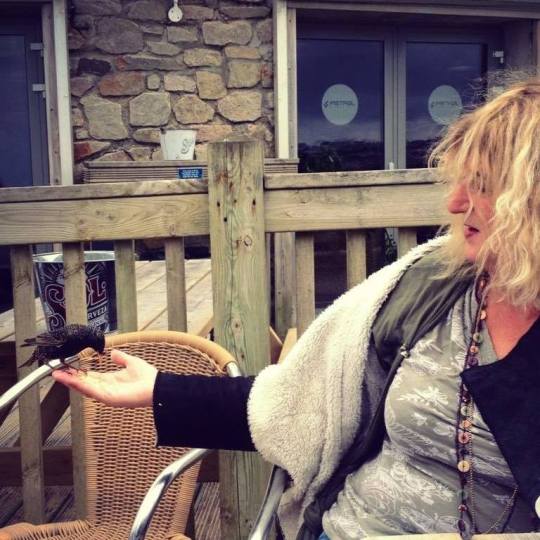 Lu and her familiar… 😉
[9] Can you share
with us something of what you're working on next?
I'm currently working on a much darker, blood sacrifice
story based on a Celtic goddess of death and the fertility of the land – and another,
different idea for a series for slightly younger children which is also
myth/tribal belief system based.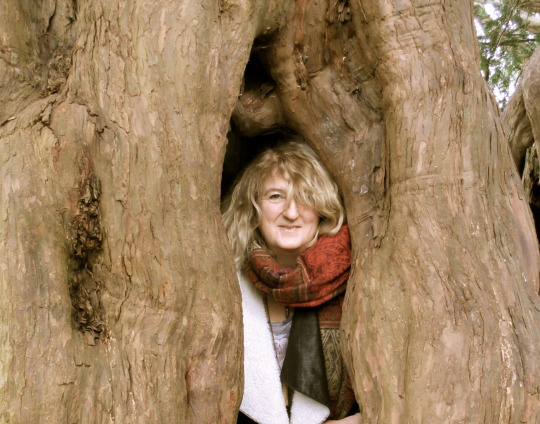 Thanks so much to Lu for her brilliant answers and all the gorgeous images she provided. I do believe we have much in common, regarding our total love for Cornwall and particularly all its more mythical elements. I've spent much of my past holiday times wandering round Cornish stone circles and suchlike and love all sea stories. Do try this book – for yourself if you're old like me and love a good sea tale, and for your kids who want something a bit different and magical – it's a stunner. 
You can find Lu online on Twitter, Facebook & Pinterest and on her blog.