I'm going all literary this morning and talking about a very special classic novel, with my blogging friend and all-round classy, excellent book blogger, Lady Fancifull. Recently we both read the French classic LE GRAND MEAULNES by Alain-Fournier – I was reading for the first time and for Lady F it was a re-read after many years – and then we discussed our impressions.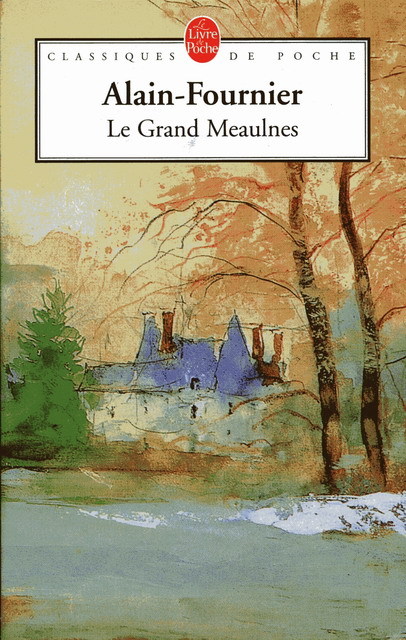 Firstly, here's the book's blurb from the Penguin Classics edition:
When Meaulnes first arrives at the local school in Sologne, everyone is captivated by his good looks, daring and charisma. But when Meaulnes disappears for several days, and returns with tales of a strange party at a mysterious house – and his love for the beautiful girl hidden within it, Yvonne de Galais – his life has been changed forever. In his restless search for his Lost Estate and the happiness he found there, Meaulnes, observed by his loyal friend Francois, may risk losing everything he ever had. Poised between youthful admiration and adult resignation, Alain-Fournier's compelling narrator carries the reader through this evocative and unbearably poignant portrayal of desperate friendship and vanished adolescence.
Here's what we had to say about it. Lady Fancifull starts us off:
LF: I was enormously pleased to find it was a book which
resonated strongly as a wonderful piece of writing, and wasn't misremembered as
wonderful when read in my youth, but having little to say to my maturity.
I think reading it in adulthood, as probably a much more
sophisticated reader, I am so aware of all sorts of myths and earlier writers
which I suspect Fournier was familiar with. Thomas the Rhymer, and tales of
enchantment where someone enters the kingdom of faerie, is transformed, can't
find their way back when they wake on the cold hillside (echoes of Keats, even,
La Belle Dame Sans Merci) , not to mention Adam and Eve locked out of paradise.
And later reading of mine – John Fowles The Magus, where Fowles himself is
deeply indebted by and acknowledges in his book the influence of Fournier,
means that re-reading Fournier is now also bound up with Fowles, who also drew
on something else which I think Fournier may have read – Spenser's The Faerie
Queen. Sorry, this rambles hugely, but I just felt there were layers and layers
of meaning, connections, all woven into this. The whole search for a place and
time of paradise, the urge to go back to a probably illusory moment or
perfection seems to be something quite universal.
I think I was probably much more interested, on this read,
by the narrator, the 'best friend' rather than 'the hero' – the charismatic
Meaulnes and his search for the beautiful Yvonne de Galais was so very romantic
(and part of that whole chivalric, romance tradition as well) that it of course
spoke strongly to the romantic teens/twenties reader, whereas now, the person
who stood outside the high drama (and had in reality, much more 'nobility' and
kindness than the magnetic hero) really captured my thoughts.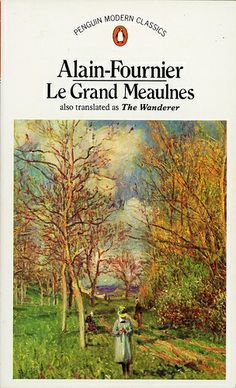 There was also a kind of formality in the language – I
wasn't sure whether this was perhaps just a literal translation from the
French, which of course has a slightly different sentence structure to English,
or whether Fournier was writing in a more formal way because this was meant to
be set in – I think the 1890s – but the formality in language again gave the
sense of stepping back into mysterious time and place – and as the narrator is
looking back, from a later time in his own life, to the events here, it all
rather adds to the misty, vaporous feeling of in a foreign land, long, long ago
– that quality of an enchanted, long gone world.
An example of this 'formality' I noted was in the chapter
The Silk Waistcoat:
"My clothes were off in a jiffy and heaped on a chair by my
bed – an iron bed with curtains of cretonne patterned with vine-leaves. But my
companion, taciturn, was taking his time."
It was that 'But my companion, taciturn,'; the rhythm of
that was very pleasing and alien – compared to 'But my taciturn companion',
which would have been the expected order. – 'in a jiffy' was an odd one though!
The book is very special, you
really do feel you have stepped into an intensely real, quite magical world.
Not in any sort of 'magic realism' way, but it is as if somewhere, that 'dream'
is real, and if only, if only, you could find the way, it could be walked into.
I was quite amazed by how much of its quality had stayed with me. I began
thinking about a book I have never read, but of course am familiar with a
specific extract from – Proust, and that madeleine – Fournier did something
with the way he described a world which I guess was vanishing even as it was
being written about, so that both the world of the school, and the world of the
domain, evoke a sorrowful, aching, longing even in the instant you are first
reading about them – that device of Francois as narrator, so he is the outsider
recounting Meaulnes recounting and intense memory, and remembering his own
memory of hearing Meaulnes' memory. It is most odd, intensely real, but it is
memory of memory of someone else's memory, and is JUST like that sense of
waking after a very vivid dream, one which feels intensely 'real' and you try
desperately to grasp it, and it mists just beyond reach, leaving you feeling
bereft.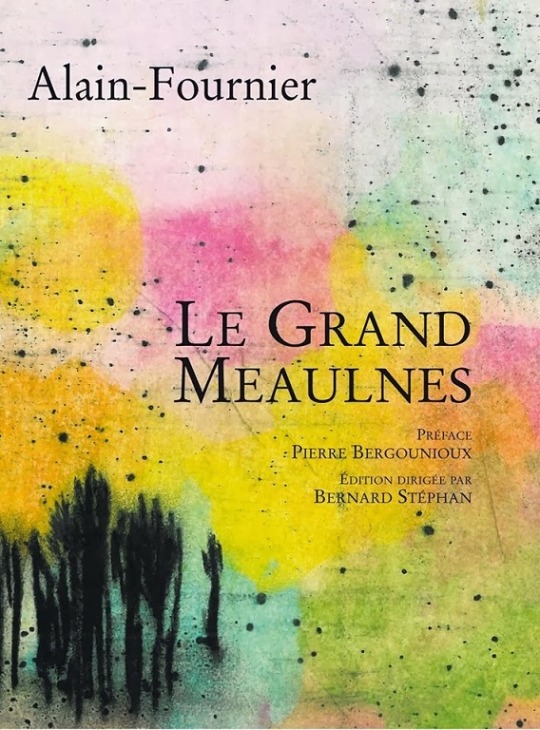 RM: Well,
what a lovely thing this book is.
I loved everything you had to say about it.
What do I think? Well, I reckon it'd be hard to get a book
like that published these days, more's the pity. It's like a strange dream, one
from which you wake and it stays with you all day, but you're not quite sure
what it was all about. I liked the narrator too, the way he observes everything
yet isn't all world-weary like Nick in Gatsby. Instead, he's drinking it all in
with his eyes and feeling thrilled by it all, which infects the reader
too. 
The idea of the lost domain is so evocative and
tantalising, that somewhere, not so very far away, is a place that is
impossible to rediscover. That feeling, of finding a magical place, purely by
accident, is something I dream of! It did happen to me quite recently and
luckily I've been able to find it again – it was a walk we discovered called
the Wanderlust Way. After a bit alongside a wood that was dim and muddy, it
suddenly opened out onto the most glorious cornfields with swallows dipping
down to the corn, leaves rustling in the odd solitary tree, big wide
Lincolnshire skies. One of those moments where you think, I could have passed
this by and never found it.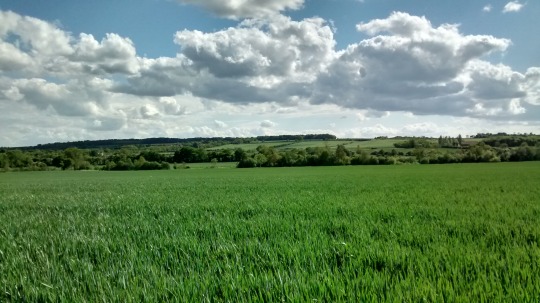 My walk from Brigsley.
That's how the lost domain in this book feels to
me, but all the more magical because it feels as you're reading that it will
never be found again. It's almost disappointing that it is re-found! Sometimes
the sweetest memories are those that will never be possible again.
I loved the language too, in particular, Fournier's attention to detail and intense observation. I noted down one of my favourite
passages:
"A pleasant breeze, smooth as warm water, flowed over
the wall. During the night a fine rain had washed the peony leaves; recently
dug beds in the garden gave off an earthy smell you could almost taste; and in
the branches of a tree near the window a bird was trying to learn music." 
Just lovely!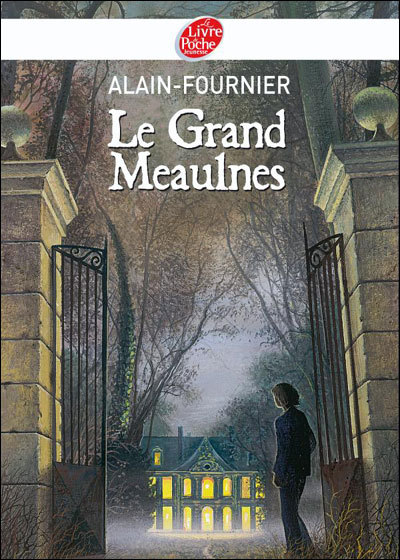 The other thing that strikes me is the poignancy of the
author's situation: the book published in 1912 and Alain-Fournier dying on the
western front in 1914. What this adds to the book is of course that familiar
idea of the Edwardian summer before the Great War, but here writ true. It
reminds me of reading Suite Francaise, knowing that its author was murdered by
the Nazis not long after it was written. That same feeling of tragic waste.
Just think what else Fournier could have produced if it weren't for the damned
war. It's got that feeling Larking evokes in his poem MCMXIV:
Never such innocence,
Never before or since,
As changed itself to past
Without a word…Never such innocence again.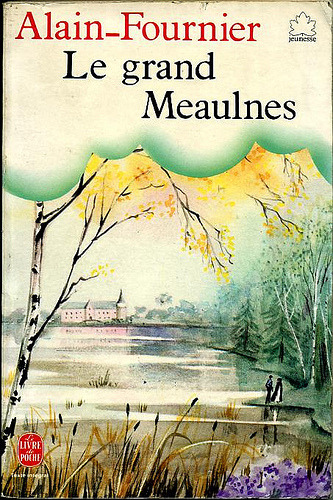 LF: That
is all so interesting, Rebecca, and I loved your relating it to your own
discovery of an unexpected magical place. I guess this is what wonderful
writing does. It can take a specific experience from the author's imagination,
probably an adaptation of some 'real' connection of their own, and then the
reader intensely relates to the truth in the writing because it pierces through
to some similar place in their own memory. And of course, what also happens is
that the intensity of the writing can then overlay the reader's future
responses – so that finding a 'new' mysterious and enchanted place may evoke
the memory of a book as reference point, not just your own earlier experience.
I certainly felt that the first time I went to Greece. I was carrying the
intensity of setting from Fowles The Magus, but that was wrapped through with
Fournier. It's of course impossible to know how place would have affected me
had I never read those two books, but I surmise that literature had intensified
my experience.
Sadly, I suspect you might be right re it not being
published today. It certainly wouldn't be heavily promoted and the subject of
major bidding wars. Perhaps one of the small independent publishers would fall
in love with it.
I'm really interested in what translation does. I had a
look inside some of the more recent translations on digital versions, comparing
them to my old paperback, translated by Frank Davison. A couple of the new ones
had none of the formality and grace of Davison. And it seemed to me that the
almost archaic, measured, poetic quality I find in Davison is part of the sense
of a courtly world which is passing, something unchanged which is being lost,
which is the powerful undercurrent in the book. To lose the sense of something
elusive inside/underneath the language is to skew the book out of its potency.
And…the link to Gatsby…yes, that's something which
I've come to after finishing the book this time.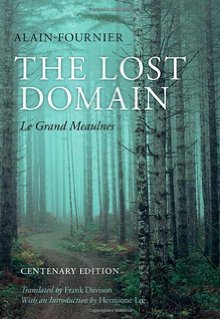 RM: To end, I'd simply say, I
salute a book like this, something that is carefully and beautifully written,
which concerns itself with atmosphere and dream, not high jinks and contrived plot
twists. It's the kind of book that enriches the soul. Thanks for reading with
me, Lady F!
Here's a link to an appreciation
of the book by Julian Barnes:
http://www.theguardian.com/books/2012/apr/13/grand-meaulnes-wanderer-julian-barnes
and you should all check out Lady Fancifull's brilliant, erudite and fascinating reviews on her book blog here: