Welcome to my Prime Writer friend Jason Hewitt to the blog this morning for our second outing. Here we are again, yet now we're talking about Jason's beautiful second novel, Devastation Road. It's the tale of amnesiac Owen, lost in Europe during WW2, told in the poetic prose we've come to expect from this talented novelist.
Here's the blurb:
A deeply compelling and poignant story that, like the novels of Pat Barker or Sebastian Faulks' Birdsong, dramatises the tragic lessons of war, the significance of belonging and of memory – without which we become lost, even to ourselves.
Spring, 1945: A man wakes in a field in a country he does not know. Injured and confused, he pulls himself to his feet and starts to walk, and so sets out on an extraordinary journey in search of his home, his past and himself.
His name is Owen. A war he has only a vague memory of joining is in its dying days, and as he tries to get back to England he becomes caught up in the flood of refugees pouring through Europe. Among them is a teenage boy, Janek, and together they form an unlikely alliance as they cross battle-worn Germany. When they meet a troubled young woman, tempers flare and scars are revealed as Owen gathers up the shattered pieces of his life. No one is as he remembers, not even himself – how can he truly return home when he hardly recalls what home is?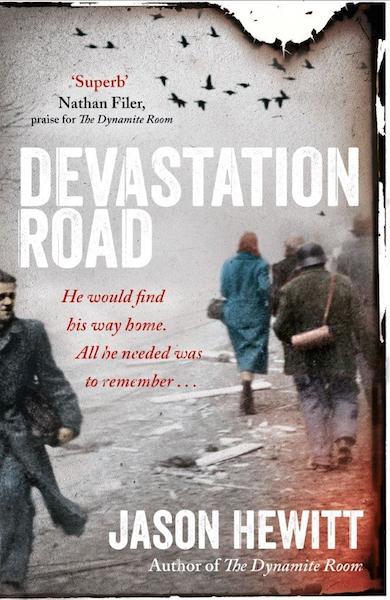 [1] Your first novel THE DYNAMITE ROOM
was a siege narrative and your second is a kind of journey narrative, both
physical and psychological. Was this intentional, to explore different kinds of
narrative structures? What kind of narrative will your third novel have? And
are you interested in narrative theory?
Most elements
of my current work-in-progress usually bounce out of the previous project –
either in terms of the further development of a theme I've already been
circling or as an 'antidote' to what I've written before. My two first novels
investigate the same themes and share the same period. However, narratively
they are very different. The Dynamite
Room was very claustrophobic, being largely set in a boarded-up house, and
much as I enjoyed writing it, I had no desire to write a similar story again. So
I set out to write the opposite – a story not claustrophobic at all but set in
open countryside where the characters were free to roam and walk as far as the
story takes them, and the road novel provides the perfect form for that. I've
always been interested in playing with form and narrative structures. As a
writer I want to be constantly stretching myself and trying something new. As
for the next novel, it will be a ghost story told from multiple perspectives. I
can't say more than that.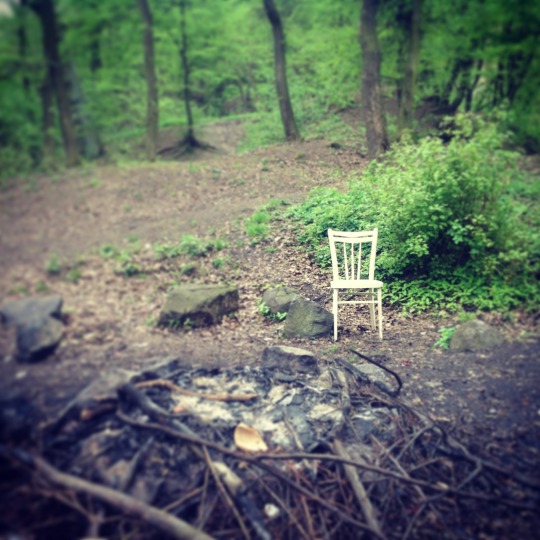 A Czech forest that Jason visited on his research travels.
[2] Memory is of course a key theme in
this book. What fascinates you about this?
Almost
everything I've written has been about memory in some form or another. I'm
fascinated by its complexity, but also its fragility, how easily memories are
fudged, misshapen, erased or fabricated. The
Dynamite Room was, in part, about two characters being haunted by their
memories, particularly my German soldier who is the end product of everything
he has previously done and witnessed (and, thus, I suppose, the product of his own
memories). I wanted to turn that on its head in Devastation Road, and instead investigate what happens when you
take memories away from someone. If our memories form us, and thus our sense of
identity, who do we then become if our memories are lost? I'd read during my
research that amnesiacs sometimes retain "islands" of memory, and that as the memories
return these islands slowly grow, multiply and join. It was an image that I
kept in mind throughout the writing of the novel. For me amnesia suggests an
almost dreamlike existence too, that sense of being lost within yourself and
your surroundings, which linked rather fortuitously with descriptions of Europe
during the last months of the war, in particular a description by the BBC
reporter Robert Reid who said that Europe had 'a sort of Alice in Wonderland
air'. Others spoke of the German people finally waking up to what they had
done. At the start of the novel Owen quite literally wakes up and spends a
proportion of the story still in his amnesiac state and seeing this strange
world around him as if in a dream. You could say that he is like Alice, waking
only to find that he has fallen down the rabbit hole into a world that he does
not understand.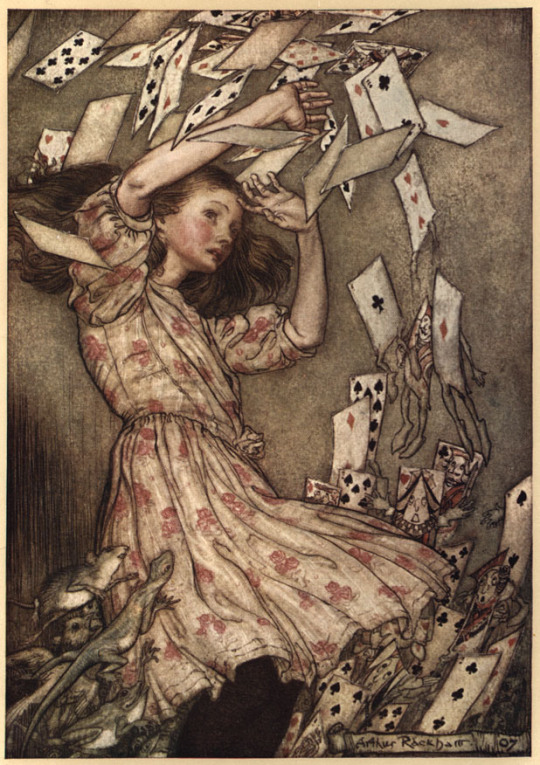 Arthur Rackham's Alice
[3] The title 'Devastation Road' – how
does it function within the novel as a metaphor?
Devastation Road is the literary equivalent of a road
movie with Owen making a journey across the wastelands of war-torn Europe, so
the title can be read quite literally. However, as a man suffering from
amnesia, he is also making a journey through the debris of his mind, slowly
collecting up fragments of his memory and piecing his own personal backstory
together. For me, therefore, the title provides the perfect description of both
these journeys – the literal and the psychological. That said, I've steered well
clear of using any landscape imagery to describe his state of mind – I think
that is a link the reader will make for themselves without me bludgeoning them
with metaphors.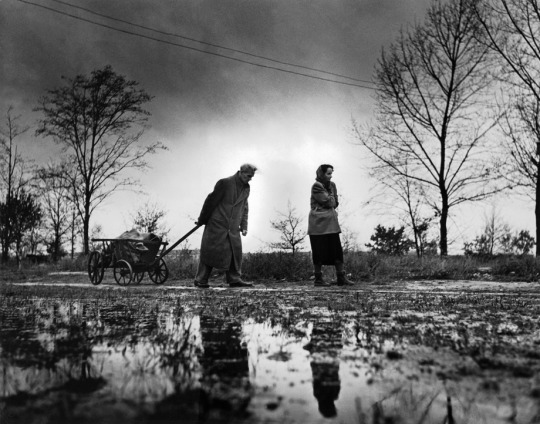 One woman pulled a sledge…
[4] The effect of using the Czech
language for the boy and not translating it for the reader was very effective,
I felt, as it added to the disorientation of the reader, just as the
protagonist experienced it. How did you come to this decision?
On every
narrative journey (whether it's The
Wizard of Oz, The Lord of the Rings, Homer's Odyssey or any other), the protagonist is always joined by a companion or two. However,
with Devastation Road it instantly
threw up a problem. If the two characters that Owen joined forces with happened
to be English or at least be English-speaking it would have been very convenient
but also completely implausible, given the date and location that Owen finds
himself in. For that reason Janek's English is extremely basic and instead he
spends the novel speaking primarily in Czech. I never once thought to translate
it for the reader. After all, Owen doesn't speak any Czech and so he often has
no idea what Janek is saying and as this is Owen's story I wanted the reader to
share his experience, his confusion and sometimes frustration. It also adds to
the strange otherworldly atmosphere that I wanted to create, that 'Alice in
Wonderland sort of air' that I've already mentioned. Of course, the Czech is
not as baffling as you might assume. The reader should be able to guess an
approximation of what Janek is saying most of the time just by what he does,
how he is behaving, or how others react. I also think it makes the relationship
between Owen and Janek more interesting. They are strangers and yet forge a
tender relationship without really being able to speak.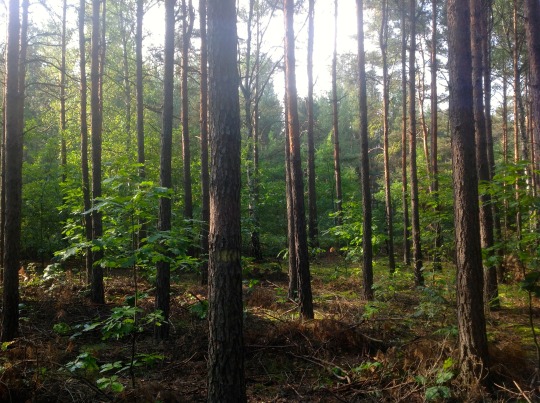 Beneath them the ground was carpeted…
[5] Can you explain some of the Czech
research you did? How was that experience, of inhabiting another country, time
and language?
When I
started to conceive the novel and in particular Janek I knew that I didn't just
want to ask someone to translate what he says into Czech. I wanted to be able
to understand it and write it for myself. So I took lessons. I learnt how to
pronounce what Janek says, forge his simpler sentences and also felt that, in
learning his language, albeit in a basic way, I had a better understanding of
him as a character. It somehow opened a door between us and I felt closer to him.
           I also took the same journey that
Owen does, starting in the Czech Republic and then traveling across Europe as
my characters do. I always have to visit my locations, whatever I'm writing, so
I knew that if I was going to write about a journey across Europe I would also have
to make that journey myself.  I can't
tell you the route I took as that would give the plot away but I can tell you
that there were some key locations I knew I needed to hit and that almost every
other location in the novel is somewhere that I found whilst making the
journey, taking notes for scenes there and then on the spot, along with
hundreds of photographs. Owen travels by foot and by truck but I also took the
occasional train to fast-forward me on a bit. Rather like learning Czech to
connect with Janek, taking Owen's journey, with him in my head, helped me to
connect with him, but also to understand some of the challenges he would have
faced – the exhaustion, the aches and blisters, of being isolated from the
world around you because you don't speak the language, that otherworldliness. I
could see how easily it would be for him to fall in on himself with his
thoughts, to sink deeper and deeper into his own head. All in all though, it
was an incredible journey. It gave me details, ideas, locations and scenes that
I would never have thought of otherwise. It's an experience I shall never
forget.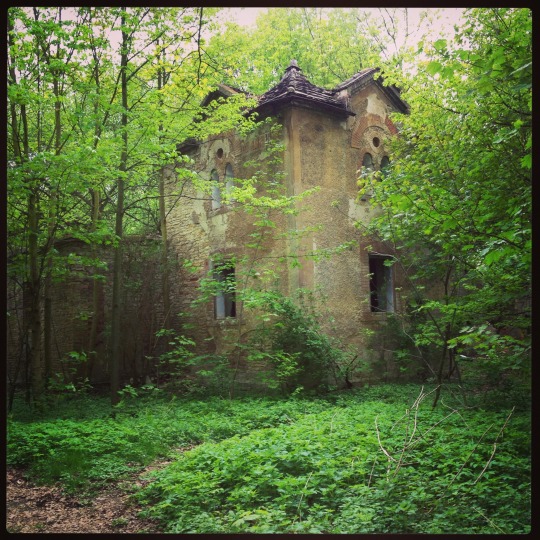 The house was tucked away…
[6] The plot follows Owen on his
journey, yet also the revelation of his past. How did you plan out the release
of the information?
There are
revelations or twists concerning every character so I knew that I needed to
plot when these were going to occur and not to have them all bottle-necking at
the end. To help structure this I plotted everything on a couple of
noticeboards using index cards and two or three words to describe each scene. I
could then reorganize them until I was happy with the structure.  Owen's past story has a narrative thread of
its own and although it comes to us a little jumbled it follows a pretty
straightforward trajectory. The final revelation doesn't come until the end but
I knew that I needed to sow the seeds from fairly on, so, again, using my
notice board I plotted where each piece of information would be delivered to
the reader and how and when it would be triggered by the main storyline. These backstories
all take the form of returning memories and are instigated by a previous
thought that links to them, by a sensory trigger of some sort, or – as memories
often do – come completely out of the blue. I then transferred all of this on
to an excel spreadsheet. That sounds terribly geeky, I know, but it means I can
view the whole narrative on a couple of pieces of paper and colour code each
plot thread so it's easy to see how they wind in and out of the story.

Jason is an accomplished playwright as well as a novelist.
[7] What's up next for you, in
your novel writing and also your theatrical career?
I am currently
starting work on a new novel. I'm still in the research and planning mode, so I
can't say much more than that, other than it's set in 1947 and will require an
entirely different type of research than anything I've written before. I've
also got plans for a new play. The last one Claustrophobia
just finished a run in London, having transferred from Edinburgh Fringe last
year, and I've been so thrilled with the response that I'm all fired up to
write another. But the novel comes first. I went away for three weeks at the
start of January to launch myself into it. No Wi-Fi. No phone. No one there but
me and my characters. I took a lot of chocolate and hoped that I
wouldn't go mad.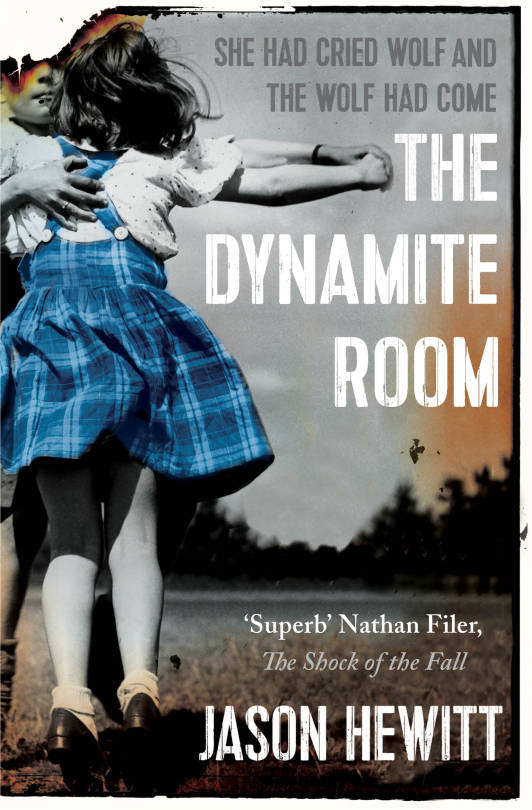 Here's a link to our first interview about Jason's debut, The Dynamite Room:
http://rebeccamascull.tumblr.com/post/113247406458/interview-with-jason-hewitt
Thanks to Jason for a fascinating discussion of how he writes his luminous novels. 
We've had a chat about our novelistic methods on the Prime Writers website, which you can read here:
https://theprimewriters.com/2016/01/29/writer-to-writer-rebecca-mascull-and-jason-hewitt/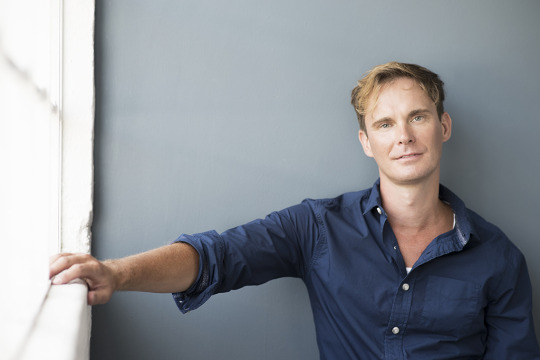 You can find Jason online here:
https://twitter.com/JasonHewitt123