Hello and a warm welcome to Claire Douglas, whose debut novel The Sisters is a great page-turner with a fascinating twist on the theme of twins.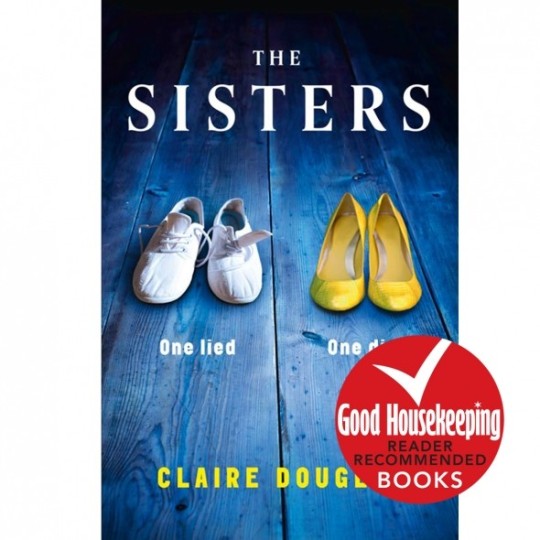 Here's the blurb:
One lied. One died.
When one sister dies, the other must go to desperate lengths to survive
After a tragic accident, still haunted by her twin sister's death, Abi is making a fresh start in Bath. But when she meets siblings Bea and Ben, she is quickly drawn into their privileged and unsettling circle.
When one sister lies, she must protect her secret at all costs.
As Abi tries to keep up with the demands of her fickle friends, strange things start to happen – precious letters go missing and threatening messages are left in her room. Is this the work of the beautiful and capricious Bea? Or is Abi willing to go to any lengths to get attention?
When the truth outs, will either sister survive?
[1]
Tell us about how long you've dreamed of being a novelist. Did you write a lot as a child? What stuff did you like to read growing up?
Back as far as I can remember I've dreamed of being a novelist. I've always loved reading and writing and as a child I'd sit for hours making my own 'books' (that involved some A4 paper and a stapler!) I was a huge fan of Enid Blyton – particularly the Mallory Towers and St Clare's stories. My nine-year-old daughter has just read them too and it's so lovely to see her getting the same enjoyment out of them as I did. Another of my favourite books as a child is Tom's Midnight Garden. I re-read it recently and it still made me cry at the end.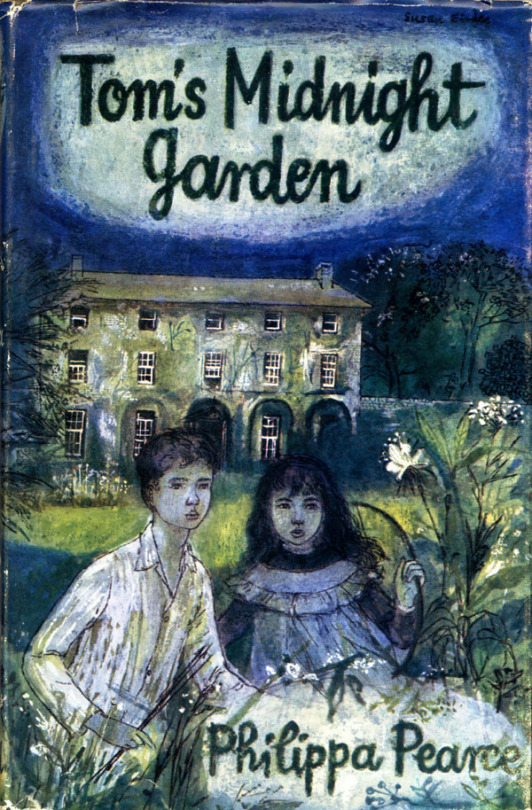 [2]
How has your career as a journalist helped you when you've been writing novels?
I think the process of sitting down to write every day and having deadlines to meet has really helped. I worked for a local newspaper for a few years before moving into features for women's magazines so I was used to writing 1,000-2,000 words a day as a freelancer. When I was writing a feature or news piece every word counted, there was no room for waffle, so I've tried to remember that when writing fiction, although it doesn't always work!

The view from Alexandra Park, Bath, which features in The Sisters.
[3]
Where did the spark come from for The Sisters?
I think moving to Bath really inspired me. There is something so creative about this city; there are always seminars going on or creative writing workshops. The architecture is so old, rich and vivid. So many potential scenes popped into my head as I explored Bath that I knew I had to set a novel here.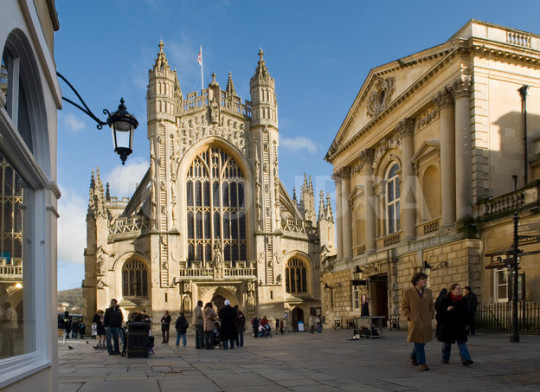 The beauty of Bath that inspired Claire when she moved there.
Abi, Beatrice and Ben were originally in another novel that I'd written – although that one was set in London. They were just one strand of the story (which was more a drama about grief than a psychological suspense). I didn't feel the rest of the novel was working, but I really liked these three characters and felt they deserved their own story and that it should be much darker. I love novels that centre around an obsessive friendship like Single White Female. I didn't want to write a true 'crime' novel with police procedures and murder, I wanted it to be more about mind-games and manipulation, jealousy and resentment. Toxic friendships.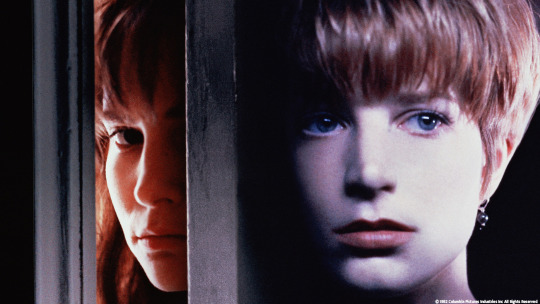 The 'toxic friendship' at the heart of Single White Female.
[4]
What drew you to writing about twins? What interests you about that relationship, psychologically?
About four years ago my daughter became friends with twin girls who were identical and did everything together. They were best friends, fiercely loyal to one another despite fighting like cat and dog. They shared a bedroom and a classroom and it made me wonder how it would affect you, psychologically, if something happened to your identical twin. Someone who not only looks like you but has such an important role in your life. Would you feel like a part of you was missing? Would you be wanting to fill that void in your life? Was there a dominant twin and a more submissive twin and if you were the more submissive one how would you cope alone? I thought these were very interesting questions and it made me realise I wanted to explore them in a novel. *interrupts – I've got twins in both my novels! Identical in The Visitors and fraternal in Sea Maid, minor characters who snuck in there when I wasn't looking. I had to force myself not to have some in my current work-in-progress! Perhaps I should write a twins novel and get it out of my system…*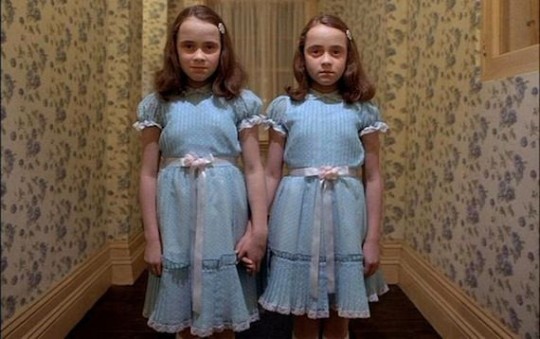 The scariest twins of all…from The Shining.
[5]
How did you plan out the narrative of this psychological drama and in particular, the release of information throughout the plot? What are your planning methods? e.g. flowcharts, post-its on the wall, chapter plans etc.
I wrote quite a detailed synopsis of what I wanted to happen and where the main twists were but other than that I didn't really plan extensively. I wanted the characters to evolve naturally without it feeling too forced. I'd lived with these characters for about eight years, I felt I really knew them. But saying that there was a lot of editing and adding to do later as a result to get the plot right!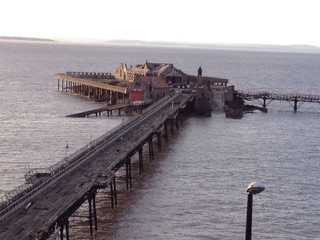 Birnbeck Pier, an inspiration for Claire's next novel.
[6]
Can you share with us what's up next for you as a novelist?
I've nearly finished my second novel, The Pier. It's another psychological suspense and is centred around an old derelict pier. I think there is something so creepy, so eerie about an abandoned pier. It's about a woman called Francesca who returns to her hometown after her best friend, Sophie, who disappeared from the pier eighteen years before, is found washed up on the beach and murder is suspected. It's set in two time periods – the present day and in 1997 leading up to when Sophie goes missing. It's about secrets, revenge and the power balance between best friends.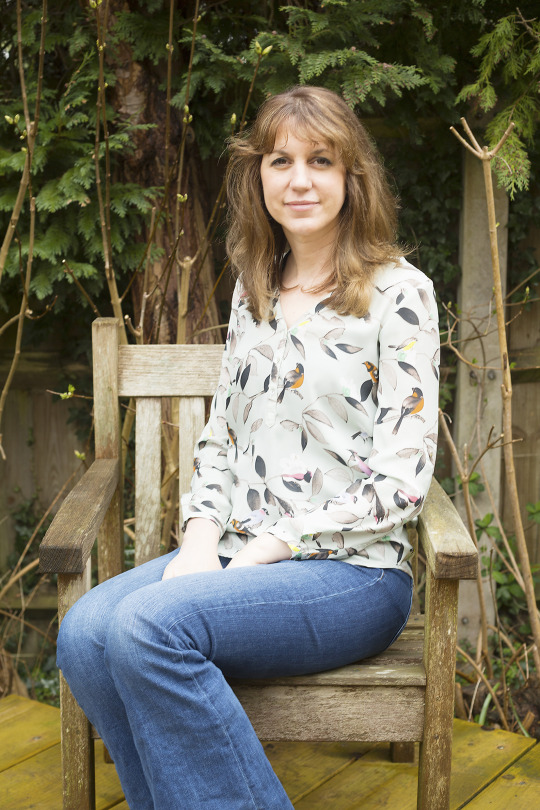 Thanks to Claire for giving us a real insight into the writing of this novel and an exciting glimpse into what's coming up next…
You can find Claire online here:
https://twitter.com/Dougieclaire
https://www.facebook.com/profile.php?id=611166412