Hello this morning to lovely American writer Karin Salvalaggio, whose novel BURNT RIVER is her next instalment in the Macy Greeley series of detective stories about a great female cop. I enjoyed this book so much, as I haven't read many crime novels and also the Montana setting was all rather exotic to a little Englander like me. The characters are so well drawn and the twists and turns really kept me guessing. Perfect Xmas present! (Quick – order it now!) And get ready for some gorgeous images below, all provided by Karin, of her various wonderful writing nooks…*envy*
Here's the blurb:
The Flathead Valley is in the grip of heat wave and wildfires sweep across vast tracts of land. A young war veteran is shot dead in his hometown after serving in some of the most dangerous places in the world.
Detective Macy Greeley is called into lead an investigation that will put both her career and life in jeopardy. When an undercover officer investigating a local militia group is murdered the scope of the case widens.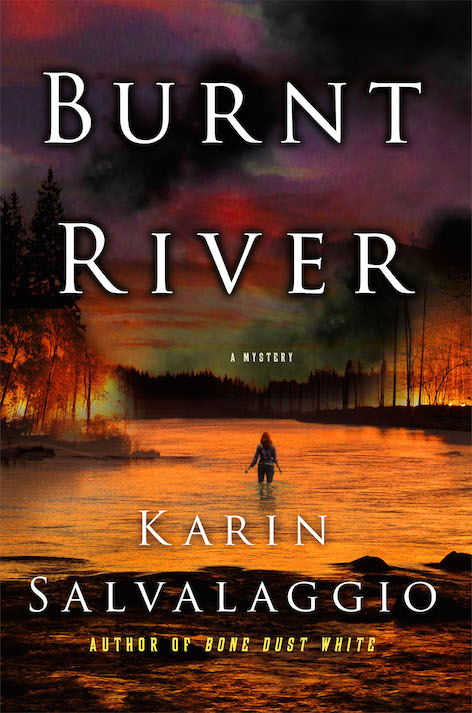 [1]
Within the crime genre, there seems to be a range of sub-genres with their own characteristics. Perhaps this one fits into the police procedural sub-genre, or am I wrong? Please enlighten me!
A police procedural is a crime novel in which the emphasis is on the
procedures used by the police in solving the crime. There is a broad spectrum
of styles within the sub-genre. I try to steer away from detailed accounts of
everyday police work as it isn't something I'm particularly interested in. I
also feel that too much procedure slows down the action. I use the
investigative side of policing to tell a story, but find it just as important
to emphasise points of view outside law enforcement. There are writers who
revel in police procedure and there are readers who insist on accuracy. I'm not
that writer and thankfully my readers have been willing to forgive me when I've
had to subvert the constraints of the sub-genre. In general I try to get it
right but it's not what I emphasise. I lean toward the literary end of the
sub-genre, which is a little unusual. Once I finish the 4th
instalment in the Macy Greeley series I'm writing a standalone literary
thriller, which will include absolutely zero police procedure. The freedom this
will give me is double edged. Literary sub-genres are useful because you can
wrap your stories around set structures. Writing a series also means I don't
have to reinvent the wheel with every book but I'm looking forward to writing
the standalone. After four books with the same lead protagonist and setting I'm
craving a new challenge.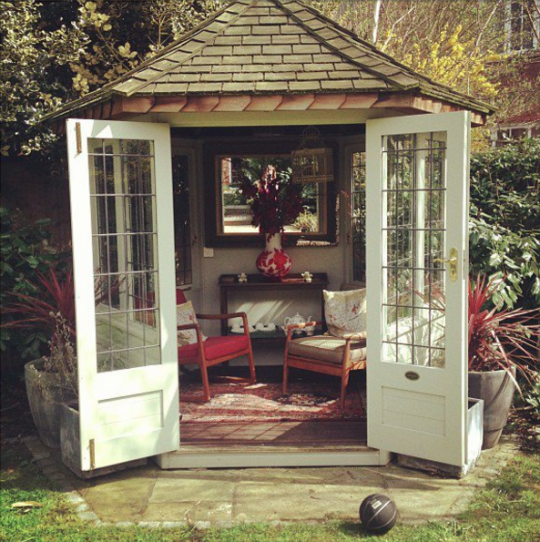 One of Karin's writing spots: "I like to spend a lot of time writing in the garden house." *more envy*

[2]
There are quite a few characters in the story, as
there would be in any complex police investigation. Do you write character
profiles to keep track of them all? How far do you go back in their histories?
Some of my critics have complained that I have too
many named characters. *I happen to disagree! They're all so well drawn, I didn't lose track of any character. :-)* Though I doubt I'll change, I'm well aware that it makes
my books difficult to read casually. You really have to pay close attention if
you want to keep track of them all. Though I do not write detailed character
profiles, I feel it is important to be clear and consistent regarding their
motivations and skills at the beginning of the process. I don't want them doing
things that are out of character or attaining skills because it's convenient to
the plotline. I feel it would be cheating to hand them the emotional or
professional equivalent of a magic wand every time they encountered a difficult
situation. It's not that I don't believe my characters shouldn't evolve but any
change has to be part of an arc that makes sense in relationship to the
plotline.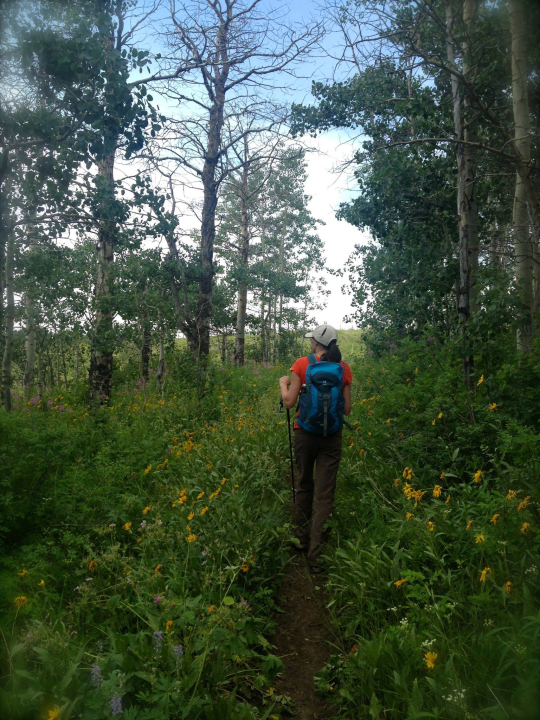 Karin loves hiking trails in the Western United States.
[3]
What kinds of research did you find yourself doing
for this book, in terms of police procedure and other subject matters the story
deals with?
You can learn a surprising amount about police
procedure online. I also read fiction written by ex police officers. I find
these sorts of books to be packed with valuable information. I probably used a
tenth of what I know. For Burnt River
I read widely about PTSD in returning combat veterans, arson investigation,
cattle ranching, dementia, drug abuse and militias. I fear I may be becoming one
of the most annoying people you can sit next to at a dinner party as I seem to
know a little about almost anything – jack
of all trades, master of none.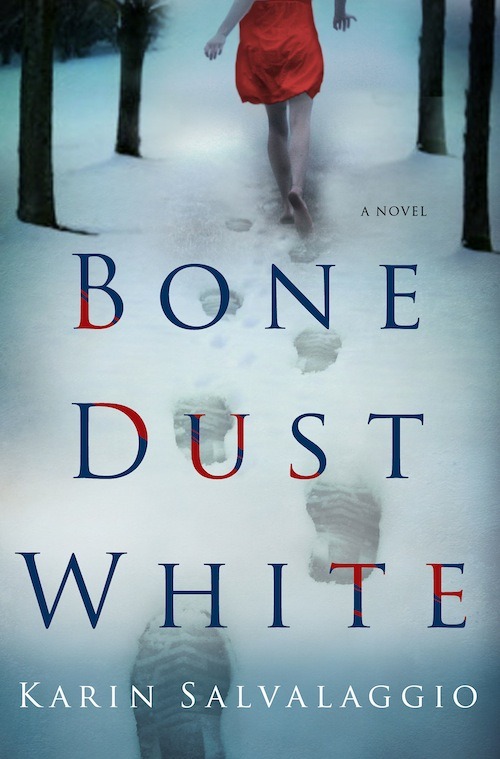 The first Macy Greeley story, BONE DUST WHITE.
[4]
It must be very difficult planning out the release
of information in a crime story, as of course you know everything, but the
characters don't. How do you plan this drip-drip release of clues? Do you have
a wall with it all pinned up, like the genius walls in Beautiful Mind or
Homeland?!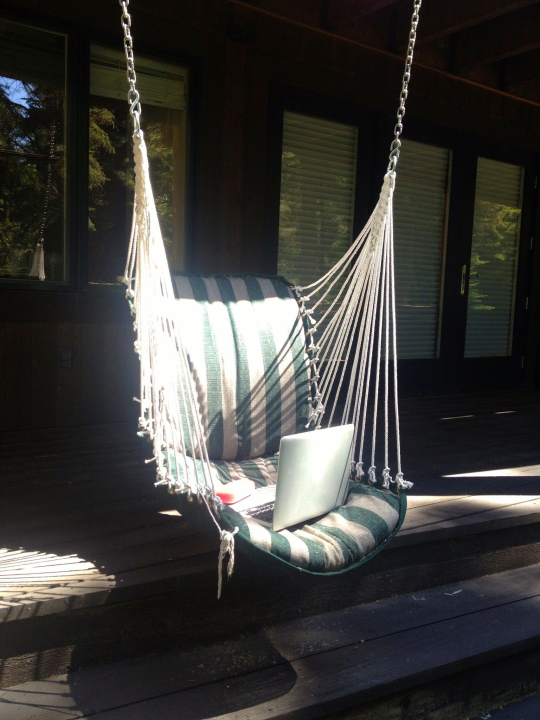 Karin's writing perch in Jackson, Wyoming, that looks out over acres of forest. *sick with envy*
There's an art to drip feeding information. Most of
the information in my books is revealed organically through dialogue versus
long expositional passages. I also try to get into my chapters late and get out
early so things move along at a fast pace. My books are longer than the average
police procedural but there's very little wasted prose. Every conversation and
scene moves the plot forward. Because the plot and subplots are complex the
reveals require careful timing. At times I use index cards and mind maps but
this is usually saved for the editing phase. When I'm writing it's all in my
head. If I stopped to fiddle with corkboards every fifteen minutes I'd never finish.
When editing my latest book, I had to restructure the last thirty thousand
words. The index cards were invaluable as they allowed me to physically reorder,
or rather reimagine the sequence of events, before turning my mind to the text.
It was a definite time saver. I use different colour cards and marking pens to indicate
character arcs, subplots and points of view. I've recently started using
Scrivener instead of Microsoft Word. It has an interesting array of
organizational tools that allow you to do the much same sorts of reordering on
a computer screen. I'll have to let you know how it works out.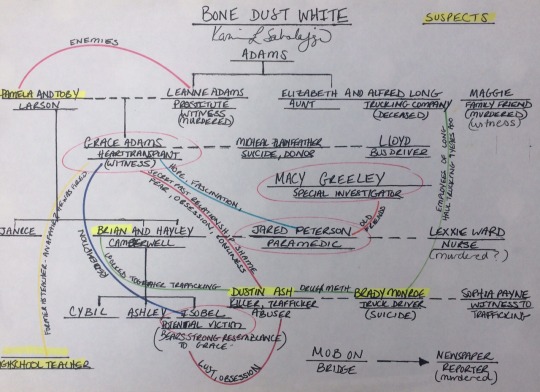 Karin's extraordinary mind map for BONE DUST WHITE, that hooked her an agent.
I will say that a particularly brilliant mind map I
produced for my first book BONE DUST WHITE really impressed an agent who I
really wanted to take me on as a client. I'm pleased to say it worked! Despite
the plot's multi-layered complexity, the mind map allowed her to immediately
visualise the relationships and motivations of the many characters. Well worth
getting out the marking pens and highlighters!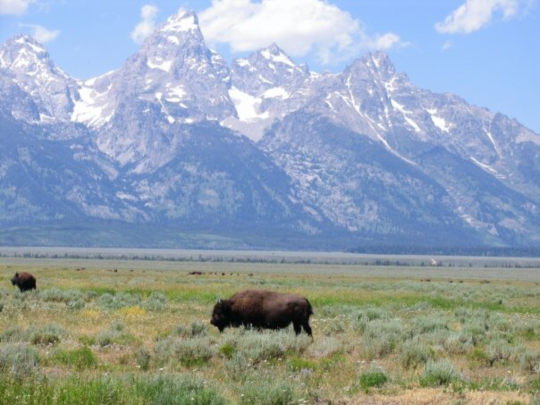 View of the Grand Tetons, Jackson, Wyoming – "a landscape and town that inspires me".
[5]
I can feel the heat baking through the pages in
this story! It really adds to the atmosphere. Have you lived in this setting of
Montana or another place as hot? How does the heat affect people and what part
does it play in the characters' reactions and emotions?
I've never actually lived in Montana but I've visited
the state often enough to know you are at the mercy of the weather and terrain
every time you step out of your front door. I suppose it also helps that I
lived in Alaska for three years and camped extensively in the wilderness as a
child. Most people have never experienced such extremes. This past August I was
in Bozeman researching my next novel when the smoke from wildfires started
moving into the area. For a while it felt like western America was going up in
flames. Temperatures hit the mid 90s just as the air quality plummeted.
Although Bozeman's elevation is only around 5,000 feet above sea level a walk
down Main Street any time after ten in the morning felt like a major trek. Now
take these same conditions but put your characters in a stressful situation in
rugged terrain at a much higher elevation. In my books the location is central
to the story. Montana's vast tracts of open terrain and unpredictable weather
often work against my characters. There is always more than one adversary to
overcome. *interrupts: I see this a lot in Annie Proulx stories too: the small human pitted against the vast uncomprehending landscape.*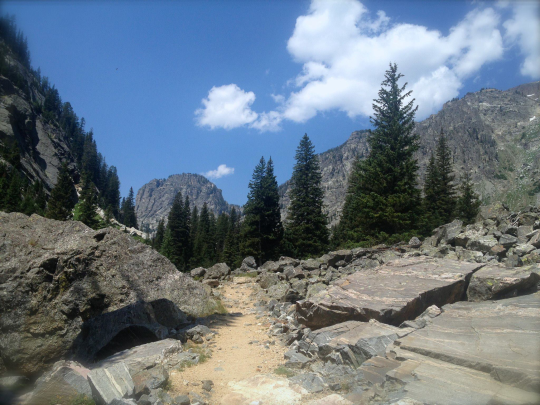 Death Canyon Trail, Grand Teton National Park.
[6]
Can you share with us anything about what you're
working on next?
Walleye
Junction, the next instalment in the Macy Greeley detective series, will be out
in the states in May 2016. The book is loosely based on a short story I wrote
nearly four years ago during my first term at University of London, Birkbeck
where I was doing an MA in Creative Writing. It's safe to say that Walleye Junction is where the mystery
series started. Macy Greeley, a special investigator working for the state of
Montana, is sent to a town called Walleye Junction after a controversial radio
host named Philip Long is kidnapped. As Philip Long is an outspoken critic of
the local right wing militias, it is first believed that they are involved in
his abduction, but following Long's murder and return of his estranged daughter
Emma, new details come to light.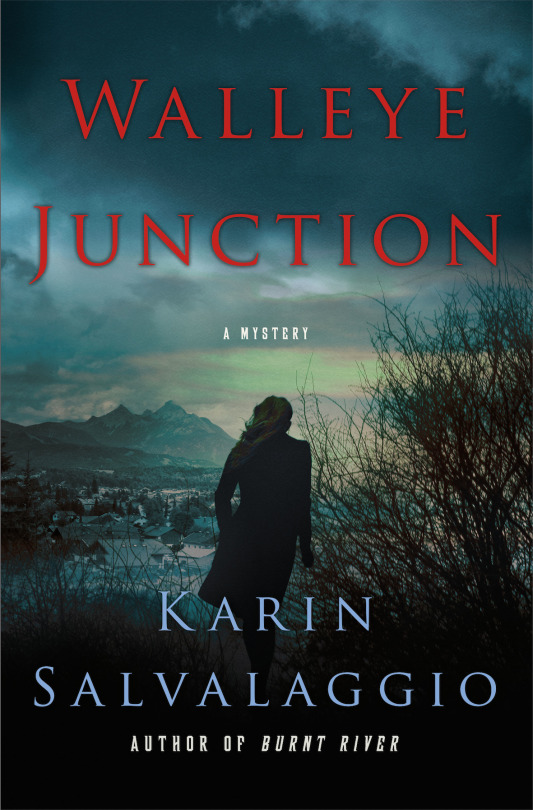 Not one to take a break, I've already started on the
fourth book in the series. It is set in the town of Bozeman, Montana where a
best-selling author name Peter Granger dies in a mysterious fire on Halloween
night. It doesn't take long for Macy Greeley to realise that a lot of people
wanted him dead.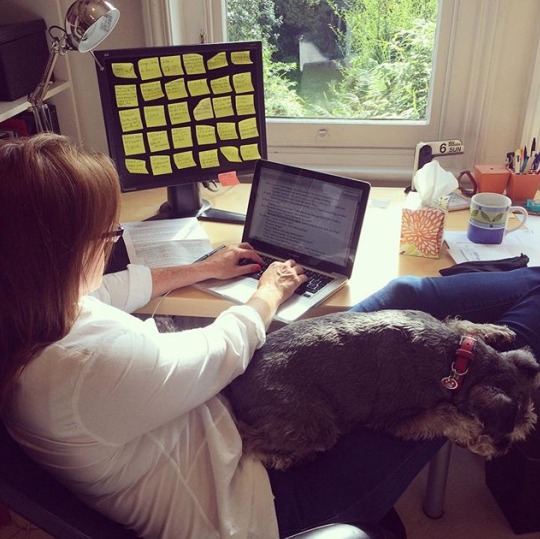 "This is a typical shot of me in my office: laptop open, dog on lap, coffee and yellow post-it notes aplenty."
Thanks so much to Karin for a fascinating insight into not only her writing methods but also her many and wonderful writing places (and cute writing companion…) 
You can find Karin online here:
https://twitter.com/KarinSalvala
https://www.facebook.com/ksalvalaggio?fref=ts