A big hellooooo to a fellow Prime Writer this morning, Sarah on the Boat AKA Sarah Jasmon. We're talking about her atmospheric debut, THE SUMMER OF SECRETS.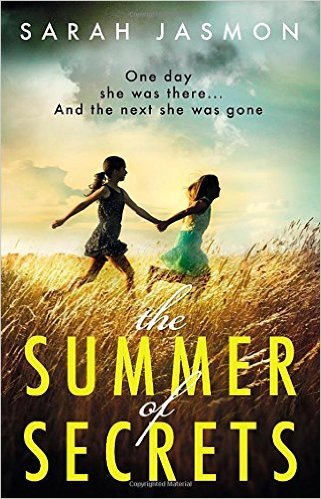 Here's the blurb:
The summer the Dovers move in next door, sixteen-year-old Helen's lonely world is at once a more thrilling place. She is infatuated with the bohemian family, especially the petulant and charming daughter Victoria.
As the long, hot days stretch out in front of them, Helen and Victoria grow inseparable. But when a stranger appears, Helen begins to question whether the secretive Dover family are really what they seem.
It's the kind of summer when anything seems possible …
Until something goes wrong.
[1]
Your prose is very visual, very
observant and related to all the senses too, with some lovely fine detail. e.g.
p58 'She felt the air holding itself ready for the rain, but none came.' How do
you achieve this? Do you use a picture or mood wall? Do you close your eyes
when picturing a scene or moment?
I do a LOT of closing my eyes and
picturing the scene, for settings, emotions, weather related details. I read
somewhere that you never dream a face that you haven't seen, even if only for a
moment in passing, and I think writing is a lot like that. Even if what you're
describing is a million miles away from your own experience, you can filter it
through something you do know to get closer to it. Also, quite often a piece of
the writing falls into place when I'm out doing something else. The look on
someone's face or the colour of the sky: suddenly I know how it needs to be
written.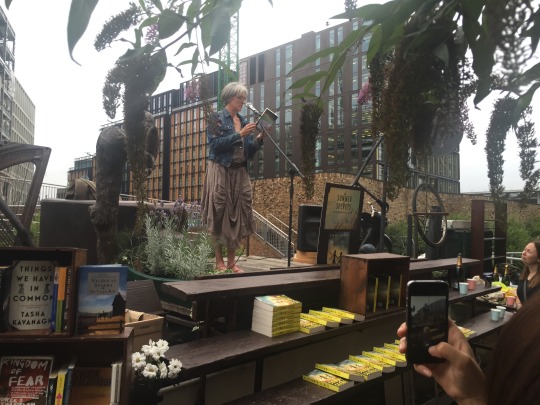 Sarah at the book launch.
[2]
I get a real sense of enjoyment of
food, the preparation of it and the tasting. Is this something important to you
in your own experience?
Food is so incredibly sensual, isn't it?
And it carries a huge punch of cultural reference as well as being a shorthand
to understanding personality. I feel like I sometimes track my own history and
personal relationships through the food of the time, and this was something I
tried to use in the novel.
[3]
You use three different time
periods: 1973; 1983 & 2013. How did you decide on these and in which order
did you write the narrative?
The initial starting off point for the
novel was Mick, with his landlocked boat and unfulfilled dreams. I experimented
a bit with having episodes from his life – starting back in the fifties – but
the story pushed at having Helen as the character whose eyes we use. The time
periods came about naturally after I'd made that decision: the present day for
reflection; the eighties because the events made the most sense if Helen was
around sixteen; the seventies as a simple number game counting back from the
characters' ages. It helped that I was remembering my own teenage era in the
eighties (see closing of eyes in first question!).
[4]
There is quite a range of characters
here – how did you keep track of them? Did you plan out each one with timelines
and profiles, or did it happen more organically?
Oh, very organically! They really grew
alongside the novel: I'd think of a plot point and then ask myself how they
would react. I used to think about them as I was going to sleep or walking the
dogs, which meant a lot of the time I didn't write down the ideas. I trust an
awful lot in my subconscious holding on to thoughts and bringing them back out
at a later date.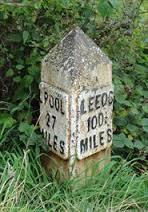 A way marker on Sarah's canal.
[5]
You conjure the atmosphere of those
long, hot teenage summers so well. One that springs to my mind is, of course,
the heatwave of 1976. Did you draw on your own memories to recreate this?
I decided on 1983 as the fateful summer
as a simple maths exercise, juggling the rough age I wanted Helen to be in the
present with her being sixteen in the earlier section. At one stage, I looked
up weather forecasts from 1983, wondering if I should aim at an exact
representation of the actual summer. (I didn't use them, in the end). I
probably did use 1976 as a mental resource (and it would have been so very
handy if the dates had fitted!), but it was more that I remember every summer
holiday as being long and hot. Those six weeks have a kind of iconography, I think,
stretching out forever, the goal of every school year. My own kids have been
home educated and this is something I think they've missed out on. Our weeks
just sort of segued in and out of summer without the same level of
significance. 
[6]
There is an overarching theme of art
– music, drawing, photography etc. Do you practise other art forms and/or
appreciate them in particular? How do these other art forms influence your
writing?
I like to think I have an artistic mind,
even though I'm not a particularly good artist. I do like making things,
though, and particularly enjoy anarchic collage. My eldest daughter is in the
middle of an art degree, my middle one is a ballet dancer and currently
studying performing arts, and my youngest does a lot of graphic art. I played
the flute growing up, and my main social group was the Swindon Young Musicians
(I was first flute in the concert wind band!), so my life has definitely been
on the side of the arts. Having said that, I didn't come from an arty
background at all.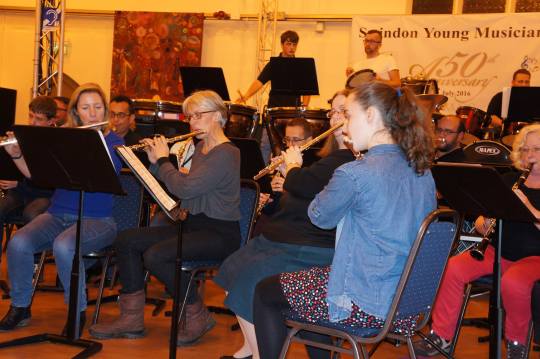 Sarah playing the flute at a wind band reunion.
[7]
Following on from the previous
question, there's also a lot of mention of books and literature at the heart of
this story. What are your literary influences?
Like a lot of writers, I was one of
those kids that wouldn't stop reading. I had books stashed in every room of the
house and would just pick up the nearest one and carry on with it. Neither of
my parents read for pleasure – I don't remember ever seeing either of them with
a book – which paradoxically left me with complete freedom. They would take me
to bookshops and the library but leave me to it as to choice. Which meant I
read some pretty unsuitable stuff along the way… In The Summer of Secrets, one of the books that Helen and Victoria try
to read is Ulysses. This was based on
a joke that I had with a friend at college, that the only way we would ever
read it would be if we were on a world trip with no other reading options, and
the rest of the reading list in the book grew from it. Books are Helen's escape
and a way of her keeping some sort of contact with the memory of Victoria and
the Dover family. I do remember some periods of my life through the books I was
reading at the time. They've been a powerful presence.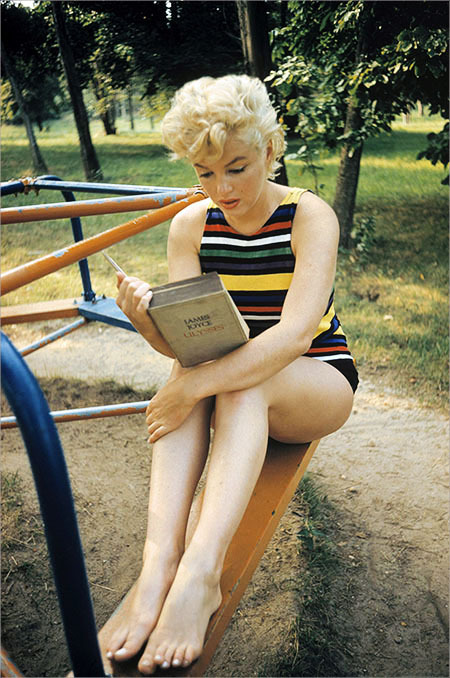 Sarah reading Ulysses…or hang on, that might be Marilyn Monroe.
[8]
Can you share with us something of
what you're working on next?
Someone left a review of The Summer of Secrets on Amazon saying
that they hoped there would be more boating in my next book, and I almost left
a comment to tell her that a large part of it will involve just that. I'm
toying with the idea of a boat chase scene, which would be tricky as canal boats
move at about walking pace, but you never know.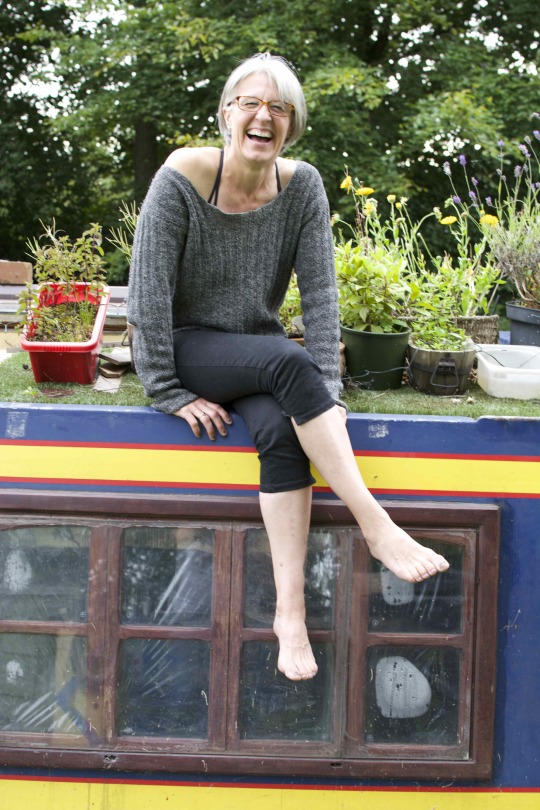 Sarah on the Boat on her boat.
Thanks to Sarah for sharing her thoughts on her writing process and some fab pictures. You can find her on her boat and also online here:
https://twitter.com/sarahontheboat