Good morning campers and welcome to day 2 of our Beth Miller extravaganza, with an interview on her 2nd novel, THE GOOD NEIGHBOUR. Well, this novel is a sneaky mystery/domestic drama that creeps up behind you, then WHAM, right between the eyes. There's a brilliant twist after which the tension ratchets up till the last page. A totally compelling page-turner that you just can't put down. You simply must know what the heck is going to happen!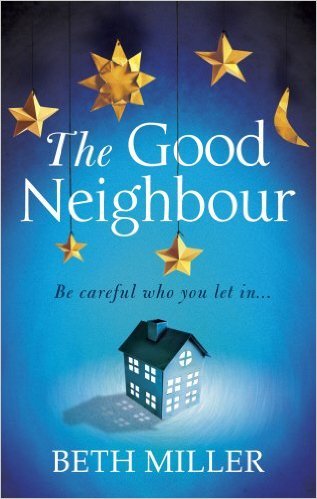 Here's the blurb:
Everyone has secrets. How far will you go to protect yours?
After living next to the neighbours from hell, Minette is overjoyed when Cath and her two children move in next door. Cath soon becomes her confidante, a kindred spirit, even her daughter's babysitter.
But Cath keeps herself unusually guarded and is reluctant to speak of her past. And when Minette witnesses something unspeakable, she begins to question whether she really knows her new friend at all…
[1]
You handle the drip-drip of information so well. How do you plan
what to reveal and when?
That's very kind of you. I wish I had a clear answer! It's done a bit
randomly, with a heavy reliance on re-reading to make sure it makes sense.
Sometimes, going through an early draft, I will discover that I have revealed
something absolutely vital and secret in chapter one by mistake. This is why I
need quite a few drafts.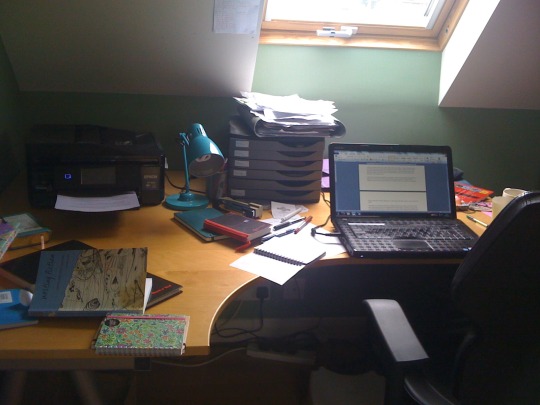 Beth's messy desk.
[2]
Early parenthood is a theme here – the loneliness, the irrational
envy of others with older kids or no kids or a job or, seemingly, a life! How
did you find writing these sections?
Very cathartic! I found the baby years a tad difficult (slight
understatement) [ME TOO. I've never done so many fake smiles in my LIFE]. I sometimes wished the time away. I'd think, one day the kids
will be four and six, and things will be so much easier. And they were. But I
missed out on some nice stuff because I found it all so hard.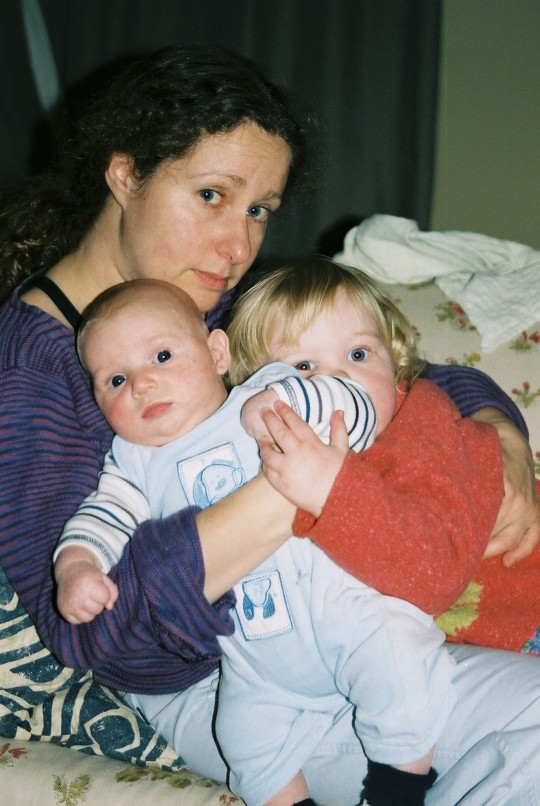 Beth looking knackered in those baby days.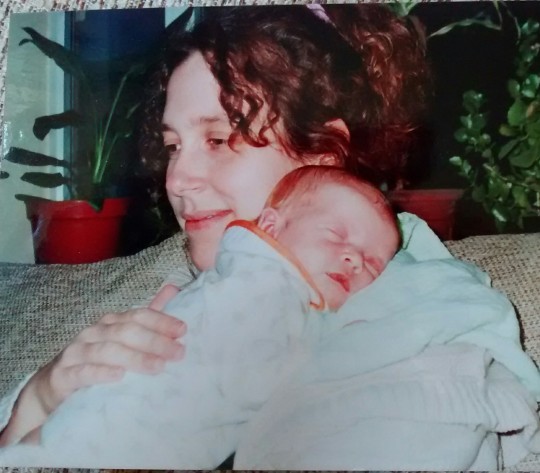 Me with fake smile pretending to enjoy early parenthood.
We used to go to a horrid soft play place, where I had to be on constant
alert (my toddlers weren't great climbers and they were always getting stuck).
And I would see other mothers (with older children) sitting on sofas READING
MAGAZINES while their kids got on with it. I don't think I ever envied anyone
in my life as much as those mums. I thought, one day that will be me sitting
there, reading a magazine. Fast forward a few years and it was. And it was
FAN-BLOODY-TASTIC. I saw a mum of a toddler looking at me enviously as I sat
there sipping a horrible cappuccino and reading my mag, and I knew I had made
it out onto the other side.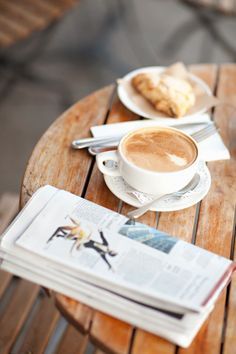 The holy grail of new parenthood: time for a cuppa & a magazine.
[3]
This is another multi-viewpoint narrative, like When We Were
Sisters. How and why did you choose this way of telling the story? What are the
pros and cons?
I am slightly worried that I can't write in any other way. I envy people
(YES, YOU, Rebecca, and you're not even at the soft play reading Grazia) who can maintain one strong
narrative voice over the whole course of a novel. I'm trying to do that with my
third and I am finding it hard. The thing I'm most interested in is how
different people see the same event, so it makes sense for me to have several
narratives. I like trying to write about why seemingly bad characters do things
from their point of view, cos I'm guessing they don't usually think, I know,
I'll do something bad today. They have reasons, even if most of us couldn't
relate to them.
[4]
What research did you carry out into Davey's condition?
I did a lot of online research, as is the modern way. And I spoke to
three medical friends. I am lucky to have three, aren't I? There was also a
brilliant edition of Woman's Hour
which had a big feature about Duchenne muscular dystrophy. I heard it by chance
when I was driving somewhere, and I sat in the car to finish listening and was
late for whatever the thing was I was meant to be at.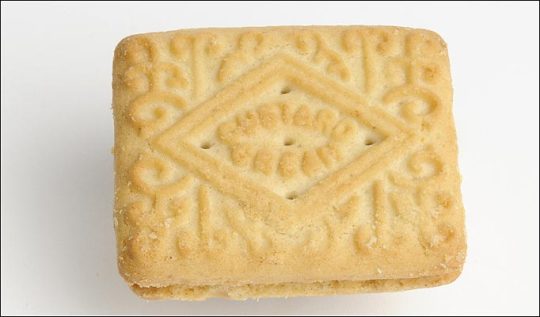 Custard creams – medium biscuit or crap biscuit? FIND OUT BELOW…
[5]
You have a great eye for detail e.g. crap lattes, custard creams
being a medium biscuit etc! Also, as one reads on in this novel, there is
a clear sense that no action or bit of dialogue is unnecessary. Every fact has
been included to become revealed as crucial later. Do you overwrite and edit it
down later, or does this pared down structure come in the first draft?
I overwrite so crazily that I would die of embarrassment if you saw the
first draft. It's like those old-fashioned adverts for Weight-Watchers with a
before and after pic. Early drafts are completely flabby and out of shape. Then
I go back in with a large pair of editing scissors and a crazed look on my
face, and no word is safe until I am done. The book then proudly holds up an
enormous pair of trousers to show how large it used to be. I think you're very
lovely to describe it as pared down; I think it's still slightly overweight and
could use a few more drastic gym sessions.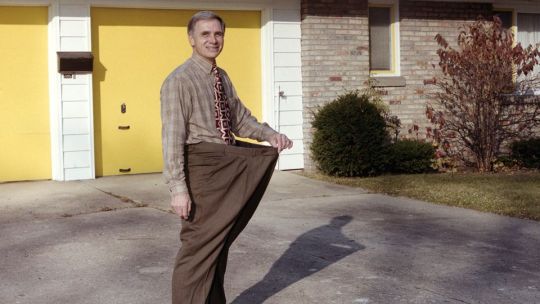 Once overweight man to symbolise Beth's editing process. I've no idea who he is.
[6]
This is a kind of mystery novel, full of enigma and revelation. Have
you ever written crime narratives, or considered doing so? You'd be brilliant
at it, I'm sure!
I've never even thought of it! I don't know if I could do it because I
am not at all familiar with the genre, so I would probably make painful
mistakes, and write things I think are wildly original that turn out to be
complete clichés. Also I am quite cowardly so my murderers would probably be a
bit rubbish and inclined to go straight and collect stamps instead, or
something.
Check out Beth's AWESOME book trailer, made by her lovely kids.
[7]
Can you share with us anything of what you're writing next?
It's still at the early stages but my new novel is about a
woman called Hana who leads a double life… I am very excited by the idea of it
but at this point am still not entirely sure what the story actually is. This
is the one that I am trying to write in a single narrative voice. It remains to
be seen if I can manage it. Hana suspects that I can't, but I am discovering
that she is kind of judgemental.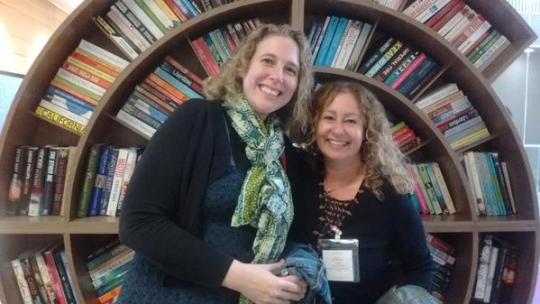 Me 'n' Beth larking around at Hachette.
So there you go, folks – sadly we've come to the end of  our Beth Miller laugh-in and I'm gonna miss her on my blog. Might just do a Dr Miller interview EVERY DAY – hurrah!! In the meantime, go and buy her books here or somewhere else, all right?
http://www.amazon.co.uk/When-Were-Sisters-Beth-Miller/dp/0091956315/ref=tmm_pap_title_0

http://www.amazon.co.uk/The-Good-Neighbour-Beth-Miller/dp/0091956331/ref=tmm_pap_title_0
http://www.amazon.co.uk/Love-Archers-Unofficial-Companion/dp/1849537739/ref=asap_bc?ie=UTF8