Last week, I shared a stage with historical novelist Margaret
Dickinson and once Home Secretary Alan Johnson MP – and it was one of the
proudest days of my life! Let me tell you all about it.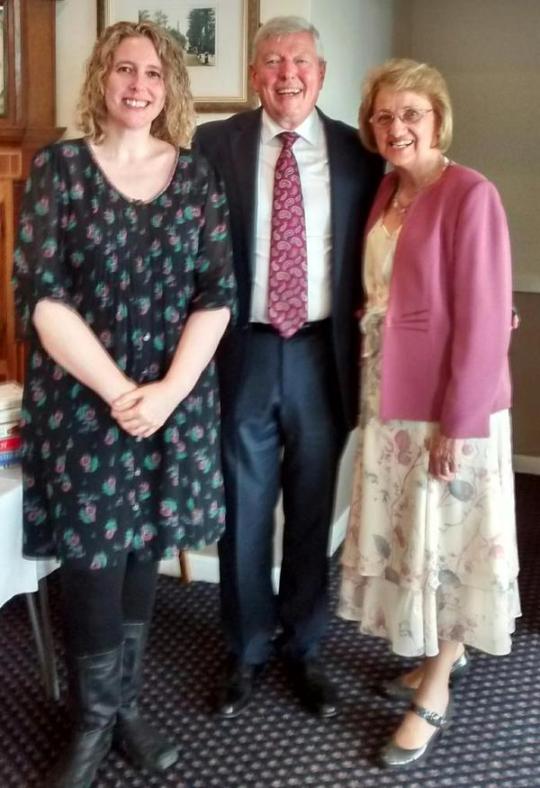 I was asked some months ago if I would speak at the
Cleethorpes Literary Lunch in September and found out that Margaret and Alan
were guest speakers too – well, what could I say, but yes please! I was
thrilled to be asked, especially since I only live down the road (I'm big on
convenience, me). But seriously, what an honour.
Margaret Dickinson has written 31 novels to date – yes, 31!
– and is still hard at it, bringing out a novel a year with Pan Macmillan and
is as popular as ever. When we first met before the event, she immediately
introduced herself to my mum and me and started talking about how I could get on
in my career. That was so helpful and kind of her, and hugely appreciated.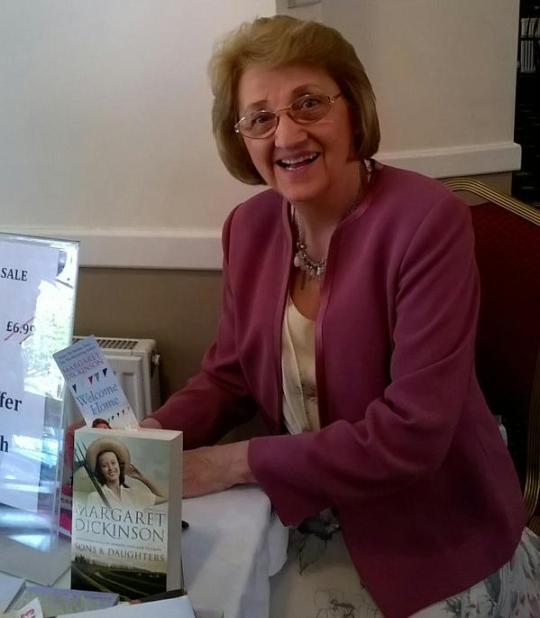 Margaret with one of her 31 novels, SONS & DAUGHTERS. Her latest book is WELCOME HOME.
When Alan Johnson arrived later, he started talking to
Margaret and me, asking us about ourselves and our writing. He said that this
literary event business was a whole new world to him he never knew existed, in his years
before he wrote his memoirs – 'THIS BOY' and 'PLEASE, MISTER POSTMAN'
(Transworld) and he certainly seemed to be enjoying this new world! He never
stopped smiling and was courteous and kind to everyone he talked to.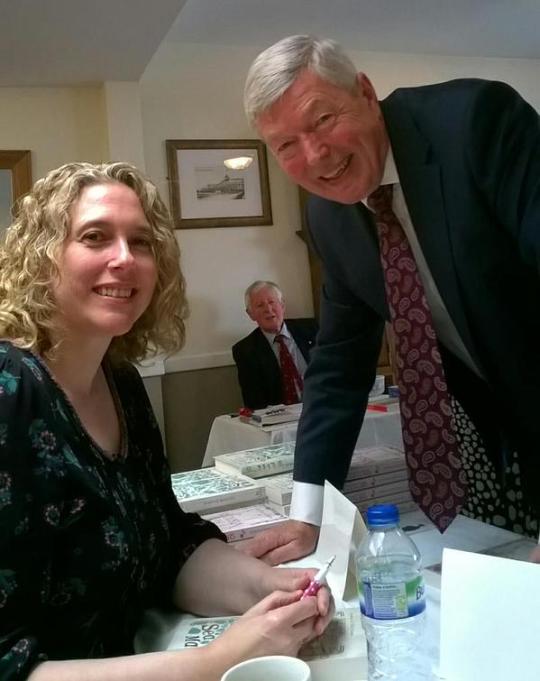 Alan Johnson, the smiliest politician – or writer – or person! – you'll ever meet.
Once we were up on the stage, ready to speak to around a
hundred guests, my nerves started to kick in and thus I was very grateful that
I was to speak first, as I knew I could then enjoy the other two speeches once
I'd got mine over and done with. I chose as my topic The Secrets of the
Publishing World…Don't worry, I didn't dish the dirt on any of my writerly
colleagues or anything, but rather, I shared with the audience some of the
stuff nobody tells you before you get published.
Such as:
·        
that moment when my agent called me and said –
after 12 years of work and rejections – "We've got it!" and you realise you're
not one of the tone-deaf hopefuls in the X-Factor auditions who's kidding
themselves they can sing until a judge smashes their illusions – that you'd
made it and got your first publishing deal;
·        
how it felt when I read my first review of THE VISITORS (how your
cheeks go all hot);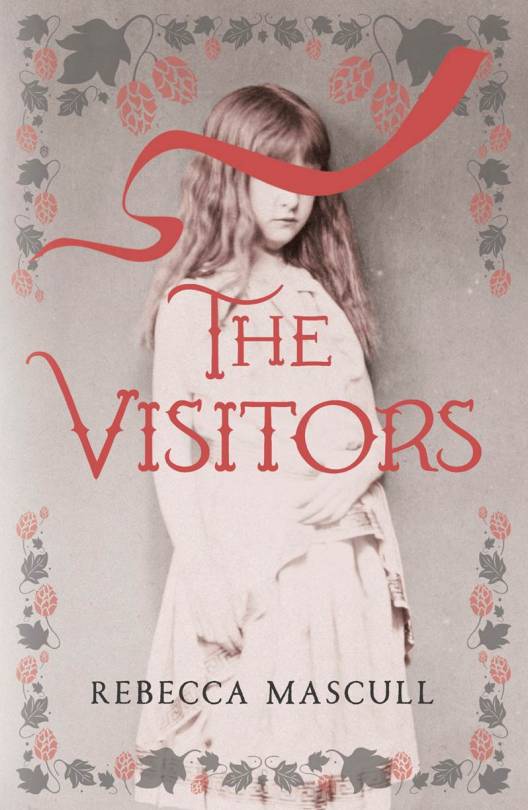 ·        
the fact that you'll be edited three times –
line, copy, proof – and have to navigate the muddy waters of compromise over
your precious writing.
I told the story of how the copy editor for my second novel
SONG OF THE SEA MAID – after I had read the novel in question countless times,
as had several professionals and many more friends and family –  the eagle-eyed copy editor spotted the fact
that one of my characters had six sons I'd completely forgotten about. You may
think it's pretty difficult to forget about six sons, and they were big, strapping
fishermen too, not easy to mislay. But I had forgotten they existed and
forthwith had to kill them off, or at least never let them be born in the first
place, as they were far too cumbersome and would muddle the plot awfully. In my
Acknowledgements, I thanked my copy editor and suggested we dedicate the novel
to the memory of the six sons…I think they should have their own novel,
actually. I might write that one day…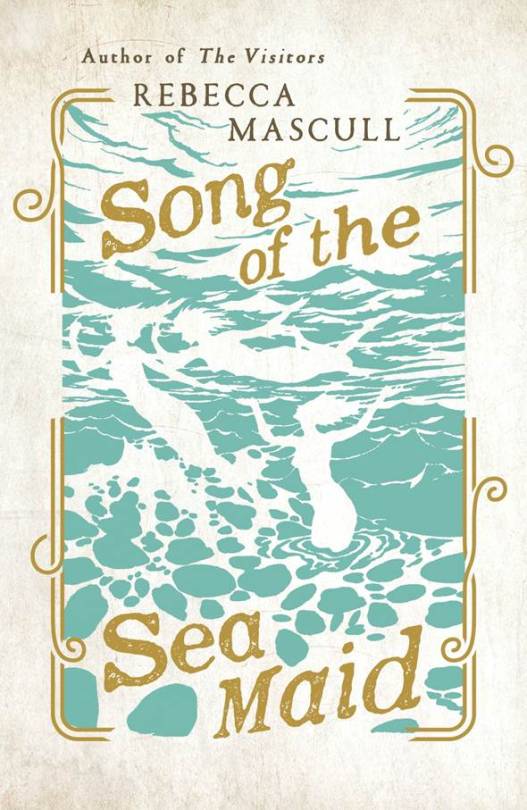 When I finished my speech, it was a relief that I hadn't
messed up or (hopefully) bored everyone to death, and then the joy of listening
to Margaret and Alan's speeches, knowing my bit was done and dusted. And what
brilliant speeches they were: Margaret spoke next, with barely a scribble noted
down, and related a series of hilarious and fascinating experiences of her
research over the years, of visits to archives where she found and used local
names that had inadvertently got readers thinking she was writing about their
own grandfather; and the lovely people she's met along the way, including the
woman in the signing queue who put her book down to sign and said, "It's for my
husband. He loves your songs…" (Thinking she was talking to Barbara Dickson…)
Such a privilege for me to listen to such a seasoned professional and hear the
secrets of her longevity as an author, and for me to learn so much from her.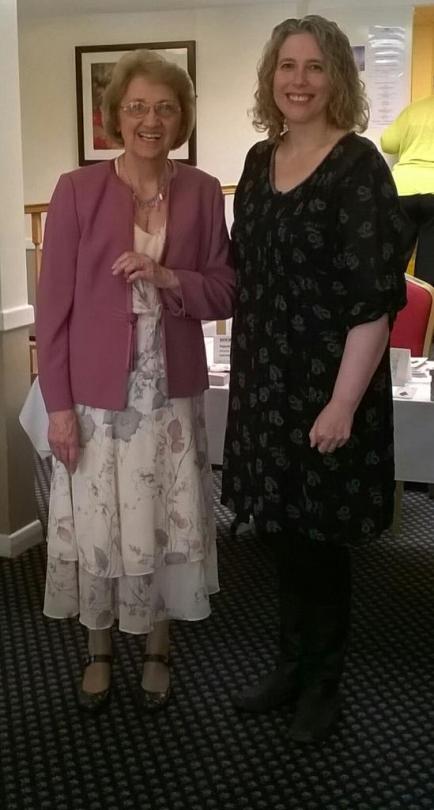 And then Alan Johnson MP, who was the Home Secretary once
upon a time, who was touted (and desperately wanted and needed, let's face it)
as the next Labour leader; who grew up in dire poverty and whose first book won
the Orwell Prize and many more accolades; who just happens to be the MP for
Hull West and Hessle, just an hour up the road from me, so bless him, he came
and did the Cleethorpes Literary Lunch and wowed us all. His speech was very
witty – his first joke was that he spoke recently at an Amnesty International
event where each speaker had to read from a writer imprisoned in their own
country and he said, "I chose Jeffrey Archer"…He read from his memoirs and told
us stories about the bucket of urine in the corner of his bedroom and his days
as a postman after marrying at only 18 years old. So wise and self-deprecating,
so funny and generous.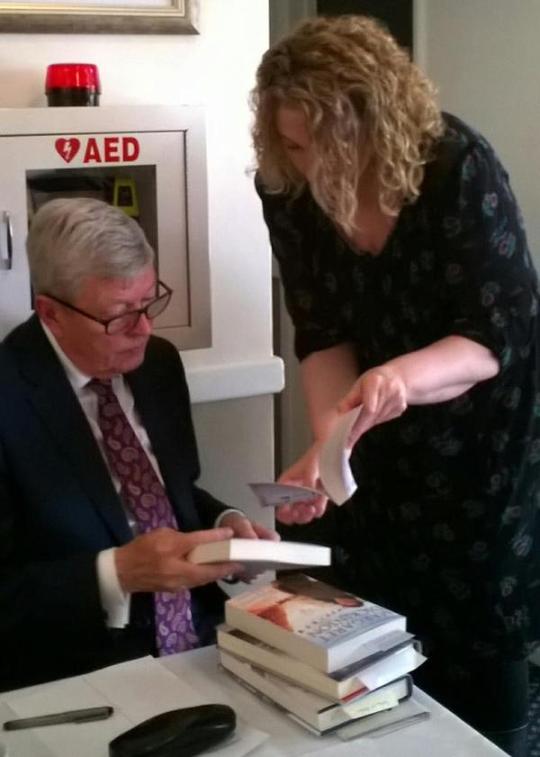 I was pretty star-struck, I can tell you. But what a delight
afterwards, when we went to our table to sell a few books and readers were
coming up and asking me about the books and some even said they'd bought mine
before the event and loved reading them! A huge thanks goes out to everyone who bought a book and chatted with me – it was a delight to meet you all. Margaret, Alan and I all bought each
other's books too and signed them. I'll treasure those books – and their wonderful dedications – always.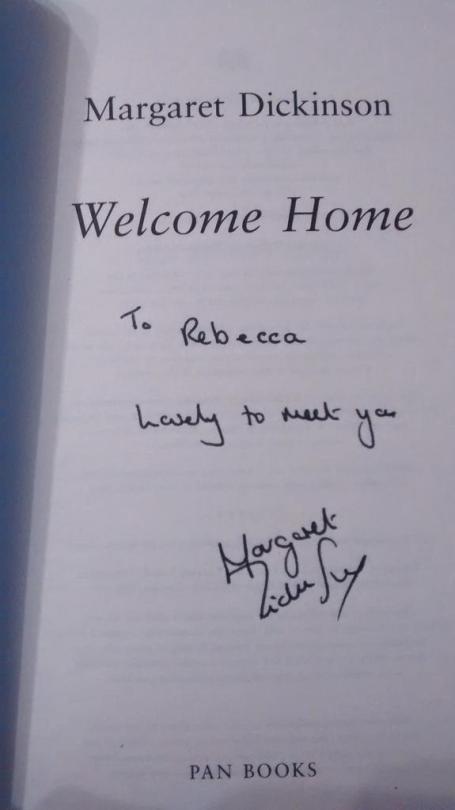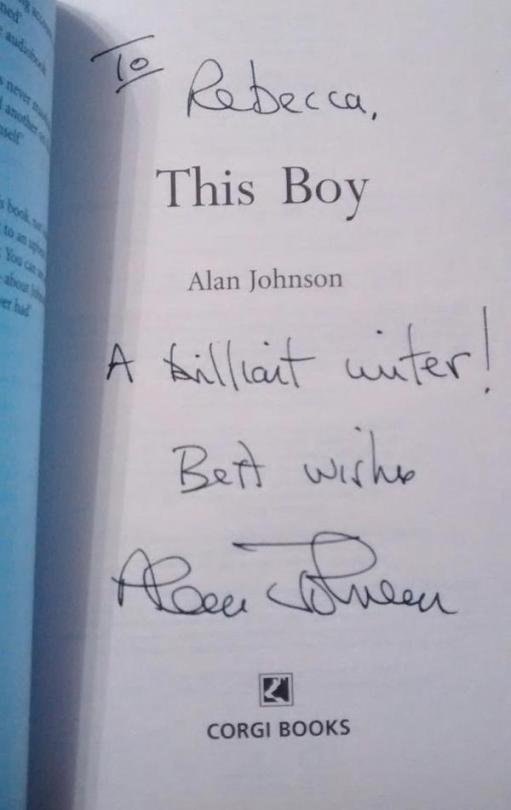 So, you can see why it was such a thrill for me and, to be
honest, even though we were only in little sunny Cleethorpes, the town where
I've made my home, it turned out to be such an important event for me, a true
turning-point in my career, where I felt awe-struck, yes, by these people I
stood beside and yet, I was able to take my place on the same stage and share a
bit of that fairy dust.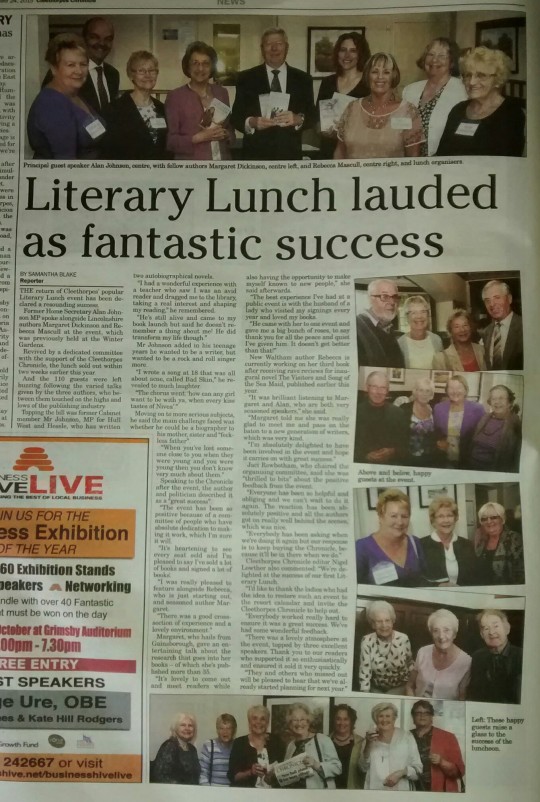 Brilliant write-up by Cleethorpes Chronicle's ace reporter Sam Blake.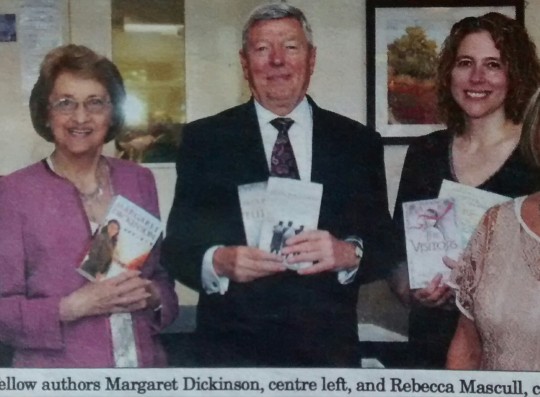 Proud moment for me… 
Finally, I'd like to thank the Literary Lunch committee, all 110 guests and the staff of the Cleethorpes Chronicle for inviting me and for making it such a successful event. Thanks to my mum and dear friend Pauline for coming and also for helping with book sales. And lastly, thanks to Margaret and Alan for being so lovely. 🙂