Good morning! I've been away from the blog for a while, so I'm delighted to be back with a super interview from Virginia Baily, author of the beautiful new novel EARLY ONE MORNING.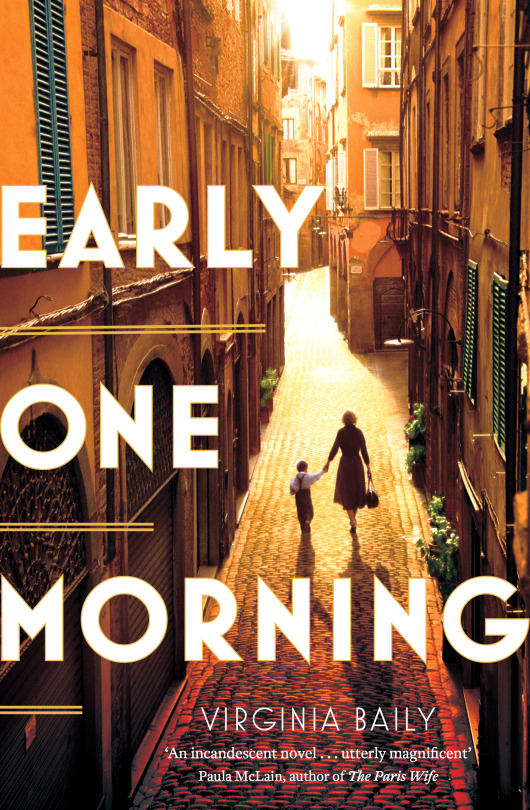 I discovered this book by chance, after seeing the cover on Twitter. Believe me, the narrative inside is as gorgeous as the cover. The story ranges from Rome to Wales, from wartime to recent history, a poignant and honest account of the personal cost of love and what makes a true family. 
[1] 
There are so many different angles one could take when
dealing with a subject like the Holocaust and this setting of Rome was an angle
that was certainly new to me. What prompted your interest in this part of
history?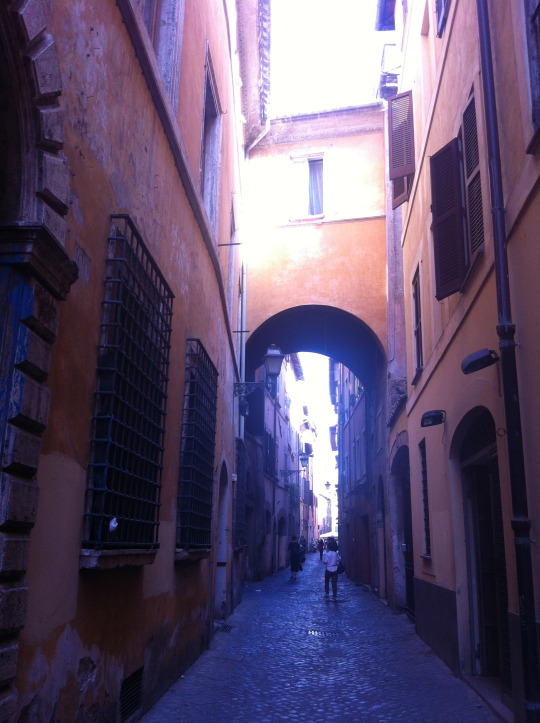 Via dei Cappellari.
Were you once a young woman in Rome?
You write so convincingly from this viewpoint, I wondered if you were! Can you
also tell us about some of your research methods for the settings of this
novel, in time and place?
My aunt, who is
also my godmother, lives in Rome and I first went to visit her there at the age
of 16. I have been going back ever since. The story of the genesis of the novel
is the story of my love affair with Rome. Many of the elements of my first
visit find a place in the book – the fabulous food, the colours, the heat and
sunshine, the effect of the beauty, of being surrounded by it and feeling its
glow, the sound of Italian, the urgent need to speak it, the discovery of a new
version of me as a 'bella bionda' and foreign and unexpectedly exotic. Maria,
the young girl in EOM, is not me but much of her experience of Rome echoes
mine.
My fascination
with war-time Rome was first sparked by the novels and films I studied when
doing a degree in Italian.  Rossellini's
film 'Rome Open City' set and partly filmed during the German occupation
probably came first and was an eye-opener. 
Later on I did some research into resistance literature and I came
across an account of the round-up of the Jews of Rome on October 16 1943
written by a Jewish writer called Giacomo Debenedetti.  The impact of that on me was huge and
amplified by the fact that it all took place around the corner from my aunt's
apartment in the street where we went for our morning coffee.
So, to some
extent, the research for this novel has been an ongoing process over the course
of my life! But I had to refresh my knowledge and add detail and for this I
read and re-read novels written in the periods where mine is set, watched films
for the first or umpteenth time, read first-hand accounts / history books,
examined hundreds of photographs of Rome then and now…  
I also went and
lived for a more extended period in Rome while I was actually writing the book.
I won the McKitterick prize for my first novel, 'Africa Junction' and used the
prize money to rent a flat in the San Giovanni area. In the mornings I wrote
and in the afternoons I roamed Rome!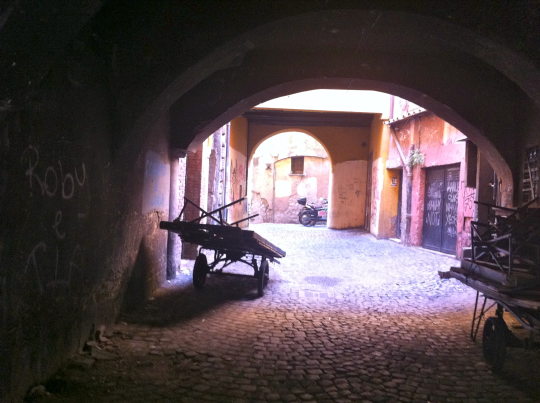 The real-life setting where the character Chiara lives in Early One Morning. 
[2]
You use different tenses for the
different time periods, interestingly, using the present for the oldest section
and past for the newest. How did this decision come about and what effect do
you feel it has on the reader?
My default
setting for telling a story is third person past tense and there has to be good
reason to stray…
The present
tense gives a feeling of immediacy, of events unfolding in that precise moment
and, because the war-time stories are history in the making, it seemed the best
way of articulating that. For my heroine, Chiara, life is tumultuous and
ever-changing.  She is at the mercy of
massive, historical seismic movements, of people, of bombs, of armies and she
is just a pawn; only able to react, make split second decisions without knowing
what their consequences might be. The present tense has a drama and a
life-on-the-edge-of-a-blade feel to it.
The tense
choice is also (I intended and hope) a way of quite subtly signalling to the
reader which time period she / he is now in without overtly flagging it up.
There was something perversely pleasing about the contrariness of it – that the
older story is told in the present tense and the more recent one in the past
tense.  But it also mirrors Chiara's
stage of life – the present tense when she is young and unformed and the past
tense later when she is more reflective, what's done is done and she has to
live with the consequences.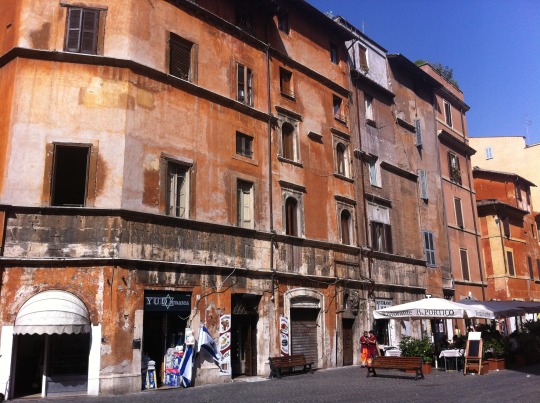 Portico di Ottavia area where Gennaro's bar is found in the novel.
[3]
The character of Daniele is a
complicated one and we never jump inside his head, seeing him only from the
outside. Anyone without a heart of stone would hugely sympathise with his
circumstances and yet there are aspects of his personality that perhaps could
be seen as somewhat unsympathetic. Was this a conscious choice on your part or
did he just develop that way of his own accord? (Personally, I find that's what
makes him so interesting! Of course, perfect characters are a deadly bore!)
Daniele is partly characterised by his absence and his
unknowability and so the decision not to jump inside his head was a deliberate
one.
I did think hard at the outset about what the impact
of something of that magnitude on a small person's psyche might be.  I looked into the effects of deracination,
survivor's guilt (aka post-traumatic stress syndrome), the motives for and
manifestation of self-harm, reactive mutism.
But, when it came down to it, his complex and challenging character
evolved with the forward movement of the narrative.  Something seismic and disruptive and
extraordinarily painful was set in motion inside him when his mother pushed him
away and singled him out for a chance at survival. I didn't set out to make him
tricky. He just was.  How could he have
been anything else in the circumstances?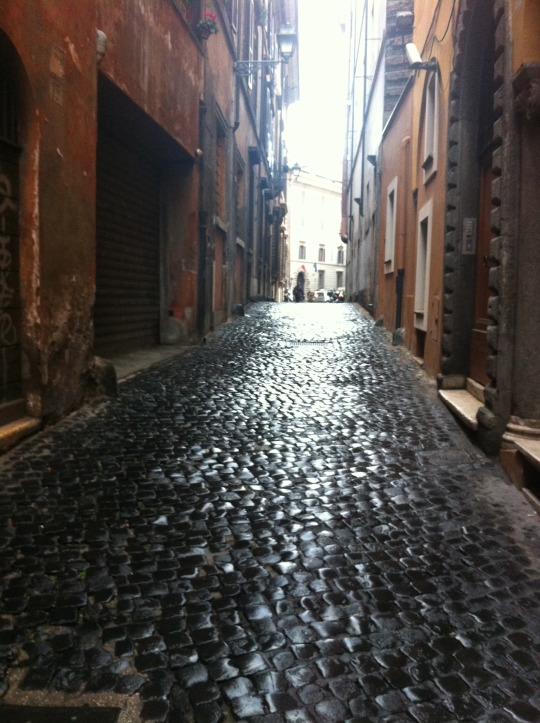 A street in the Rome ghetto.
[4]
There was one key phrase that
really struck me: "That he doesn't want to be saved. He never really
did." This story of full of moral complexity. Nobody is ideal and everyone
has made mistakes. Chiara herself makes decisions of which she is deeply
ashamed. How did this moral complexity develop for you in your planning of the
narrative? Did it simply come naturally with the territory or was it something
you consciously wanted to explore?
Debenedetti's account of the round-up of the Jews is
an amalgam of many eye-witness reports. One of the anecdotes he relates is of a woman who attempted to claim one
of the children being deported as her own.
But the child screamed for its real mother and was handed back and thus
lost. And ever since I first read that, I have wondered: How might it be if the
child did not scream, or did not scream loudly enough to be noted, or if the
forcefulness and conviction of the woman who had claimed the child somehow
overrode the screams?  If she succeeded
in making him be quiet. How might that be?
The deportation plaque commemorating the event.
Decades later, when I embarked on this novel, I was still
haunted by that question and that child but it seemed to me too difficult a
story to write.  I originally set out to
write a different novel, a coming-of-age story set in Rome in the 1970s. But
that child still haunted me.  I tried to
pull the blinds down and shut him out, but he dumbly, insistently kept knocking
at my window. So
I wrote the first chapter almost to get him out of the way.  I wrote it like a short story, as a
stand-alone piece so that Chiara's action in saving him would constitute an
ending.  Obviously an open ending, with
lots of unanswered questions, but still, an ending.
Then I tried to concentrate on my bildungsroman.
But the child, given a solid
presence now, was in my head.   I hadn't
succeeded in silencing him at all. I had done the opposite. I had brought this
uprooted, traumatized child to life and now I had to do something with him. It
wasn't an ending. It was a beginning.  
So I didn't set out consciously to
explore the moral complexity but, having set up the premise, in the end there
was no way of avoiding it. Daunting though it was, I had to go there. Yes, it
came with the territory.
Occupied Rome.
[5]
I noticed there are some scenes
where key moments are seen from the point of view of a peripheral character,
such as Assunta, the cleaning lady. Why did you decide to use such a viewpoint
and how did you feel it served the narrative?
Assunta was a character who arrived
fully formed, with her opinions and her attitude and her different
perspective.  To see the narrative unfold
through her eyes at certain key junctures allows a different facet of the story
and the characters within it to be presented. She contributes to our
understanding of what makes the central characters tick.  Assunta is there right in the middle of it
all but she is not a protagonist and so it is almost as if she is able to lift
a curtain for the reader and invite him / her to look behind.  Although I didn't think of it at the time, I
did wonder at myself afterwards for having chosen to offer the viewpoint of
such archetypal bystanders / moral arbiters as the serving woman and the
priest. Some faint, unconscious and unrecognized-at-the-time Shakespearian
influence going on there perhaps!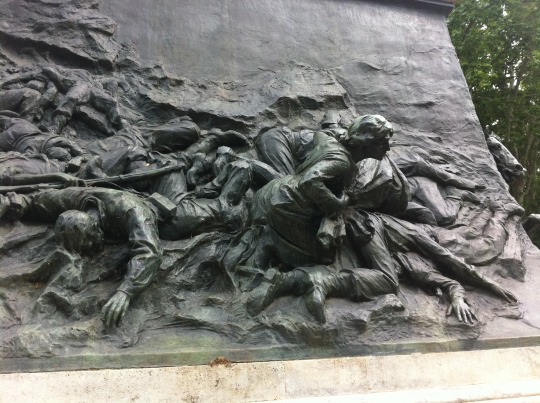 Garibaldi monument detail.
[6]
Please tell us about your work
with Riptide and the Africa Research Bulletin. Also, would you be able to share
anything of what you're working on next?
The Africa Research Bulletin is a twice-monthly digest
of economic and political news dealing with the whole African continent. It's
primarily a research tool.  I work on
both bulletins and am the editor of the political one.  
Riptide is a short story journal/ anthology I set up
about seven years ago with my friend and fellow writer, Sally Flint.  We thought there weren't enough outlets for
short stories in the UK and decided to do something about it.  So far we have published ten books and we
have just made a call for submissions for our next volume – the theme is Carpe Diem and the deadline is November.
I have started work on another novel but it's early
days. I can tell you though that a character from 'Early One Morning' has stepped
across into the world of the new story. Solid objects are often a way in for
me. I seek the connections between disparate objects and the tale might hang
from these connecting threads. In 'Early One Morning', a list of such objects
would include a sewing machine, a signet ring and a trumpet. The new novel
features a set of kitchen scales, a pair of ballet shoes and a blindfold.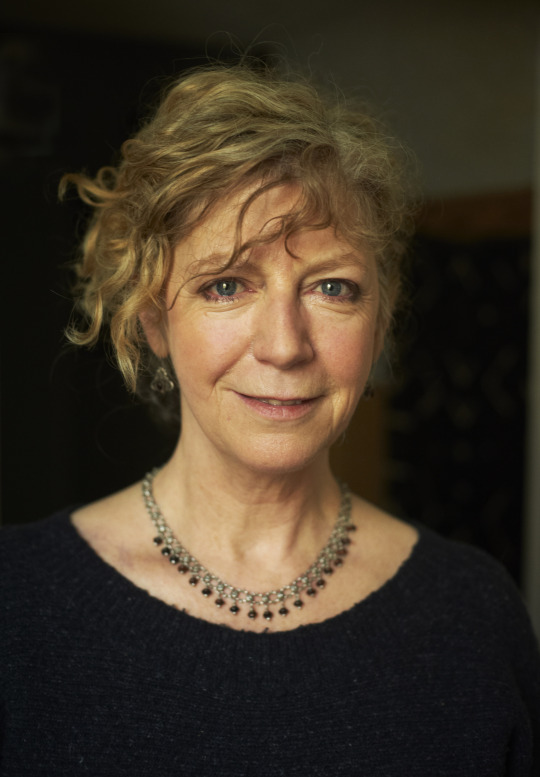 Thanks to Ginny for such detailed and fascinating answers. You can find links to her books and other projects online here:
https://twitter.com/GinnyBaily?lang=en-gb
https://twitter.com/RiptideJournal?lang=en-gb
http://www.amazon.co.uk/Virginia-Baily/e/B00698T8SC/ref=ntt_dp_epwbk_0
https://hachettebookgroup.com/titles/virginia-baily/early-one-morning/9780316300391/
http://www.riptidejournal.co.uk/
https://africaresearchonline.wordpress.com/about-africa-research-online/