It's one week to go till publication and two days after, it's the book launch for SONG OF THE SEA MAID.
And everyone's invited!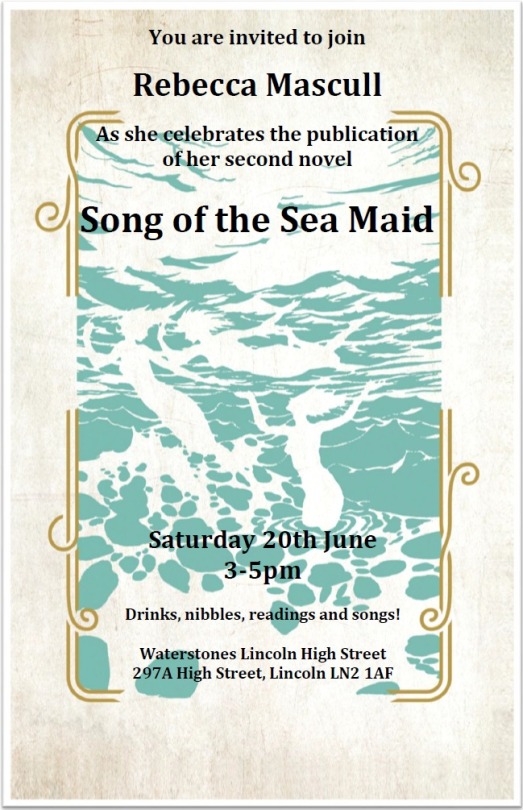 And we've got quite a few other authors and book bloggers coming along to celebrate too. So far, we have confirmed:
AUTHORS:
Kerry Drewery
Iona Grey
Vanessa Lafaye
Kendra Leighton
SD Sykes
Louise Walters
Deborah Install
and I'm hoping the following book bloggers/reviewers/readers might be able to come too:
BOOK BLOGGERS/ REVIEWERS/ READERS:
Anne Cater @annecater
Naomi Frisby @frizbot
Sophie Hedley @SophieRTB
Linda Hill @Lindahill50Hill
Ani Johnson @bookishAJ
KM Lockwood @lockwoodwriter
Vicci Routledge @VicciRoutledge
Vicky-Leigh Sayer @WelshLibrarian
Helen Stanton @Helannsta
Louise Wykes @jaustenrulesok
Apologies if you are on this list and can't make it, or if you aren't on this list and you can! If so, let me know! If you're on Twitter, maybe you've tweeted some of these authors and bloggers before and now you have a nice excuse to meet them and have a chat! Go find them once you get there!
And bloggers, I don't know what all of you look like, so please come and introduce yourselves to me, so I can say hello.
So, if you're thinking of coming, look at all the fun and interesting other people who will be there too. Not to mention a big bunch of my friends and family and Hodder folk – you know who you are! – and they're all REALLY NICE as well.
Don't forget, Amy Naylor will be playing and performing a new song based on the book. 
Can't wait to see you all there, folks.