I loved Katherine Clements's first novel THE CRIMSON RIBBON – a super mixture of romance, friendship, intrigue, historical accuracy and mystery – and I interviewed her about it here:
http://rebeccamascull.tumblr.com/post/97208287298/interview-with-katherine-clements
Now she's gone and done it again with the marvellously entertaining yet hard-hitting THE SILVERED HEART, about a highwaywoman in C17th England.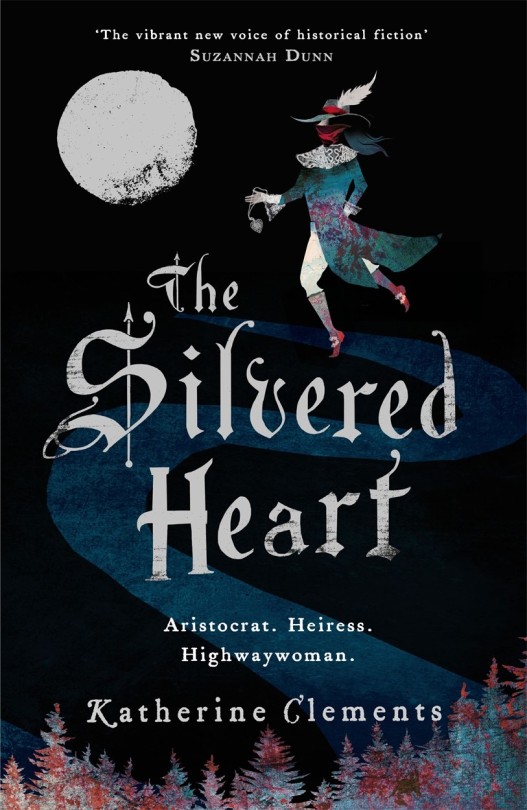 So, I'm delighted to say Good Morrow, Mistress Clements (I've probably got that totally wrong, historically speaking) and welcome back to the blog.
[1] You include so many lovely historical details in your writing, such as
this: "Beams are garlanded with apple blossom from the orchards, white
petals wilting in torch heat, falling in pretty flurries of springtime
snow." What kind of methods do you use for historical research and how do
you organise and then incorporate them into the narrative?
Research
tends to be a mixture of reading (fiction and non-fiction), watching (drama and
documentary) and visiting (historically relevant sites and locations). I start
by reading widely and then focus in on things that are relevant to the story
I'm working on. I love social history and the small details of everyday life.
I'll make a note of interesting things as I come across them, like making a
deposit into an account full of images and ideas, and then draw on this when
writing.
When
I write, the scene is always very visual to me, so often I'm just describing
what I see – there is no master plan. Sometimes I do go looking for the right
image or detail to convey a sense of place or an emotion. I think it's
important not to overdo it, no matter how much I might want to shoehorn in all
the fascinating facts I find. I try to include only details that are relevant,
or that my characters would notice.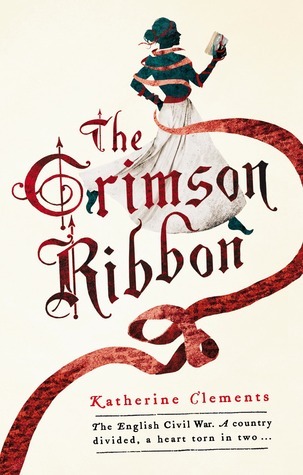 [2]
In THE CRIMSON RIBBON you wrote largely from the Parliamentary point of view
and in this book you choose largely the opposite viewpoint, that of the
Royalists. What was your thinking behind this and how do the different
perspectives appeal to you?
The
main character in The Silvered Heart,
Lady Katherine Ferrers, was a real person who came from a Royalist family, so I
knew when I chose her as a subject that I would be writing from her point of
view. It was a challenge, having spent so long working with the Parliamentarian
and radical ideas in The Crimson Ribbon,
to see the conflict from the other side. If I'm honest, I didn't personally sympathise
quite so much with the Royalist cause, and that probably comes through in the
book, but I think that says more about me than it does about anything else!
I
wanted to show what happened to the Royalist families who lost everything
because of their political allegiances (or in the case of many, just because of
their birth and background). For a period of time, families who had fortune,
status and property found themselves on the edge of poverty. Many were bankrupted
or exiled, and their property sequestered. Some never recovered. It was that
riches-to-rags story that I wanted to explore.
As
I researched Katherine and her family connections I became interested in those
who never gave up the Royalist cause. Under Oliver Cromwell's increasingly
tyrannical Protectorship there were men willing to risk everything for the
return of the King. A whole underworld of conspiracy and intelligence continued
throughout the period, to this end. Of course, we know that, eventually, they
got their way, but it's not the case that everything was restored with the
coronation of Charles II. How could it be? The legacy of the British Civil Wars
interests me and is something I'm thinking about for my next book.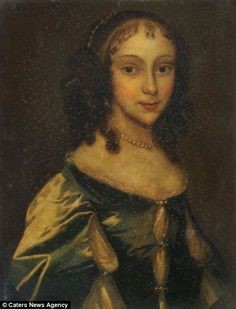 The
only known portrait of a young Katherine Ferrers, now at Valence House Museum.
[3]
I sense a hard edge to your writing which doesn't flinch from uncomfortable
truths. a) Is this conscious and deliberate? b) Has it developed over time or
has it always been in your writing? c) How do you feel this is suited to
historical fiction?
I
don't think this is conscious though I do sometimes question it. For example,
many people commented on the brutal opening scene of The Crimson Ribbon, and The
Silvered Heart also opens with a shocking event. I've wondered: how far is
too far? But I hope that if something feels true to me then the reader will
believe it too. I think I've become more confident in not shying away from
difficult or sensitive subjects and am learning to switch off that voice in my
head that worries about what people will think. I have to trust my instincts
(and sometimes, my editor!).
I
aim to present a picture that feels genuine (as much as it can ever be) and
life can be hard and brutal, then and now. I know I can be nostalgic about the
past – the kind of past that is so often presented in romantic costume dramas –
and there is a place for that too, but I try and bring a bit more grit and
grime. It feels closer to the truth to me, closer to history.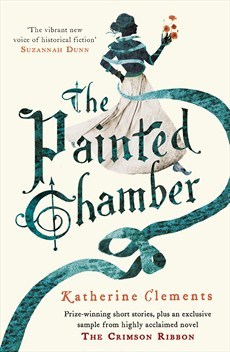 Katherine's prize-winning short stories are also available in THE PAINTED CHAMBER.
[4]
Are the settings, such as Markyate Cell, Ware Park, Nomansland Common &
Gustard Wood, based on real places in England or purely from your imagination?
All
the locations are real places and most of them are mentioned in the popular
legend that the story is based on. Markyate Cell was the Ferrers family home
where Katherine was born. Her husband sold it off to settle debts in the 1650s.
In the book, the house becomes emblematic of all the losses that Katherine
suffers, and the disappearance of a lifestyle and future that she feels she was
born to. In a strange twist of fate, the real Markyate Cell has been out of reach
to me. During the time I was researching and writing, the privately owned house
was repossessed and has been on the market, without a buyer, for some time.
Though I've tried making enquiries over the last couple of years, I've been
unable to gain access. As far as I know, it is still standing empty. I still
hope I'll be able to visit one day. So, if anyone has a few spare million…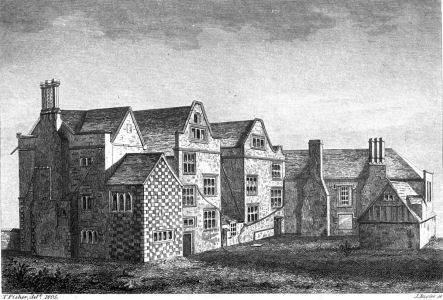 Markyate
Cell, drawn in 1805.
[5]
Lady Katherine is a marvellously feisty, strong protagonist, particularly for
her time. Can you share other real examples of determined women from this age
you came across in your research? Did you have any of these models in mind when
creating Kate? And in
your research did you discover any real cases of highwaywomen?
I
certainly seem to have a fondness for strong female protagonists in my work and
I'm drawn to women in history who are extraordinary in some way. There are many
examples from the years of Civil War, on both sides of the fight. Elizabeth
Lilburne, wife of Leveller leader Freeborn John, is a favourite of mine, along
with Katherine Chidley, who became the leader of the Leveller women. The latter
is especially interesting because she attempted to galvanise a group of women
to express radical political opinions, including early shades of feminism, at a
time when that was a very brave thing to do. There are also some great stories
of women defending their homes from attack. Lady Brilliana Harley is probably
the most famous. She defended Brampton Bryan Castle during a three-month siege
in 1643. She was a prolific letter-writer; the surviving collection gives us an
insight into her life before and during the war.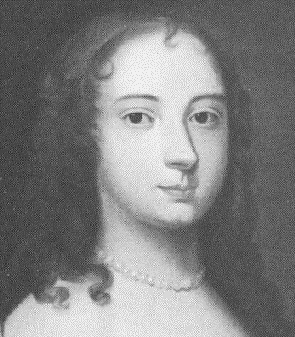 Lady
Brilliana Harley
I
didn't have anyone in particular in mind when creating Kate, but I always want
to dispel the myth that women were powerless in this period. Their political
influence was limited, but such examples show that they were far from the
weak-willed, subservient shadows that their absence in the historical record
sometimes suggests.
And
there were certainly female highway robbers working at this time, often
alongside men. Court records from a slightly later period show hundreds of
examples of women found guilty of highway robbery, so it's not as unusual as we
might think, and it's not too great a stretch of imagination to assume that the
same would apply in earlier decades. 
[6]

I'm interested that you chose your heroine to share your own name! How did this
choice come about?
As
I explain above, she was a real person so I didn't have a choice. In fact, I
found it very strange and slightly uncomfortable at first and wrote the entire
first draft using the name Kate. I needed the separation. In the end, I chose
to keep Kate as a pet name used by those close to her – she'll always be Kate
to me!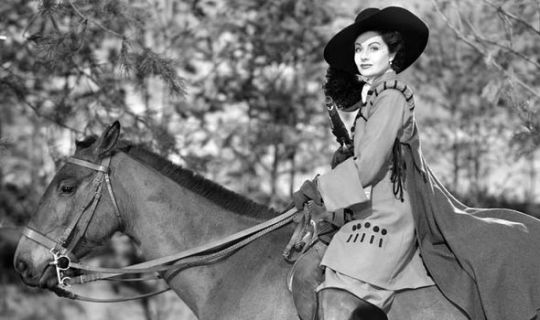 Margaret Lockwood in the 1945 movie The Wicked Lady which is very loosely based on Katherine's life (Katherine Ferrers NOT Katherine Clements…)
[7]
I particularly enjoyed the political intrigues and wavering loyalties depicted
within this historical period. What did you find most interesting in this
element of the times?
Because
I spent so much time working on the years of war while writing The Crimson Ribbon I wanted to look at
what happened next. The years of the Interregnum saw Republican ideals
flourish, waver, and then be quashed. I was interested in what happened to all
that extreme passion and fire that drove people to fight in the first place. But
I was also intrigued by what happened to those who stayed loyal to the
monarchy. Once I realised that the real Katherine Ferrers had links, through
her husband and the Fanshawe family, to the conspiracy networks that aimed to
restore the exiled Charles Stuart to the throne, it was a gift I couldn't
ignore. I think restoration – or at least a nostalgic desire to return to a
better time – is a theme throughout the book, as Kate seeks to restore the
things that she's lost.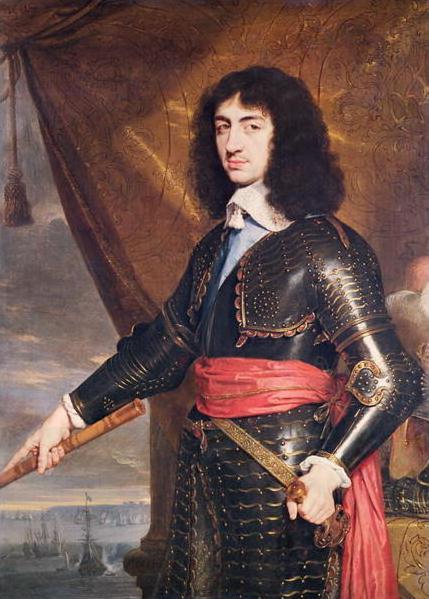 King Charles II, painted in exile, 1653.
[8]
Can you share a little with us of what you are working on next?
Not
yet. It's too early to say. But I will confess that I'm staying in the 17th
century. I'm not bored of it yet.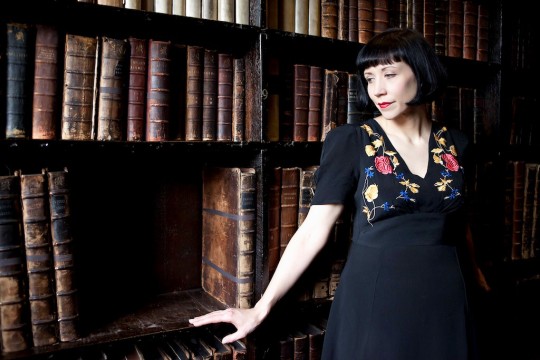 Katherine in the library – she's so damned stylish!
Thanks to Katherine for such an interesting insight into her research and thinking behind her work.
THE SILVERED HEART is out tomorrow, published by Headline. There's nothing much else going on tomorrow, the 7TH OF MAY, apart from Lydia Syson's LIBERTY'S FIRE coming out and a bunch of other lovely books, so get yourself to the bookshop and snap it up because there's really very little of interest going on tomorrow at all on the 7TH OF MAY…
You can find Katherine online here:
https://twitter.com/KL_Clements
https://www.headline.co.uk/authors/detail.page?id=vXguTEVrRwyUG38QWG/2SY5Rg7NcvYUSJVU3Q6cHAKBeteapSu-V7X8oPi0xF56ifQ__
and here's the gorgeous paperback cover for THE SILVERED HEART which will be out next February: