To celebrate the paperback publication tomorrow of 'Mrs Sinclair's Suitcase', I've interviewed the lovely Louise Walters about the book.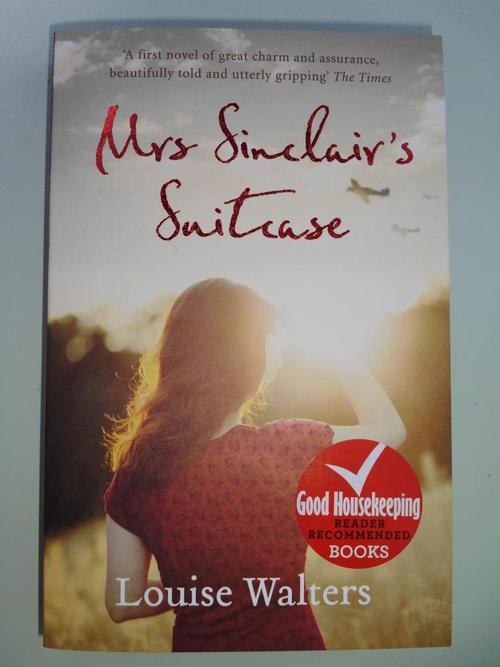 [1] Tell us a little bit about 'Mrs Sinclair's Suitcase'. 
It's a story about two women, the centenarian Dorothea and her thirty-something grand-daughter, Roberta. Roberta discovers a letter from the war years that seems to contradict all that she understands about her grandmother's past. There's romance and a bookshop and secrets and loss and discoveries. 
[2] The book is a dual-time narrative, using parallel stories from the present day and the 1940s. Which story came first to you and how did you develop the two strands? 
The Dorothy/Dorothea story came first. That was all I had in the early years as I was thinking about the characters and their story. Then I decided I needed a modern day strand too, something to bounce around on if you like, to help develop the original ideas. At first Roberta wasn't related to Dorothy. She just worked in the bookshop and discovered the letter. That didn't really work and a critique told me something I already knew, really – there needed to be some form of connection between Dorothy and Roberta. So I turned them into grandmother and grand-daughter and things flowed better from there. I had to work hard on making Roberta's story as interesting as Dorothy's, and I'm not sure I quite achieved that. But that's the risk of dual timelines, one is almost always more gripping than the other.
[3] What kind of research did you have to do to render the 1940s sections of the book? 
I read a few books, looked a few things up on the internet. I don't go a bundle on research. I like to get my story straight in my mind, and have a first draft down, before I research. I don't want any clangers in there, any silly and obvious historical inaccuracies,but at the same time, the story comes first for me. The thing I try to strive for is getting the language right in dialogue. There's nothing more jarring than reading a modern day expression coming from the mouth of a character living years before the expression was coined. I try to avoid that.  
[4] Can you explain some of the editing process this novel went through from first to final draft? 
It went through twenty two drafts.They weren't total re-writes. But once I'd got to the point where I'd made lots of changes, I felt it was time to call it a new draft. It evolved over several years. I had it critiqued in 2012 which resulted in some quite big changes, including making Dorothy and Roberta related, as mentioned. Then I was fortunate enough to be signed by my agent Hannah Ferguson, who also had some editorial ideas. Then of course I worked with my editor Suzie Doore at Hodder. There were four edits: structural, line, copy, and proof. There were changes throughout these edits. It was a great experience. 
[5] Can you tell us anything about your next book? 
I've written a third novel (I have a "bottom drawer" novel like most writers, I suspect!) and I've been working with my agent on that. It's kind of a triple time-line this time, and it was confusing the hell out of me until I opened a spreadsheet! It's about a forty-something woman trying to make sense of her past. That's the essence of it. There's revenge, love, atonement, friendship, redemption, a bit more revenge… classic themes that are so much fun to write. I hope it will be my second published novel. Fingers crossed!
Thanks to Louise for such interesting answers. Wishing you great success with your lovely novel.
See my review of this book below:
MRS SINCLAIR'S SUITCASE by Louise Walters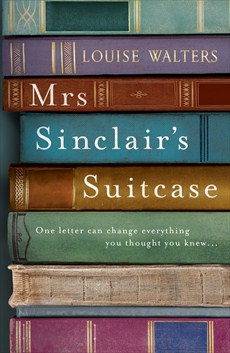 This dual-narrative novel follows present-day Roberta – who works in a bookshop and finds letters and cards inside the old books – and 1940s Dorothy who meets a Polish pilot during the Battle of Britain. Secrets from the past resurface chapter by chapter as the relationship between Roberta and Dorothy is gradually revealed. The lives of these two women and the conflict between their inner feelings and the outer world – and for both, a reluctance to fully engage with that outer world, looking in from outside, always on the edge of things – are beautifully rendered by the writer. Traditional aspects of women's lives – such as childbirth, relationships with parents, marriage, adultery, cookery and laundry – are explored in a sensitive and careful way, all the while the central mystery unfolding and drawing the reader onwards. I particularly enjoyed the scenes between Dorothy and Jan, her Polish pilot, which achieved a kind of timeless quality which I did not want to end and was eager to return to. I'm trying to avoid giving away any plot spoilers, but suffice to say there is a central scene recollected by Dorothy – told in flawless stream of consciousness – which was devastating and harrowing to read, brilliantly done – you'll know what I mean when you get there. The characters will live on long in the memory, and the scenes in Dorothy's kitchen and in the fields surrounding her farm are etched in my mind. A lovely book, touching and very moving.