Good morning to fellow Prime Writer Sarah Vaughan, whose second novel was just published last week: The Farm at the Edge of the World. 
Here's the blurb:
1939, and Will and Alice are evacuated to a granite farm in north Cornwall, perched on a windswept cliff. There they meet the farmer's daughter, Maggie, and against fields of shimmering barley and a sky that stretches forever, enjoy a childhood largely protected from the ravages of war.
But in the sweltering summer of 1943 something happens that will have tragic consequences. A small lie escalates. Over 70 years on Alice is determined to atone for her behaviour – but has she left it too late?
2014, and Maggie's granddaughter Lucy flees to the childhood home she couldn't wait to leave thirteen years earlier, marriage over; career apparently ended thanks to one terrible mistake. Can she rebuild herself and the family farm? And can she help her grandmother, plagued by a secret, to find some lasting peace?
This is a novel about identity and belonging; guilt, regret and atonement; the unrealistic expectations placed on children and the pain of coming of age. It's about small lies and dark secrets. But above all it's about a beautiful, desolate, complex place.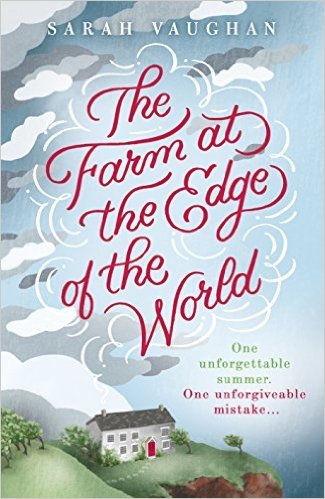 I was very impressed with this novel, as I felt it was so well done. I don't always find it easy to read dual time-frame novels, as it's so hard for the writer to sustain interest in both settings. I think Iona Grey does it really well in Letters to the Lost and I feel Sarah does it very well here too, as both narratives have forward momentum and enigma, driving the plot forward. It's also a truthful account of farming, without a hint of sugary picture postcard stuff. Here's what I said about it:
"Sarah Vaughan's beautifully-written second novel establishes her as a compelling storyteller, weaving the two strands of Cornish farming past and present into an honest, visceral love story."
1] What appeals to you about writing in two time frames i.e. 2014 and
1940s? And what are the challenges of this?
My first novel, The Art of Baking Blind, featured a time-slip story set in the
1960s as well as the more developed contemporary storyline, so when it came to
writing my second novel, I was instinctively drawn to revisiting the time-slip
idea and to developing it so that both stories were of more equal weight. The Farm at the Edge of the World holds
a secret at its heart – and I hoped that by ensuring it didn't unravel for
seventy years I would add to its poignancy and tragedy. It also generates suspense:
we know there is a secret; we don't know when this will unravel or what it will
be.
The dual time frame idea also appeals
because I wanted to show two characters not just in their teens but at the end
of their lives. My grandmother and my elderly neighbour both died recently at
the age of 95 and I've been acutely aware that they belong to the last
generation to have known real bravery and to have seen massive societal change.
After their deaths, I grieved not just for them but for the fact that I hadn't
found out more about their pasts. There would be glimpses: my neighbour, who
won the Military Cross as an officer in the second world war, revealed he
didn't grow tomatoes because he'd had to eat them after contracting jaundice in
the north Africa campaign; my grandmother mentioned not sleeping in her bed for
over a hundred nights on the trot during the Blitz. Conscious that this
generation is fast dying out, I wanted to somehow pay tribute to them.
Writing in two timeframes does bring
challenges, however. One criticism of the device is that the flitting can disorientate
and disrupt the flow; another, that one storyline – usually the historic one –
carries most of the emotional and dramatic weight. I tried very hard to ensure
that my contemporary story didn't just reflect and facilitate the exposure of
the one in the past but was interesting and emotive in its own right. On a very
practical level, writing in two timeframes means keeping a constant note of
ages at different dates to ensure consistency. I'm not great at maths so I
found this ridiculously complicated.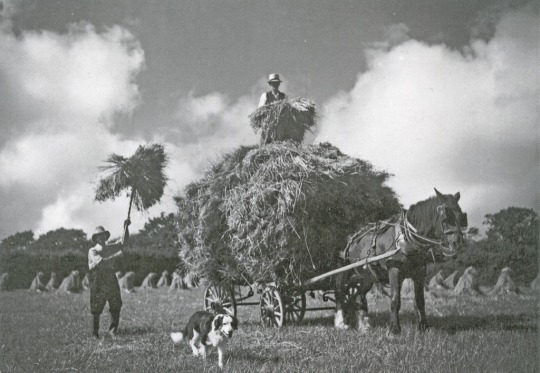 Harvest on 1 September, 1939, near Bodmin.
[
2] In our last
interview, you told me about your family connection to Cornwall. Can you expand
on this and explain some of the ways in which it's influenced this book?
My mother's parents were from
Cornwall and she would spend each summer helping with the harvest at her
grandfather's farm just outside St Austell. It was the happiest part of her
childhood: a time when she ran wild with her Cornish cousin, playing hide and
seek among the stooks of corn and the rhododendrons; putting newborn chicks in
the warming drawer of the Aga; and – shameful now – blowing bird's eggs. Her
father and her other grandfather were Methodist ministers and she thought that
she was literally in heaven: the chalk-white stream at the bottom of the garden
further evidence she was in the land of milk and honey. So vivid were her
stories, that, as a child, I painted the name of the farm – Trewiddle – on a
tiny piece of slate and attached it to the toy farm connected to my doll's
house. It was very much part of my early imaginative world.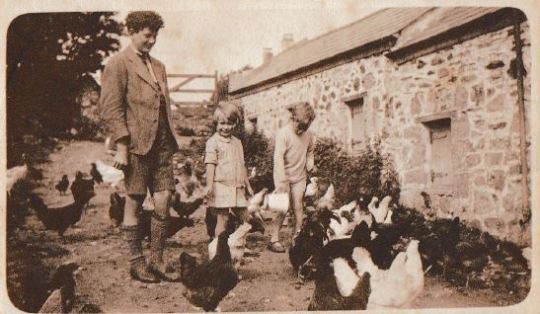 Sarah's grandfather in shorts feeding chickens in the 1920s.
At the same time, we holidayed each
year in north Cornwall: in a pilot's cottage at the edge of a cove to the west
of Padstow, at the very end of the track leading to the sea. The tide coated
the rocks at the bottom of the garden and the air was dense with the smell of
salt, honeyed gorse and crushed chamomile. Like my mother, I was happiest here:
bullied at school, I could forget about my adolescent worries as I poked around
rock pools with my sister, swam several times a day in the ice-cold sea, or
walked around the headland. The area – which I've tried to capture in The Farm at the Edge of the World – is
so packed tight with powerful memories that when I visit now with my children,
that first view sparks automatic tears.
So this novel is my literary love
letter to my Cornish ancestors and to the area where I was happiest as a child.
But I hope it's not saccharine. I also love Cornwall out of season, when it can
be bleak and desolate, the sea unpredictable and the moor, shrouded in mist,
dramatic. I intended the novel to reflect all this.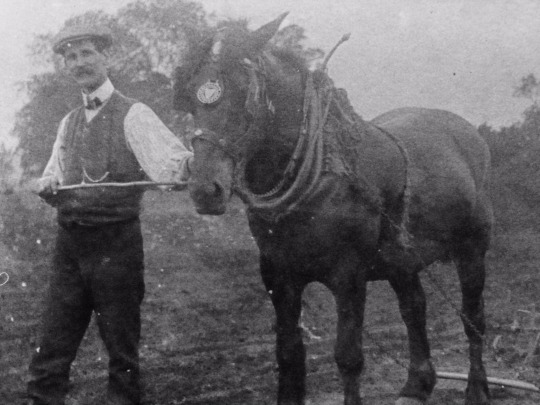 Sarah's great grandfather Matthew Jelbert hoeing mangolds.
[3] Talk us through some of the research challenges of this novel, in
particular the wartime section, conveying the difference between the two time
periods. 

Before I was a full-time author, I was
a journalist for 11 years on the Guardian so carrying out research, and
interviewing people for their stories, is something I've always loved. As well
as reading a history of World War II and books on evacuation and London at War
– for my London-set scene – I was particularly interested in the effect of the
war on Cornwall. So I started with an account of all the bombs that fell on
Cornwall, written by an air raid warden's daughter; and progressed to
compilations of news reports from The West Briton from 1939-1946.
I also raided the BBC archive WW2
People's War which collated people's memories of the war over ten years ago and
from this began to understand more about evacuees' experiences and the sense of
disorientation on leaving London and arriving somewhere intensely rural. But I
still didn't feel I was getting to the heart of my characters' experience. I
was determined to talk to those who had been farm boys – perhaps aged 16-17 –
in 1943. And so I contacted the NFU press office in Exeter, my home city, and
the hugely helpful press officer – himself the grandson of a Bodmin doctor –
put me in touch with a recently retired octogenarian farmer his grandfather had
known. Through this gentleman, Humphrey Eddy, I was put in contact with two other
farmers and in February 2014 I went down to north Cornwall to interview them
all.
That was just the start though. The
next visit was to RAF Davidstow, now a disused airfield on the edge of Bodmin Moor
that houses the Cornwall at War museum, where I serendipitously met a one-time
evacuee; and to Bodmin, to Cornwall's Regimental Museum, where I was talked
through the timings of the Duke of Cornwall's Light Regiment north Africa
campaign. Although this action barely imposes on the novel, I was terrified of
the novel not feeling properly grounded and of getting something factually wrong.
I also visited the Cornwall record office at Bodmin library and discovered the
orphanage, all of which made me feel more confident in creating this world, as
well as going to the Imperial War Museum in London; to the Aldwych, where part
of the London scene is set; and to the West Country Records office, in Devon.
Finally, I interviewed both my
farmers and my mother's cousin about techniques of harvesting, pig killing and
hand milking; and spent time on an organic dairy farm, observing modern-day
milking.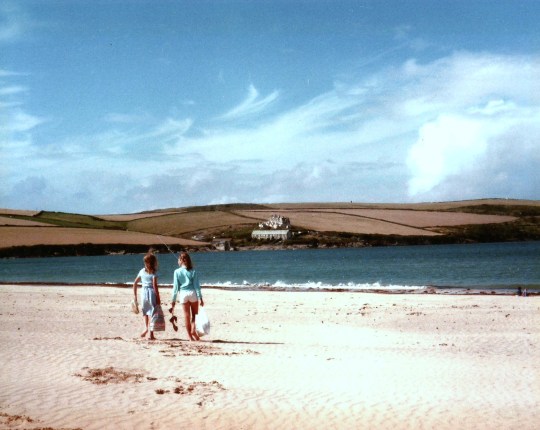 Sarah and her sister walking on Tregirls beach, north Cornwall, scene of their Cornish holidays, 1984, aged 9 and 11. The cottages in the distance are those they stayed in.
[4] What research methods in particular did you use to convey the sights
and sounds of Cornwall as a setting e.g. visits, photos, films, books etc.?
There's a sepia photograph on my desk
of my great grandfather Matthew Jelbert, hoeing his mangolds with a horse and
plough. My house is also filled with photographs of my favourite seascapes in
north Cornwall, some featuring me as a small girl, and so these proved a
starting point – as did further family photos of my grandfather, feeding chickens
or bringing in the harvest, on the family farm.
But there is no substitute for
visiting a place you're writing about and so, in addition to my trips to meet
farmers and to visit RAF Davidstow, I returned to north Cornwall to walk on the
beaches, climb the cliffs and, in a separate trip, to explore the moor. One of
my characters, Alice, embarks on a quest there and I felt I hadn't captured the peculiar claustrophobia of
high-banked hedgerows or of tiny villages hidden in the folds between tors. Nor
was I sure about the smell: damp grass, musky bracken, honeyed gorse?  
I don't think I consciously set
out to get lost but I did so very easily and it was the best thing for my
novel. Daphne du Maurier came up with the idea of Jamaica Inn after being
caught in the mist here and as I climbed out of tiny Blisland towards St
Breward, the mizzle deepened and I became disorientated by a
visibility that, at best, was poor. Incapable of seeing any farmhouse, or even
the track in front of me, I had to stop still and take in the atmosphere: the
lush grass, the relentless rain, a damp that seeped through my trainers and
into my bones and reminded me of quite how bleak and inhospitable any moor can
become. I'd wanted "colour" – the sensuous details that make a setting come
alive – and here it was by the bucket load. It taught me to visit my setting
right at the very start of a novel.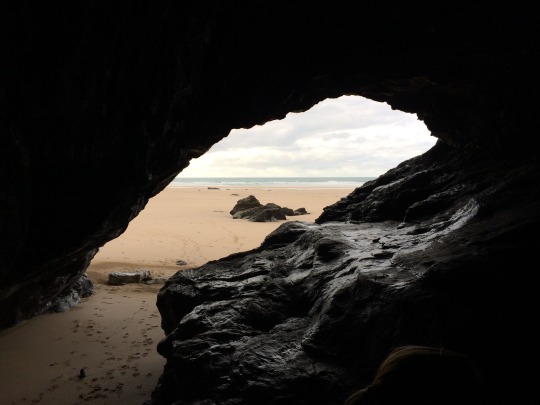 Cave, Watergate Bay, which inspired the caves in the novel.
[
5] I noticed
that you often used metaphors that were related to the Cornish landscape. Did
this come naturally as you inhabited it in your mind or did you go back and
craft these later?
I think the metaphors came
entirely naturally. With Lucy, in particular, I was trying to imagine the mind-set
of someone who is at her truest in the habitat in which she has been brought up
and to which she has returned and so her emotions are conveyed in terms of that
setting. I think you've spoken about creating a textured novel and I suppose I
wanted to create a sense of place as powerfully as possible and tried to do so
through this layering. But I never went through it afterwards thinking: I must
use a sea metaphor. The most confident passages came about organically.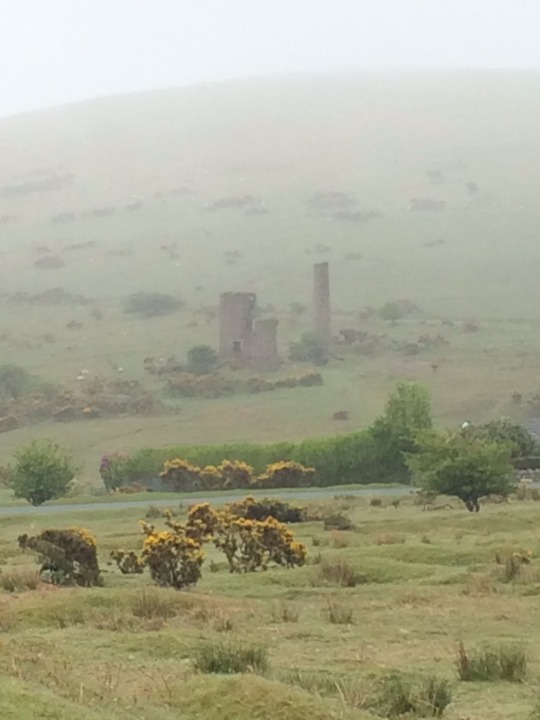 Disused mines on Bodmin, near Minions.
[6] I was especially impressed by the honesty with which you represented
farming life, the killing of a pig, a cow breaking its leg, birthing in all its
gory glory! Was this a conscious decision to avoid romanticising the Cornish
farmer's way of life?
Very much so.  The wife of one of the octogenarian farmers I
interviewed related the killing of the pig to me in great detail but even
before this early research I made the decision that I didn't want to depict a
sanitized version of farming life. There are plenty of novels offering
fantastic escapism in the form of a Cornish coastal setting but I wanted
something truer to the experience of living on a farm. Cornwall together with
south Wales is the UK's poorest region and in the top ten most deprived areas
in Western Europe. I haven't conveyed the abject poverty experienced in towns
such as Redruth or Camborne since my characters own their farm and so have this
to buttress them – but I hope I've given an indication of the financial
pressures faced by farmers which I gleaned from talking to members of my
family, and other farmers.
As
for the birth scene, I wanted to convey that, for all Evelyn's pretensions and
her preoccupation with how her daughter might be viewed, the birth of humans
and animals is not so very different. No one living on a farm with animals
could fail to be aware of sex and death: from cows trying to mount their
mothers to the continual cycle of animals being born and then sent to the abattoir.
There's little room for sentimentality on a farm and so I wanted to minimize it
in the novel.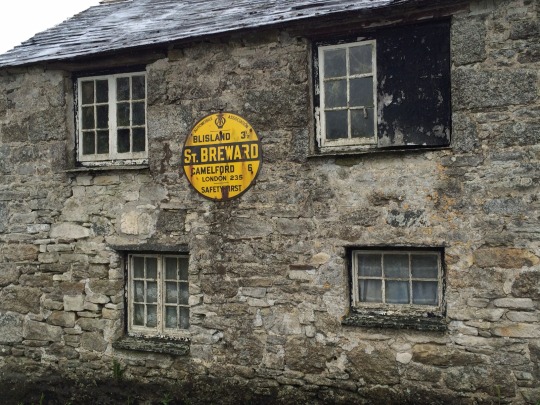 Disused cottage at St Breward, Bodmin moor.
[7] Many writers are familiar with the idea of the 'difficult second
novel'. How was it for you?!
I actually think the
difficult second novel is an authorial rite of passage. How can it not exist?
You write your first novel in a flurry of excitement with little expectation
but a great deal of hope and then, if you're lucky enough to get a two-book
deal, there's this sudden burden of expectation. You pulled off this trick of
writing the once but how are you going to do it again?
         My experience of a difficult second novel was made worse by
the fact I'd tried to be far more ambitious – with a time-slip story that
necessitated a tricky structure and required a lot of historical, and
agricultural, research. I delivered on time but, to my shame, my editor wasn't
entirely happy: she wanted something darker and more ambitious. Cue stripping
out and rewriting 55,000 words. A mum at the school gates recently commented
that I seemed preoccupied for much of last year: there were certainly two or
three dark months. But I hope I've written a stronger novel as a result; and
I've certainly learned how not to do it. Famous last words, but I'm never
making some of those mistakes again.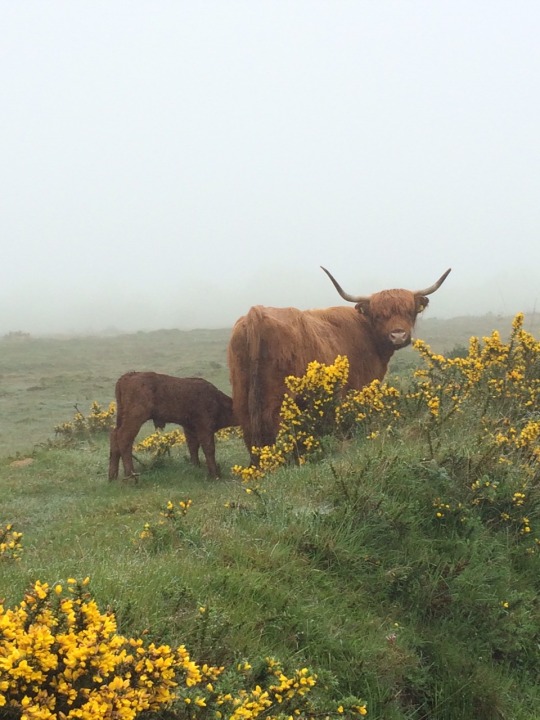 Highland cattle on Bodmin moor, near Blisland.

[8] Can you share with us a little of what you're working on next?
I am just completing the first draft
of my third novel and it's quite different to this one. I'm still very
interested in relationships  – Forster's
"only connect" – but the setting is urban not rural; and I'm drawing on my past
experiences as a political correspondent and court reporter and as a student in
Oxford. "Everything is copy" as Nora Ephron said (although I don't actually
think everything should be copy.) I'm
writing out of contract, which is hugely liberating, but am terrified of
jinxing things by saying any more. But I am excited about it.
Thanks so much to Sarah for giving such detailed and interesting answers and all the images provided by Sarah to give us an insight into her beloved Cornwall.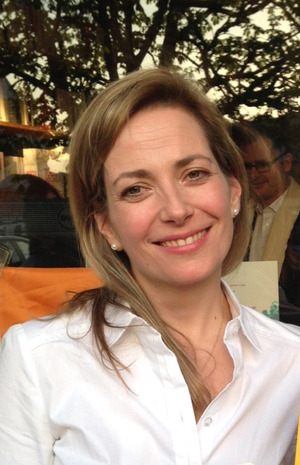 You can find Sarah Vaughan online here:
http://www.sarahvaughanauthor.com/
https://twitter.com/SVaughanAuthor