In this week of Brexit turmoil, it's a tremendous relief and an enormous pleasure to escape all that for a moment and talk about books instead – thank heavens! And what a book I've got for you this morning. Juliet West's debut novel set during the First World War, 'Before the Fall' deals with a period in which I'm fascinated and in fact is also partly the subject of my 3rd novel, Become a Bird, coming out next year. So I was bound to be interested in the subject matter of Juliet's novel, yet my admiration for it goes far beyond its setting.
This book is in my opinion such a good novel – it's beautifully written and it's bloody brave. You won't really know what I mean by that until you read it. But be assured, the writing is honest and doesn't pull any punches. It's also got an excellent eye for detail and paints such a brilliant portrait of its WW1 period and the home front. I'm delighted to welcome Juliet to the blog this morning, a fellow Prime Writer and Historical Writers' Association member.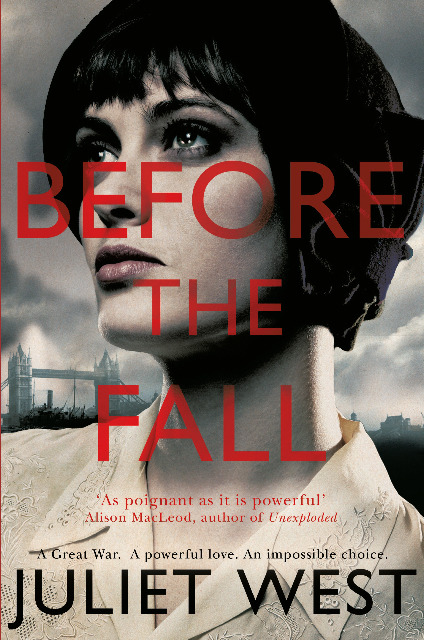 Here's the blurb:
A compelling, moving tale of a love affair, set in the East End during World War 1 and inspired by an unforgettable true story.
A great war.
A powerful love.
An impossible choice.
I think the war is everywhere: in the rain, in the river, in the grey air that we breathe. It is a current that runs through all of us. You can't escape the current; either you swim with it, or you go under.
1916. Across the channel, the Great War rages; in London's East End, with her husband away fighting, Hannah Loxwood struggles to hold everything together. But when Hannah takes a job in a café, she discovers a glimpse of freedom away from her needy young children, her spiteful sister and desperately ill father.
While the conflict drags on, Hannah battles with the overwhelming burden of 'duty'. She has sacrificed so much for a husband who left her behind, a husband who may never come home. Then, when she meets Daniel – thoughtful, intelligent, quietly captivating – Hannah finds herself faced with the most dangerous of temptations …
As the war grips tighter and bombs fall down upon the streets, the stakes for the couple grow ever higher. Soon Hannah and Daniel will realise just how precarious their happiness is, as their destiny rushes towards them …
Beautifully wrought, utterly compelling and with a twist that will leave you breathless, Before The Fall, inspired by a true story, hurls you into a London torn apart by the First World War and paints a vivid and haunting portrait of one woman's struggle.
[1] You
say in the Author's Note that the story is based on real events and mention the
'real-life' Hannah Loxwood in your acknowledgements…Tell me more! Firstly,
how you came across these events – what was the spark?
Hard to believe, but the spark came almost twenty
years ago, when I was working shifts as a newspaper reporter in London. I did a
stint at the Daily Mail – not the happiest experience of my life – but while
there I was asked to help research a feature about a First World War love
affair that had ended in a murder trial. The case appalled me – it was so
heartbreaking – yet at the same time I found it fascinating to comb through the
historical documents as I tried to put the tragedy into context. One of my
tasks was to trace any living relatives of the young lovers, Annie Baker and
Richard Luck. Eventually I did find Annie's granddaughter and Richard's grandson,
and it was tremendously moving to meet them and talk about their families'
histories.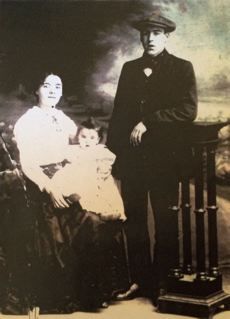 Annie Baker, her husband Arthur and their daughter Florence, taken c.1912.
[2] Once
you had your spark, what happened next? How did you develop that into a work of
fiction? What were some of the decisions you had to make?
I started to write fiction a few years later, in
my mid-thirties, and my initial idea was to write Annie and Richard's story as
a historical novel. However I quickly realized that I was being way too
ambitious. I'd assumed that, because I was a journalist who loved reading
novels, I could easily make the transition to writing fiction. WRONG! There was
so much I needed to learn, so I joined a local writers' group and then went on
to take an MA in Creative Writing at Chichester University. For a long time I
worked on contemporary-set short stories, and then finally in 2010 I felt brave
enough to have another attempt at the historical novel which became 'Before the
Fall'. In 2012 the opening chapters were shortlisted for the Myriad Editions
First Drafts award, and this gave me the confidence to finish the book.
There were so many decisions along the way, but
probably the most difficult was the decision to change the names of the
characters. Originally I'd wanted to use Annie and Richard's real names, and
include transcripts of original letters and statements. But this began to hold
me back, because I felt nervous about exploring the darker sides of my
characters for fear of offending their families. Legally there is no issue here
(many wonderful novelists have fictionalized real characters: Pat Barker or
Hilary Mantel spring to mind) but ethically I felt uneasy because of the
delicate nature of the story. Strangely, once I'd changed the names to Hannah
Loxwood and Daniel Blake, the characters actually became more 'real' to me and
I felt a much greater sense of freedom in my writing.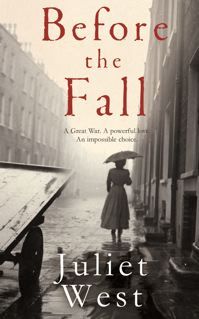 [3] Writing about the First World War has come to many novelists as material
(including me!) as there are so many stories to tell. What are your favourite
representations of WWI in literature or films? What angle did you feel you
wanted to explore in your book that you felt hadn't been covered in the same
way before? 
It's such a well-documented period, isn't it? And
yet it continues to fascinate, which I think is partly down to the fact that
many of us have grown up hearing family stories about the First World War.
Like most schoolchildren, I first encountered WW1
literature in the form of Wilfred Owen's poetry, which I found deeply affecting
at the age of fourteen.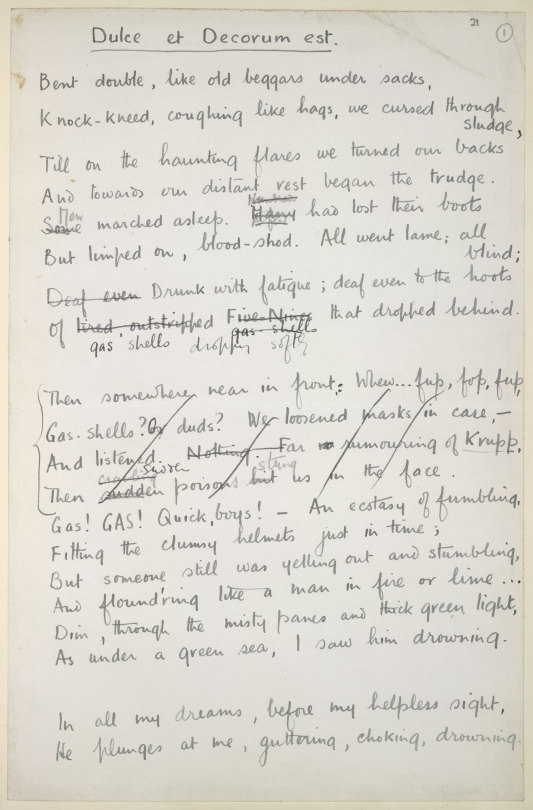 Wilfred Owen's iconic WW1 poem Dulce et Decorum Est, which moved Juliet at school and me too. I remember crying in one English lesson when we read Owen and our brilliant English teacher Miss Loane played us Brothers in Arms by Dire Straits!
Soon after that I was hooked on the TV drama the
Monocled Mutineer (I can't lie, I had a massive crush on Paul McGann).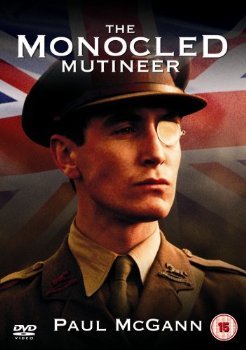 Paul McGann looking handsomely defiant in the excellent BBC TV drama that both Juliet and I were influenced by and found very moving.
In terms
of WW1 novels, it's very difficult to pick a favourite, but I'd probably choose
All Quiet on the Western Front, a novel that is so tender and yet so brutal. With
the centenary commemorations of the Battle of the Somme fast approaching, can I
also mention Elizabeth Speller's At Break of Day? It tells the story of four
young men in the run-up to the offensive, and it's breathtakingly powerful.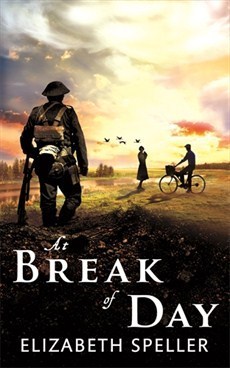 My own interest wasn't on the battlefield,
however. I wanted to write about women on the home front, particularly the
experiences of working class women and the challenges they faced during the
conflict. So often these women are invisible or shadowy in literature, and this
is partly because their lives simply haven't been documented in the way that
soldiers' lives have.
[4] Tell
us about your character planning. How did you develop such well-drawn
characters as Hannah, her sister, her friend Dor, Daniel, his prostitute
neighbour Sonia, the children etc etc? And who was your favourite to write?
With Hannah and Daniel, I studied the original
documents to get an initial sense of their characters. Both were 'respectable'
Eastenders, but their quietly passionate natures came through in their letters.
To capture Hannah's fictional voice, it helped to remember my own grandparents
and great aunts – working class Londoners whose sayings have filtered down
through the generations. (Great Uncle Wally is still enjoying his lunchtime
pints at the age of 94!)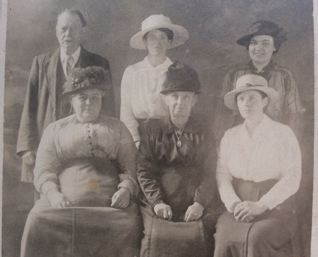 Juliet's great grandparents and aunts, the Mills family from Battersea.
Dor and Sonia were probably the most enjoyable to
write, perhaps because they were entirely fictional characters so I didn't feel
such an emotional pull, or any sense of responsibility to be 'true' to them.  
In terms of planning, I don't do a great deal in
advance; I start writing and see what happens. Later I become more analytical
about my characters, teasing out the quirks and traits which might have
emerged, and building on those as I re-draft. 
[5] I
must ask you about Jude the Obscure, a novel that's mentioned meaningfully in
yours. It's one of the best novels I've ever read – such a brave, honest novel,
I salute Hardy for having the bloody nerve to write it – but my word, it's such
a hard novel to read and it haunts you for ever. Tell us about what that book
means to you.
I read the novel as a student and yes – I've
always been haunted by that horribly disturbing scene and Little Father Time's heart-wrenching
note *spoiler alert*: 'Done because we are too menny'.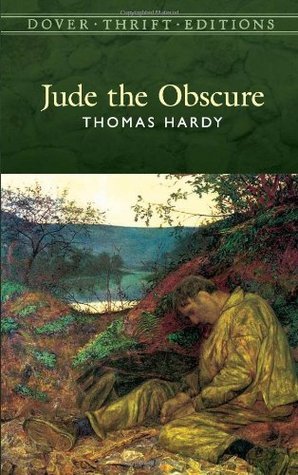 But there was no grand plan to include Jude the
Obscure in Before the Fall – it happened by accident while I was writing the
first draft. I was researching a scene set in 1895, when Daniel is given a book
by his aunt's wealthy employer. I googled 'Books published in 1895' and Jude
the Obscure stood out from the list. It hadn't occurred to me before, but I
realized that Hannah and Daniel's story shared many of Hardy's themes –
poverty, frustrated ambition, passion, the ways in which 'fallen women' are ostracized
and ultimately trapped by their circumstances.
So Jude crept in, which was perhaps a little audacious,
but the references seemed to fit well with Daniel's character and state of
mind.
[6] I
loved your writing style. The attention to detail is masterful. Here's a
favourite example: 'And everywhere the rows and rows of dreary houses, their
Sunday-morning rituals, the peeling of a million potatoes. He can almost smell
the wet starch, the mouldering eyes flicked carelessly into the bucket.' There
are many, many passages like that, that good! How do these come to you? During
the flow of writing or do you work on these one by one later, using nuggets
you've found in your research?
So glad you enjoyed the writing (although I must
confess it's painful for me to re-read – I'm a harsh self-critic!). In this
scene, Daniel is standing in Greenwich Park, looking east over the river. I
think this flowed quite quickly and I didn't edit a great deal. But I'm more
likely to re-work a scene endlessly, sometimes dropping in extra snippets of
research, but more often taking them out (because we don't really need to know,
for example, that a 1917 gramophone is of the wind-up variety).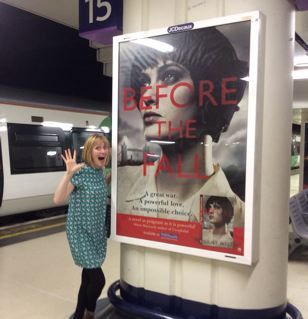 The day when Juliet came face to face with her book emblazoned across Victoria Station. What a moment for a writer!
[7] Talk
us through the historical research that was necessary to write this novel and
how you went about it e.g. reading, visits, interviews, images etc.
I used so many resources – non-fiction books,
memoir, photographic archives, internet trawls, family memories, old maps,
newspaper archives etc. Walking those East End streets was also an important
part of the process. The Isle of Dogs has changed beyond recognition over the
past one hundred years, but the docks themselves and pockets of the old
architecture remain. And of course there's the weather – nothing could change
that bitter February wind blowing across the Thames.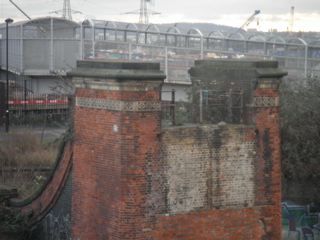 The derelict bridge at Bow Creek, featured in the novel.
At Bow Creek you can still
see the crumbled remains of the Victorian bridge which Hannah crosses each
morning on her way to work. I took photographs of the area and often spent time
looking through them when I needed a break from writing.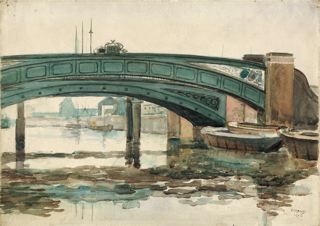 Iron Bridge in Canning Town, painted by Fred Mears c.1923. 
[8] Can you share anything with us
about what you're working on next?
My
second book is another historical novel, set twenty years later in 1930s Sussex
and London. It's about a young fascist boy who falls in love with a 16-year-old
girl, but any similarity with The Sound of Music ends there…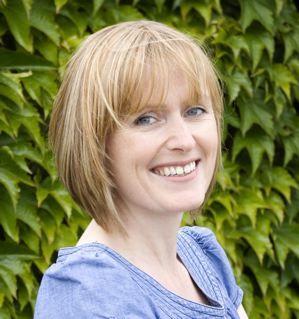 Thanks to Juliet for such an interesting insight into her writing and research methods. After such an impressive debut, I'm really looking forward to her second book! I might try the Elizabeth Speller book too, with such a strong recommendation. If you don't mind brave writing, do read Juliet's and also Hardy's Jude, which is a punishing read in some ways, but my word, both of these novels are so honest about life's potential for tragedy.
You can find Juliet online here:
https://twitter.com/JulietWest14