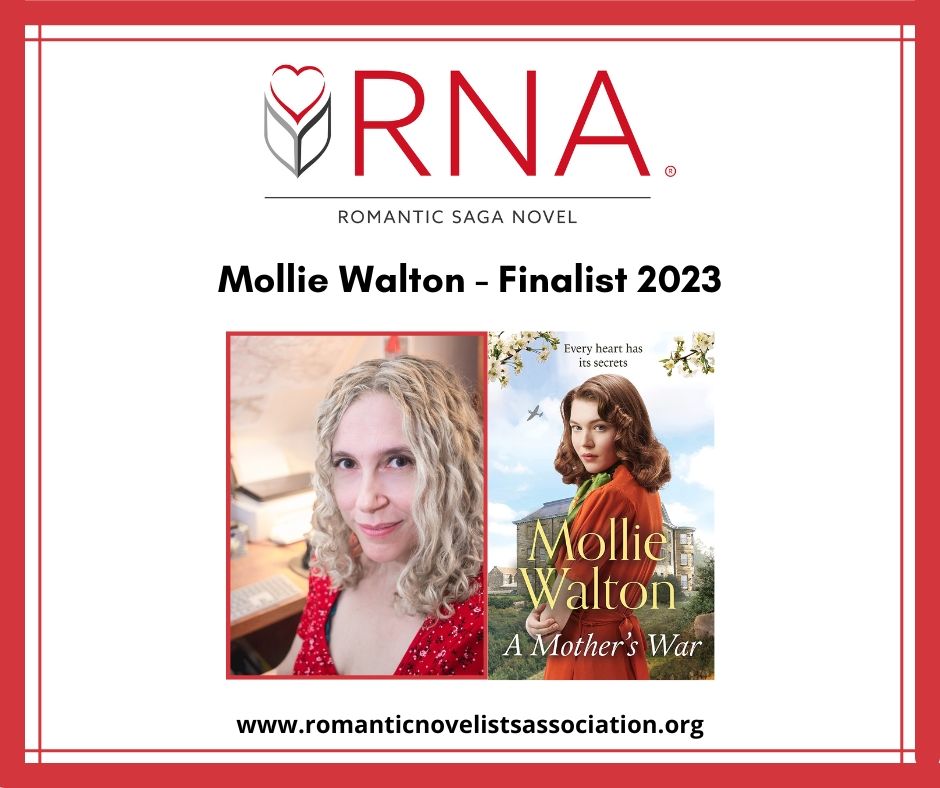 I'm delighted to share with you that my book A MOTHER'S WAR, writing as Mollie Walton, has just been selected as a Finalist in the Romantic Saga Award of the Year 2023 by the Romantics Novelists's Association!
Here's the official press release:
THURSDAY 2ND FEBRUARY 2023 Mollie Walton has been shortlisted in the Romantic Saga Award category with her novel, A Mother's War, for the Romantic Novelists' Association's (RNA) annual Romantic Novel Awards for 2023. The awards celebrate excellence in romantic fiction in all its forms. Mollie Walton is the saga pen-name for historical novelist Rebecca Mascull. As Walton, she has written The Ironbridge Trilogy and is currently writing The Raven Hall Saga. As Mascull, she is the author of The Elements Quartet and wrote the final chapters of the late Vanessa Lafaye's last novella Miss Marley. Rebecca has worked in education, has a Masters in Writing and lives by the sea in the east of England. She is also a Fellow of the Royal Literary Fund, based at the University of Lincoln.She commented, 'I'm over the moon to be shortlisted for this RNA award! The work the RNA does with authors is so important and I'm thrilled to be honoured by such a wonderful organisation.'Jean Fullerton, the RNA Chair, commented, 'Once again, our lovely reader-judges have had the almost impossible task of creating award shortlists from what is an unbelievable number of cracking, page-turning novels. Thankfully they have, and I can only say this year's shortlist books are the crème de la crème of romantic fiction.' Sharon Ibbotson, the RNA Awards Coordinator, said, 'Our genre continues to go from strength to strength, providing escapism, delight and delicious romance with the turn of every page. Our shortlisted books, voted for by real, everyday readers, are a testament to wordmanship and the dedication of their authors, who we congratulate today.' The awards, which have been held since their inception in 1960, are highly respected in the UK publishing industry. Previous winners include Santa Montefiore, Joe Heap, Julie Cohen and Milly Johnson. The awards are unique in that they are judged entirely by readers, without input from any industry professionals. The award categories are as follows: The Fantasy Romantic Novel Award, the Jackie Collins Award for Romantic Thrillers, the Katie Fforde Debut Romantic Novel Award, the Christmas/Festive Holiday Romantic Novel Award, the Shorter Romantic Novel Award, the Romantic Saga Award, the Jane Wenham-Jones Award for Romantic Comedy, the Historical Romantic Novel Award, the Contemporary Romantic Novel Award, and the Popular Romantic Fiction Award (voted for by librarians, booksellers and book bloggers/reviewers). The winners of the awards will be announced during the Romantic Novelists' Association's Romantic Novel Awards ceremony, which is being held at the Leonardo Royal Hotel London City, 8-14 Cooper's Row, London EC3N 2BQ, on Monday 6th March 2023 at 6.30pm.