Today I'm thrilled to invite to the blog my once-Masters tutor, versatile and brilliant novelist Livi Michael. She taught me on a Writing for Children module and she was an incredibly inspiring and motivating teacher. She helped me work on a Middle Grade novel that one day I'd quite like to see published! (Watch this space..!) She's written many novels for both children and adults and her latest series of books is an historical tour de force, a trilogy of novels for adults all about two Margarets. The book we're discussing today is called Succession and was followed up by Rebellion. Here's the blurb:
'Clever…the narrative has the colour and power of the best of the chronicles she uses.' -Sunday Times
Margaret of Anjou is young, beautiful, French and wildly unpopular when she marries England's ill-fated Henry VI. After the English are banished from France, civil war erupts. Margaret becomes a warrior queen, fighting for her husband's right to be king and her son's position as his rightful heir.
Meanwhile, heiress Margaret Beaufort is born into a troubled inheritance. Fiercely sought after by courtiers, by the age of thirteen she has married twice and given birth to her only son, who will be the future king of England. But then he is taken from her…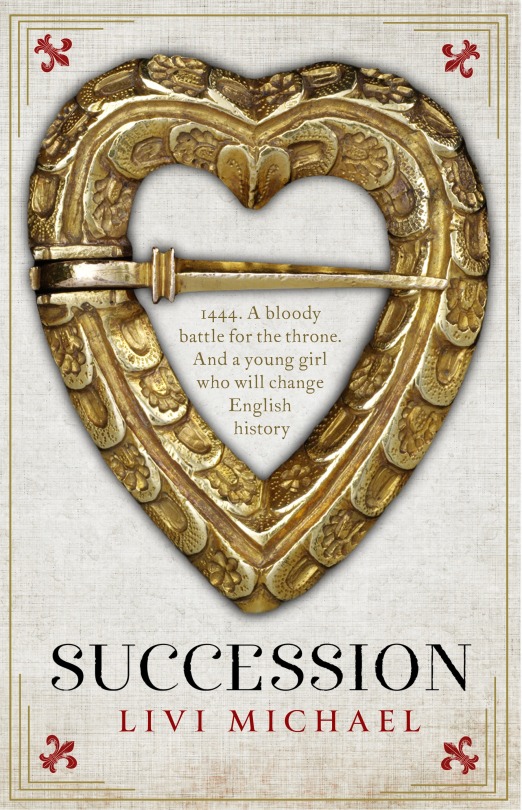 [1] What was the spark for this novel? What made you want to write about the two Margarets?
Succession began in 2007 when I was in Manchester Cathedral.
I'd been researching a book called The Angel Stone that was set there, but
began to be interested in some of the other angels in the building.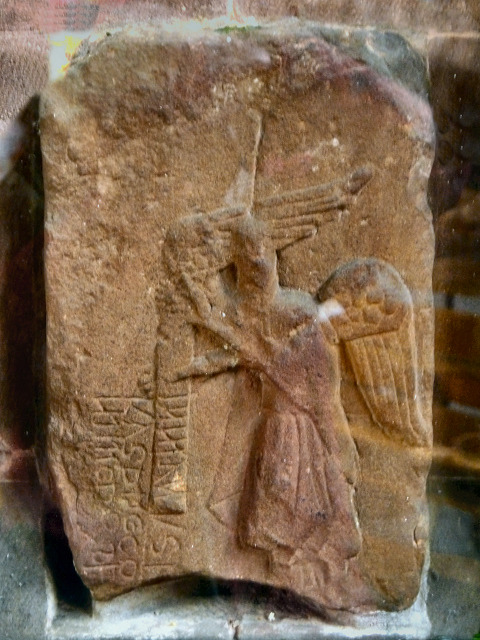 The angel stone.
In the roof
there are 14 angels, each playing a different medieval instrument. According to
a pamphlet I read, they are thought to have been donated by Margaret Beaufort. 
One of the carved Angels in the ceiling of
Manchester Cathedral said to have been donated by Margaret Beaufort, playing a shawm.
At the time (and this seems a very long time ago now!) I didn't know who that
was. I became intrigued by the idea that the mother of Henry VII had a
connection to Manchester Cathedral and began to look into it. The more I found
out about her life the more fascinated I became. She had been married three
times by the age of 15, had her only child at the age of 13, who not only
survived but went on to become King of England on a complete outsider's chance.
Also she was a writer and a scholar, and a patron of writers and scholars, and
she lived through the reigns of six kings and an immensely complicated period
of English history. It became clear she was a survivor…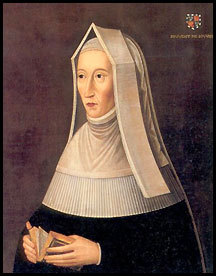 Margaret Beaufort, an unknown
artist portrait hanging in St. John's College, Cambridge, founded by her estate.
The other Margaret, Margaret of Anjou, began to interest me
as a result of researching Margaret Beaufort. It struck me that they had
certain things in common; each from the House of Lancaster, each of them women
alone, fighting in different ways to put their sons on the throne.  But they stand on either side of an epoch in
English history; Margaret of Anjou belongs to the age of medieval feudalism –
she led armies into battle and relied upon warfare; whereas Margaret Beaufort
helped to usher in the era of early capitalism.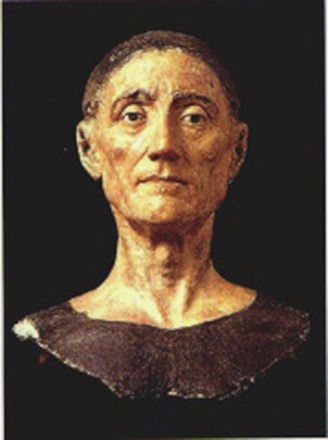 Henry VII from his death mask.
[2] Please take us through your research process for this book e.g. reading, watching, reference libraries, special collections, visiting locations etc.
Ah – such a lot of reading! Fortunately I found it
completely absorbing. I began with the popular histories of e.g. Alison Weir
and progressed to the actual chronicles and documents from the era. I travelled
about a bit; saw battle reconstructions in Tewkesbury and Bosworth, visited
Pembroke Castle and the Tour d'Elven in Brittany, where Henry VII was kept
prisoner. I could have kept on travelling and researching for several more
years! But long experience has taught me that at some point you have to stop
everything else and write. As it was, by the time I started writing the actual
novel I had a shelf wardrobe packed full, floor to ceiling, with my notes!
This is not a method I would recommend.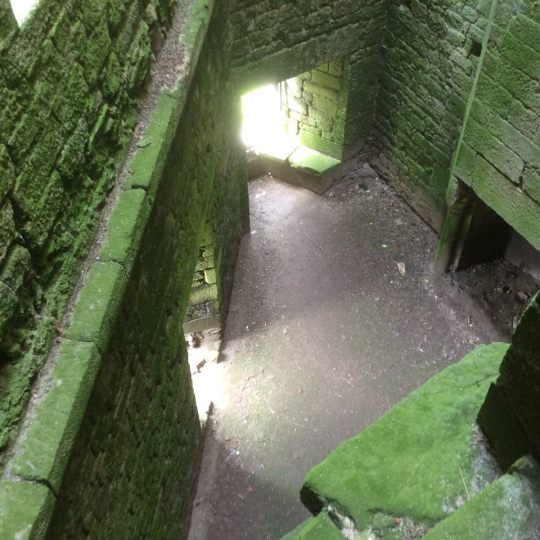 The room
in Brittany where Henry was kept prisoner for several years.
[3] How did you plan out the order of events in this narrative and how did you choose where to start and end?
Yes – this went through several drafts! The events are
chronological, but there is a cast of thousands, and the problem of where to
start was really difficult. Arguably the root of the Wars of the Roses is a
hundred years earlier, in the reign of Edward III and the Hundred Years War,
but that would have taken up at least another two volumes! In the end I knew
that my main focus would be Margaret Beaufort, so the books roughly span her
life until her son comes to the throne. But because it is impossible to
understand her life without understanding the context of the time, the chapters
move from one character to another, and contain contextual material (quotes
from contemporary documents).
[4] What process did you go through in order to get to know the two Margarets inside out?
I think the more you look at the events the more clearly a
picture emerges. Margaret of Anjou was a warrior queen. She had been let down
by her father and her husband, but was determined to fight for her son. She
went through some amazing adventures with him, portrayed in the second book, Rebellion – being kidnapped by robbers,
shipwrecked etc, but never ever giving up the fight. Margaret Beaufort had to
be much more strategic; subjected to the rule of different kings and different
husbands. She negotiated her way through the era, ultimately plotting and
orchestrating a rebellion against Richard III. All this because her son was
taken from her custody. She barely saw him for 28 years, but she never stopped
campaigning to get him back. So both of them were determined, ruthless even,
but they pursued very different paths, and employed different methods.
[5] Writing about real life historical figures is such a challenge. What did you feel are the constraints yet also the advantages to the novelist of writing about true events and real people?
The advantage is that the bones of a structure or plot
are already there – though some people might find that constraining! My main
concern throughout was to do these people justice – it is hard not to admire
even the least sympathetic of them. There is always scope for interpretation –
Henry VI, for instance is either a holy man or a mad man or a fool, depending
on which chronicler you read, so I wanted my portrayal to contain elements of
all of these, while acknowledging the tremendous difficulties of his troubled
life. I do feel a kind of a responsibility to the dead, but I believe if I can
create a convincing context for them then it will be impossible to dismiss them
as one-dimensional good or bad characters. Everything and everyone is
understandable in context, even when they do monstrous things. I'm thinking of
the possible murder of the Princes in the Tower here – which I deal with in the
third book, Accession.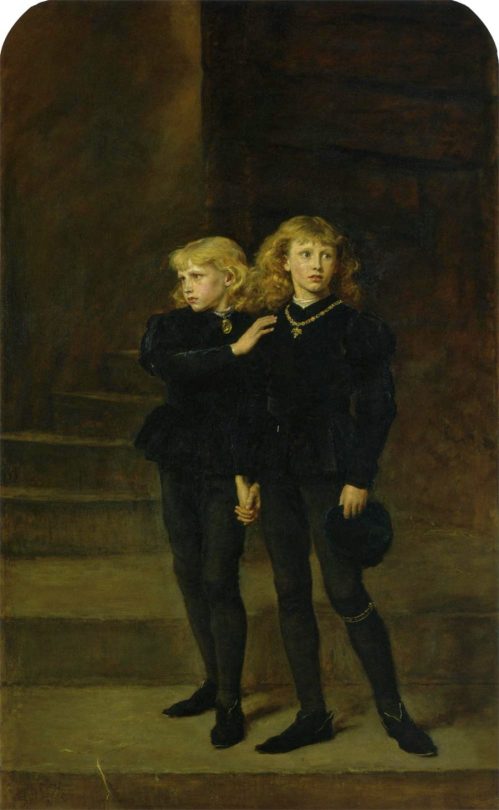 The Princes in the Tower by John Everett Millais, who feature in Livi's 3rd book in the trilogy, Accession.
[6] Tell us about your choice of voice and tense in telling this story. What led to this decision?
I think because there are so many characters I knew it
wouldn't be a first person narrative, so I adopt the conventional third person
past tense approach but move in fairly closely to my key characters, sometimes
using free indirect speech. Hopefully, ultimately a kind of overview is
achieved, like the effect of looking at a tapestry.
[7] You have a beautiful turn of phrase and a very interesting use of style. e.g. p194 one word  or short phrase sentences, one to a line; the use of italics; using quotations from the Chronicles. How did these choices come about?
I loved the chronicles so much that my early concept of
the novel was as a kind of illustration of them. They're so vivid and immediate
and you get a strong sense of different voices from them. Then I became more
interested in the differences between chronicle style narration and the
contemporary novel. So for instance you get no glimpses into interior lives in
the chronicles, just a narrative of events and characters, whereas the novel,
since at least the early 20th century, is very much concerned with
the interior lives of its characters. I wanted to use this contrast, and the
different styles available to a contemporary novelist, to highlight the fact
that as a 21st century writer, I can't write a 'true' version of what
happened, I can only offer my interpretation of it through the medium of the
language and forms available to me. *This is such a brilliant and profound answer! It raises so many questions about why we choose the voices we do.*
[8] What advice would you give to any budding historical novelists out there, particularly regarding how to research and plan narratives?
Don't do what I did!
Get as far as you can without research. At least try to get the outline
of the story in your mind and then research what is essential to your novel,
rather than investigating the whole period. *I'll be writing about this very point for Victoria Goldman in my blog tour in February for Song of the Sea Maid – where do you start and stop with historical research and how do you make it serve the story?*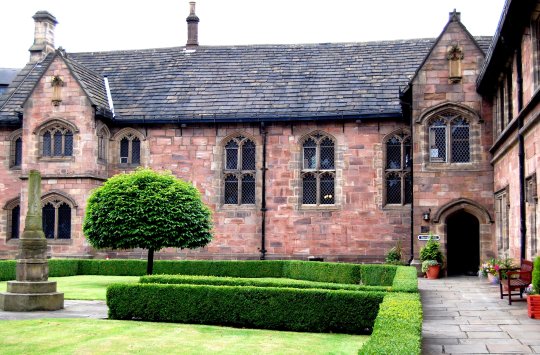 Chethams Library, Manchester, where Livi did much of her research.
[9]  You've written for both adults and children. What are the challenges and pleasures of each?
I think you can go into things (and people) in more
complexity for adults – although increasingly the adult market caters for
people who don't have much time for reading. I couldn't have given a
comprehensive portrayal of this era for children – although some young adults
might find it interesting. I wouldn't particularly tone down the subject
matter, the violence etc. for younger readers, but I would probably concentrate
more on their emotional involvement with one or two characters – as you do in
your own brilliant book The Visitors! *Ah, you're too kind, Livi! :-)*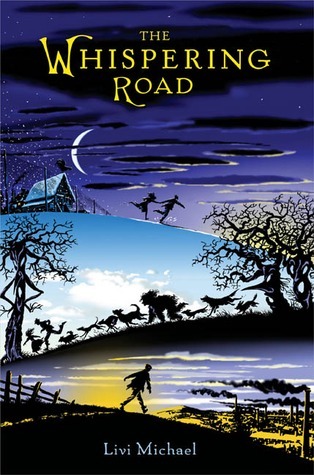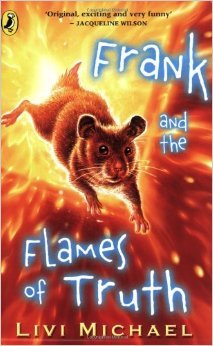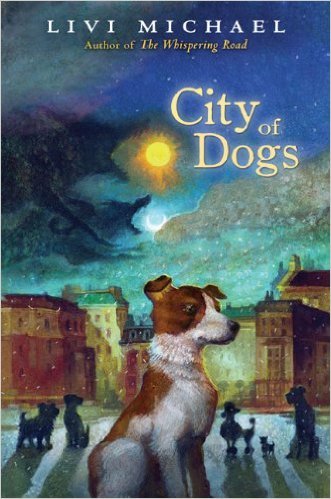 Some of Livi's brilliantly imaginative books for children.
[10] Can you share with us a little of what you're working on next?
I'm completing the editing of Accession, the third book
in the trilogy, then I want to get my short stories together into some kind of
form that might be publishable, before launching into another epic!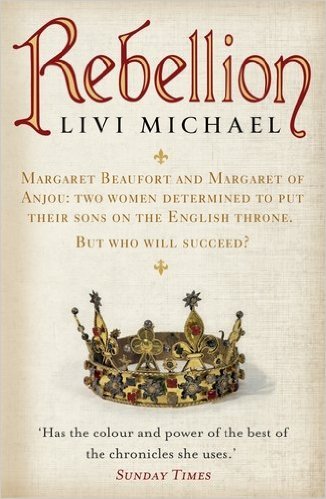 Rebellion, the second novel in Livi's historical trilogy.
Thanks so much to Livi for joining me today on the blog, sharing her writing process and advice for fledgling writers. 
You can find Livi online here:
https://www.facebook.com/LiviMichael/?fref=ts
http://www.amazon.co.uk/Livi-Michael/e/B001HP2FN2/ref=dp_byline_cont_book_1