On New Year's Eve Eve, I've been thinking about my year of writing and thought I'd share a few memories with you.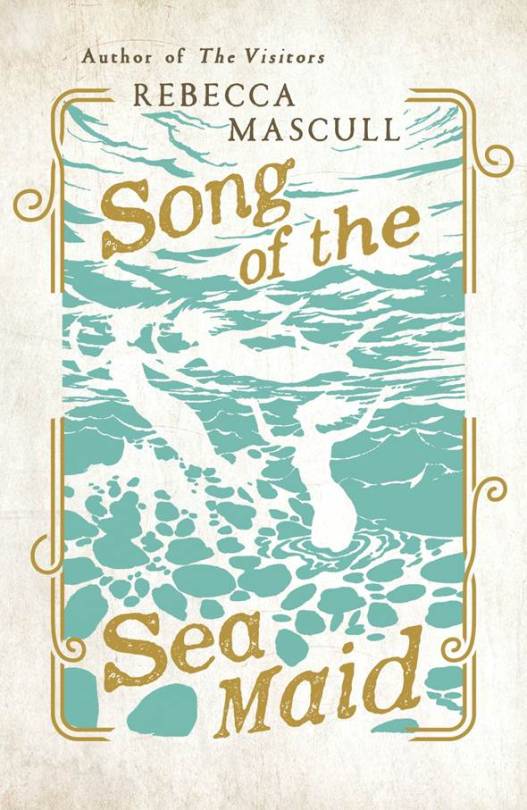 For me, the most exciting writing thing that happened this year was the publication of my 2nd novel, Song of the Sea
Maid. 
Here's the press release my super publisher Hodder & Stoughton prepared:
http://rebeccamascull.tumblr.com/post/116641567483/press-release-for-song-of-the-sea-maid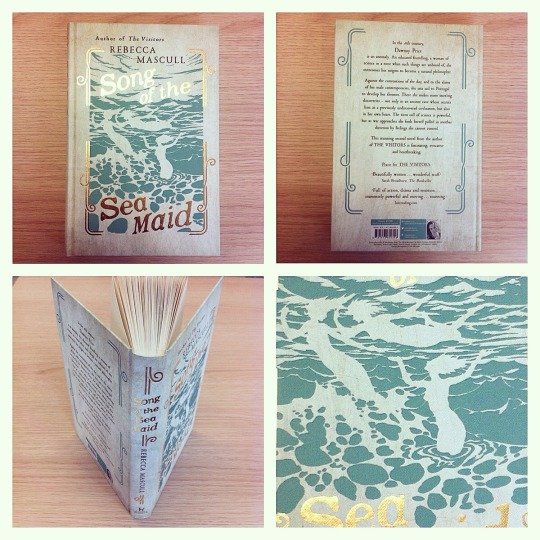 The book came out on June 18th & we had a book launch at Waterstones Lincoln, a swell affair with over 70 folk kindly showing up, including many friends and family, as well as authors, readers and book bloggers I had until then only talked to through social media; it was an honour to meet them all. 🙂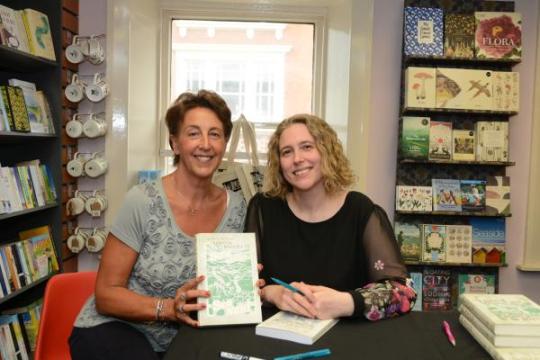 Signing books at the launch with fab book blogger Linda Hill.
Here's a report about it all:
http://rebeccamascull.tumblr.com/post/122581542823/book-launch-report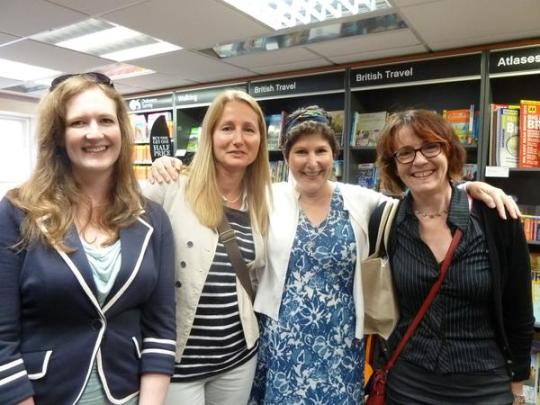 Lovely author friends at the launch: (L-R) Deborah Install, S. D. Sykes, Vanessa Lafaye and Kerry Drewery.
As part of the book launch and beyond, I was very lucky to work with the incredibly talented singer-songwriter Amy Naylor, who read the book and wrote a couple of beautiful songs inspired by the Sea Maid:
Song of the Sea Maid
https://www.youtube.com/watch?v=vcCsftBxj44
She Ran to the Water
https://www.youtube.com/watch?v=VPfPbiBjZUs
Amy also played at the launch – gorgeous underwater sounds on her handpan.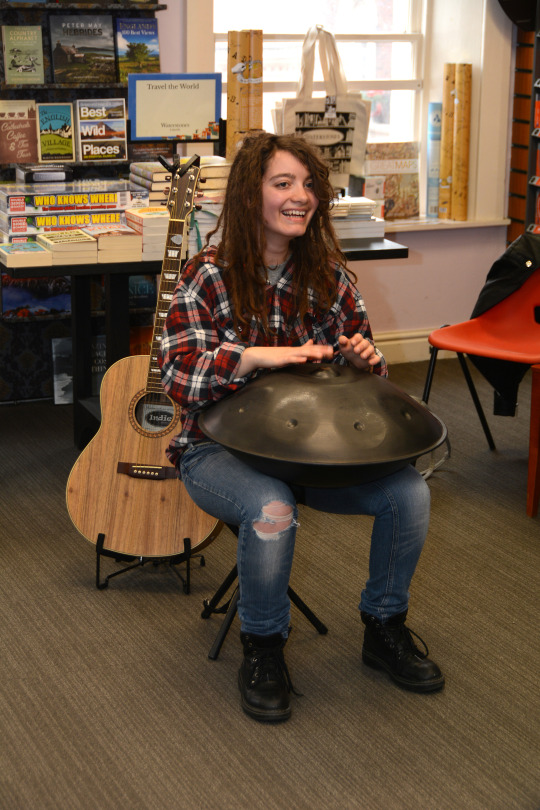 It was a lovely collaboration of words and music, something we decided was too good to shelve…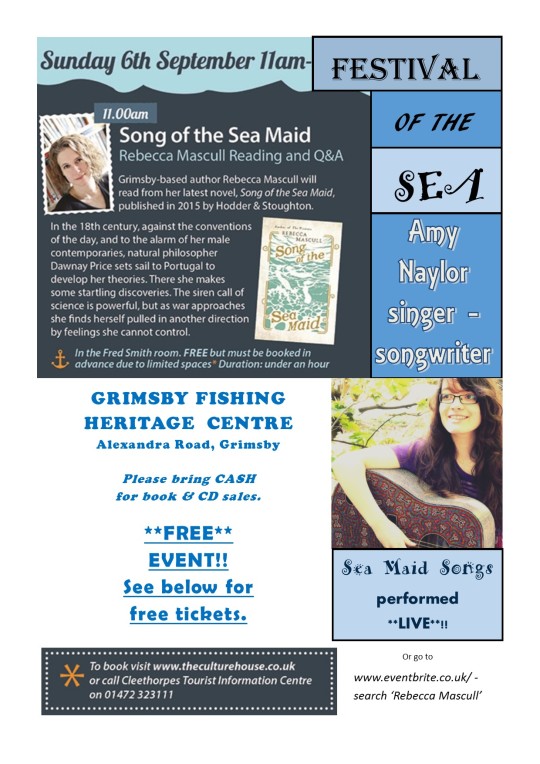 So, later in the year we performed together at the Festival of the Sea, at the Grimsby Fishing Heritage Museum, organised by The Culture House.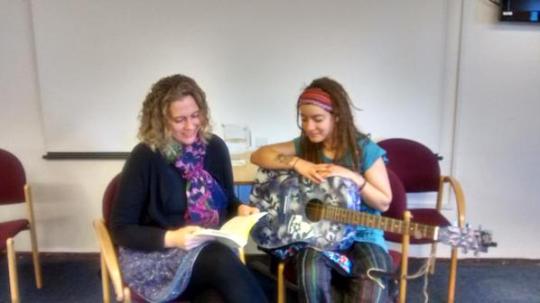 And here's a link to buy those beautiful songs – get your own copy and listen whenever you like!
http://rebeccamascull.tumblr.com/post/128394170828/sea-maid-cd-by-amy-naylor
The book is set in the C18th and took quite a bit of research, so here's some lovely images that inspired the book on a mood board on Pinterest:
https://uk.pinterest.com/rebeccamascull/song-of-the-sea-maid/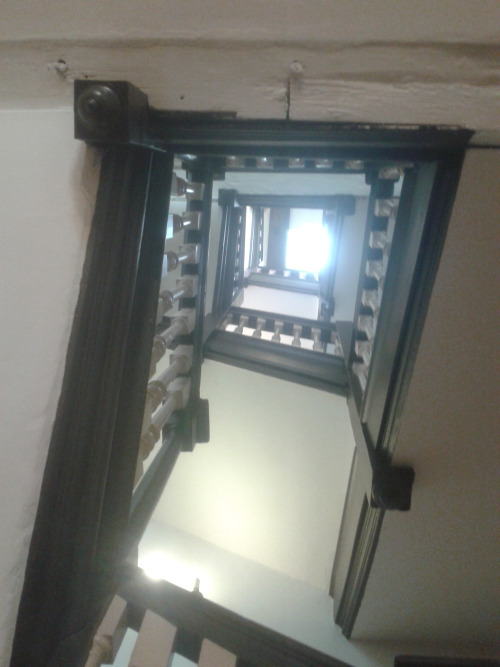 The crooked staircase at Dr. Johnson's house in London, which I visited as part of my C18th research.
and here's a board that follows the book's progress out in the world, once it was released into the shops:
https://uk.pinterest.com/rebeccamascull/the-sea-maid-out-there/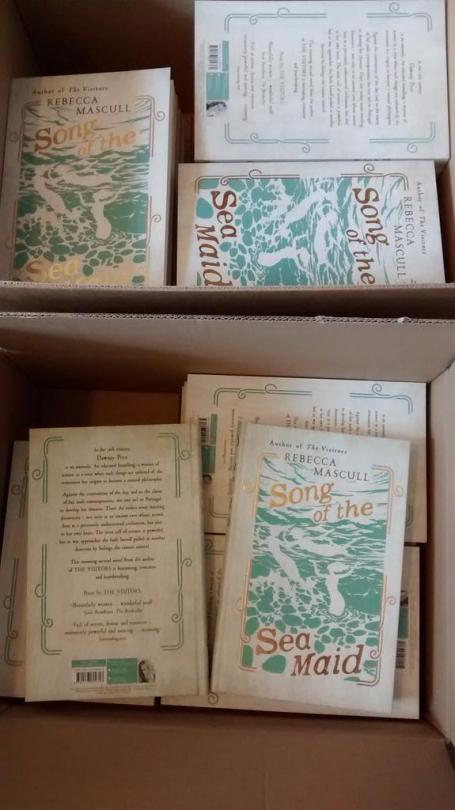 2015 brought some lovely events, including the great honour of appearing on stage with prolific best-selling novelist Margaret Dickinson and writer and once Home Secretary Alan Johnson MP at the Cleethorpes Literary Lunch:
http://rebeccamascull.tumblr.com/post/129836556548/cleethorpes-literary-lunch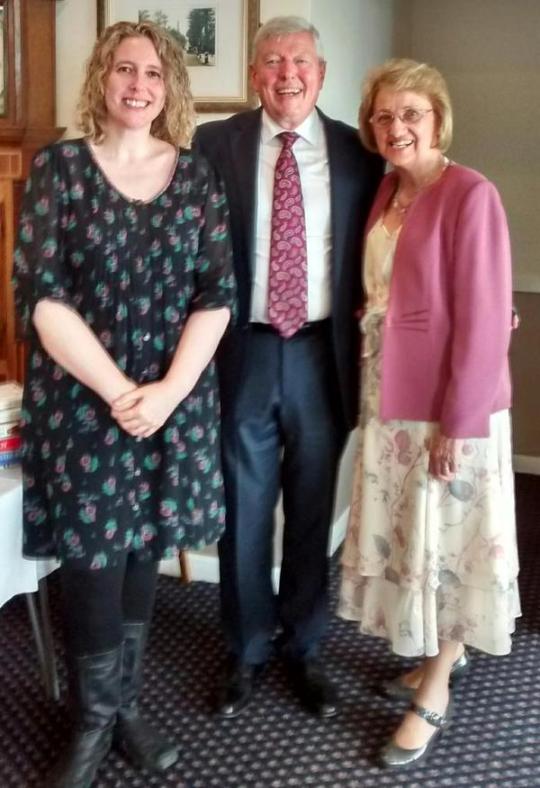 Here I am with Alan Johnson MP and Margaret Dickinson – such a wonderful event!
and here are all the images from the event:
https://uk.pinterest.com/rebeccamascull/cleethorpes-literary-lunch/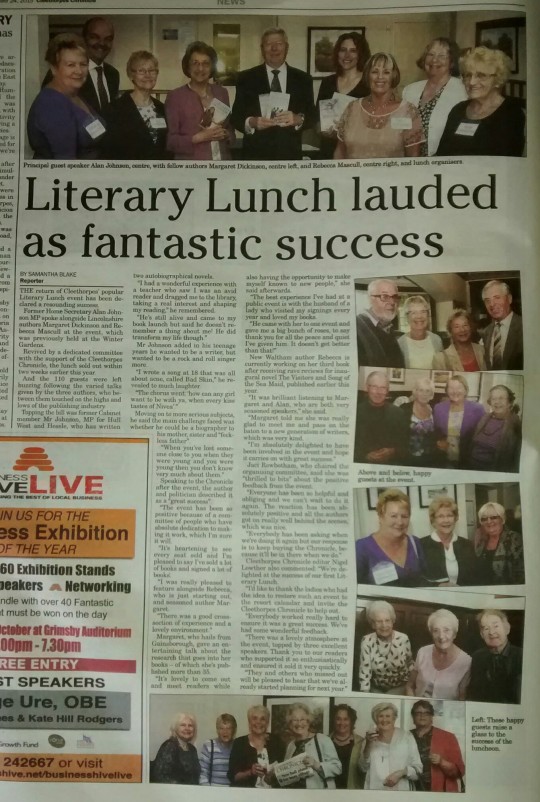 Write-up of the event in the excellent Cleethorpes Chronicle by ace reporter Sam Blake.
Another appearance I really enjoyed was my first time on television, Estuary TV to be precise:
http://rebeccamascull.tumblr.com/post/123012957448/my-first-tv-interview-thrilled-to-be-asked-on-to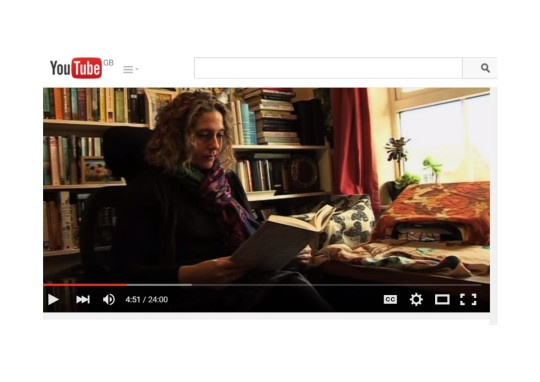 I also began my first book club meetings, where it was a privilege to sit with readers and discuss my first novel The Visitors, here in the UK:
http://rebeccamascull.tumblr.com/post/113778940273/my-1st-reading-group
http://rebeccamascull.tumblr.com/post/116992245693/waltham-reading-group-visit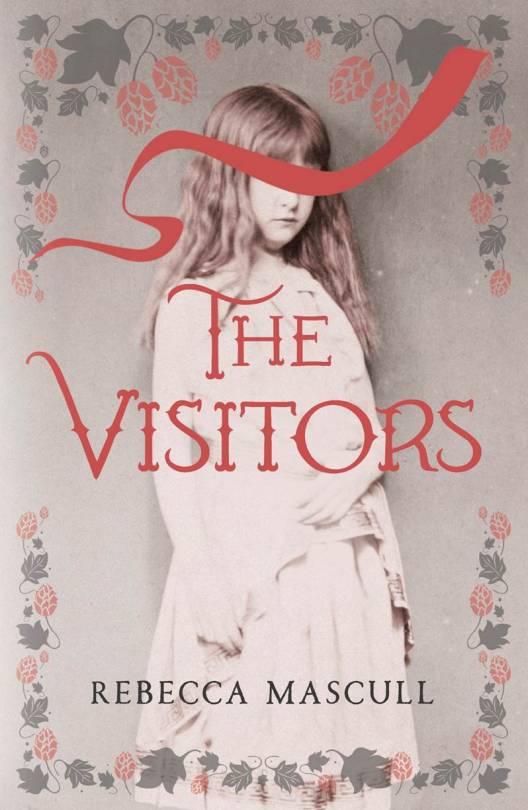 and way beyond, via Skype from Australia:
http://rebeccamascull.tumblr.com/post/117762678878/mackay-book-club-live-from-australia
http://rebeccamascull.tumblr.com/post/121094928583/cityside-book-club-meeting-report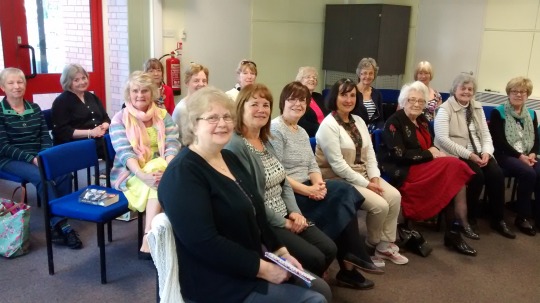 A super welcome from the Waltham Readers' Group.
Another major event for me this year was being part of the writers' collective, the Prime Writers. The brainchild of Antonia Honeywell, the group came together as we'd all had our first books commercially published at age 40+. We have our own website where we blog frequently, share news and have our author profiles:
http://theprimewriters.com/2015/08/03/writer-spotlight-rebecca-mascull/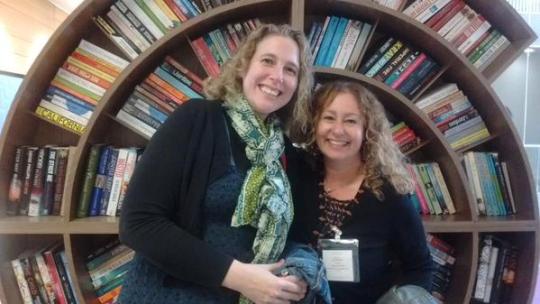 Meeting fellow Prime Writer Beth Miller at Hachette.
I've also been working my way through reading as many Prime Writer books as I can and interviewing the authors afterwards – have a look at my archive here, that also includes interviews with authors such as Joanne Harris, Kate Grenville and Valerie Martin:
http://rebeccamascull.tumblr.com/archive
More recently, Hodder and I celebrated the cover reveal for the paperback edition of Song of the Sea Maid. Here's that stunning cover here in all its glory: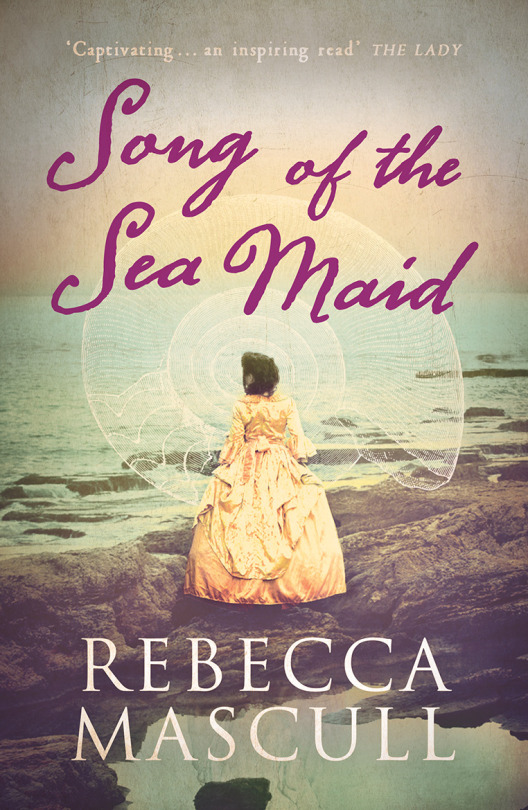 and lots of authors gave their views on the beautiful cover here: 
http://rebeccamascull.tumblr.com/post/133855087098/song-of-the-sea-maid-paperback-cover-reveal
The book comes out next February 11th 2016 when there'll be an exciting blog tour & fantastic giveaway…Watch this space!
Another exciting event for me in 2016 is my first foreign publication, with the German release of The
Visitors from publisher Droemer, out March 1st, under the lovely title of The Seven Senses of Adeliza Golding AKA Die sieben Sinne der Adeliza Golding: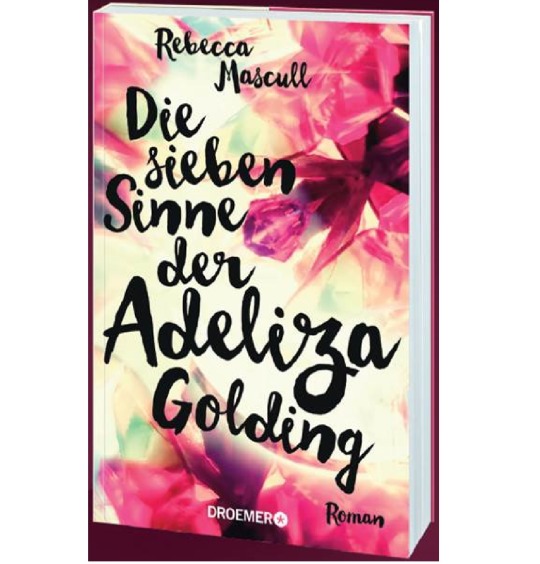 http://rebeccamascull.tumblr.com/post/117841835063/german-cover-for-the-visitors
http://www.droemer-knaur.de/buch/8209620/die-sieben-sinne-der-adeliza-golding
Also coming up in 2016 is – with any luck – my chance to finish off and submit the manuscript to Hodder of book number 3, set in Edwardian England, that begins with a young woman pursuing her ambitions from the Cleethorpes seaside to France, Germany and beyond…Again with any luck, this book will find its way out into the world in April 2017. As before, watch this space..!

So, it's been a lovely year and I've got a lot of people to thank: thank you to my brilliant agent Jane Conway-Gordon, my editors at Hodder – outgoing Suzie Dooré, who moved on to other challenges, and my current editor Francine Toon, brilliant editors both. I'd also like to thank all the readers, book bloggers and booksellers who have helped to spread the word about my books; my writing pals in both the Prime Writers and beyond, who have really kept me sane in this rocky world of publishing; and last but the opposite of least, my dear family and
friends.
Thanks for reading, folks, and may 2016 bring health and happiness to you all.
Happy New Year!