A week ago, we launched SONG OF THE SEA MAID! 70 people came to Waterstones Lincoln – a mixture of dear family and friends, bookbloggers and authors and readers and reviewers. I was so thrilled to see everyone and I'm so grateful, as people came from far and wide.
So, if you've never been to a launch, this is what we did. Firstly, there were cakes, made by my lovely friend Pauline and me – all 90 of them!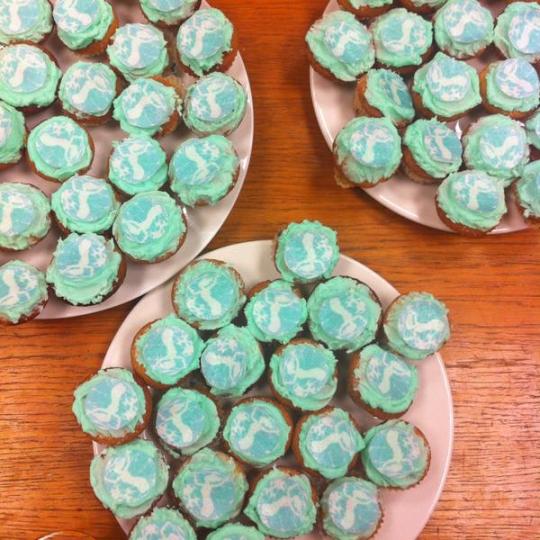 And, slightly less importantly than cakes, there were lots of lovely BOOKS: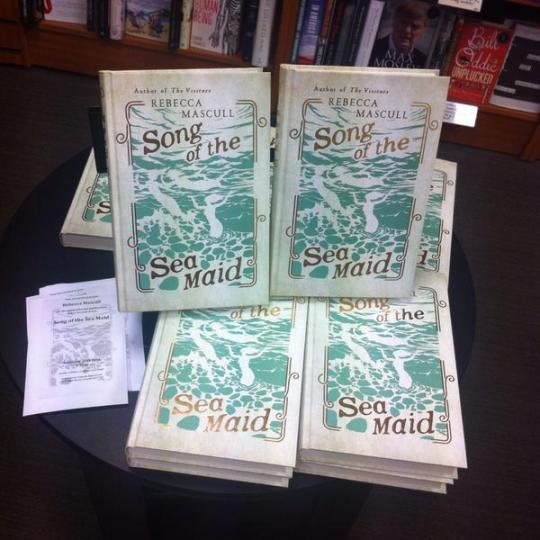 And lots of lovely people came and had drinks and nibbles:
I was lucky enough to welcome a local singer-songwriter and all round extremely talented young lady, Amy Naylor, to play music at the launch. She began by giving us some wonderful underwater-sounding tunes on her hang drum: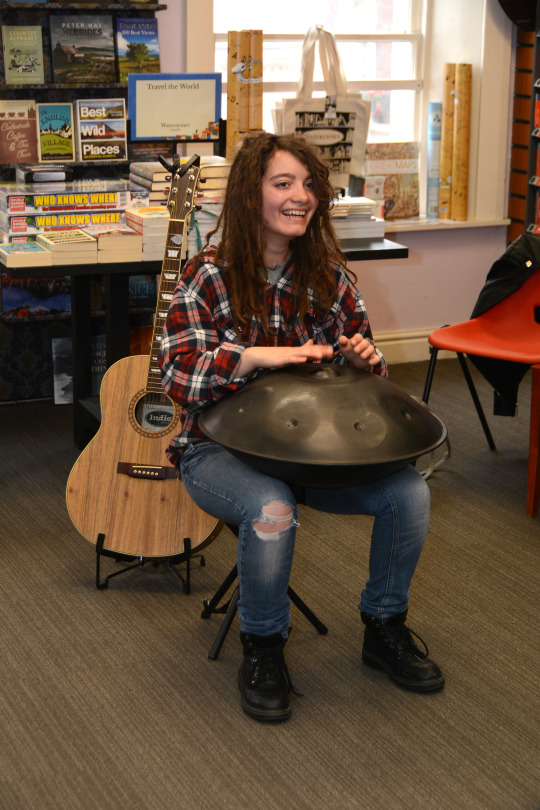 Once all had assembled, Francine Toon – my assistant editor at Hodder – made a lovely speech about the book including a kind message from my editor Suzie Dooré.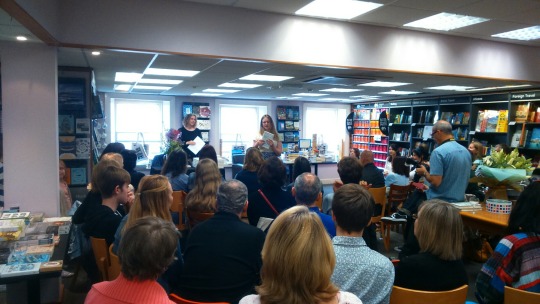 I made a speech too and you can read the text of it at the bottom of this page here:
http://rebeccamascull.tumblr.com/songoftheseamaid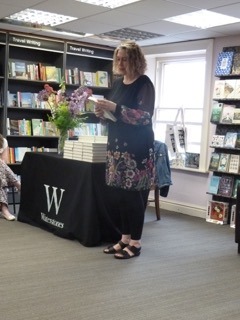 I did a brief reading from the opening of the book, then a fabulous treat – Amy Naylor played an exclusive song she wrote inspired by the book: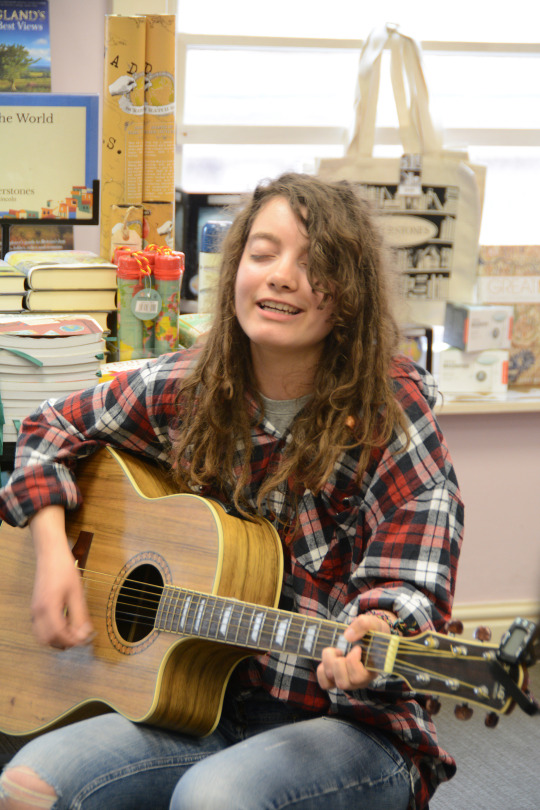 and you can listen to this beautiful song here:
https://www.youtube.com/watch?v=vcCsftBxj44&feature=youtu.be
After that, it was book signing time. And a long queue stretched across the 3rd floor of Waterstones…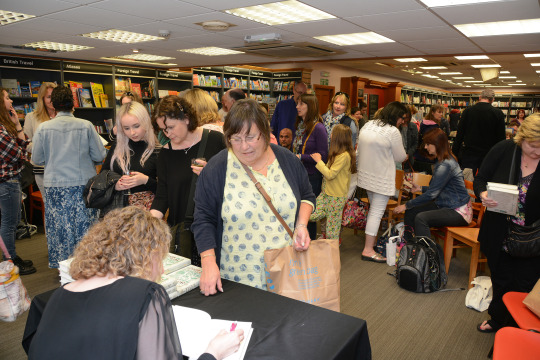 and I made sure I gave a message to everyone kind enough to buy a book: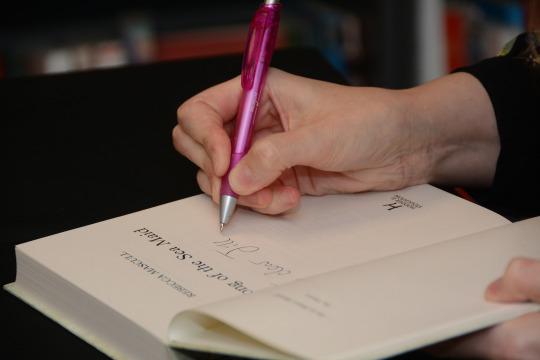 Friends and family sent me images they'd taken and here are a few: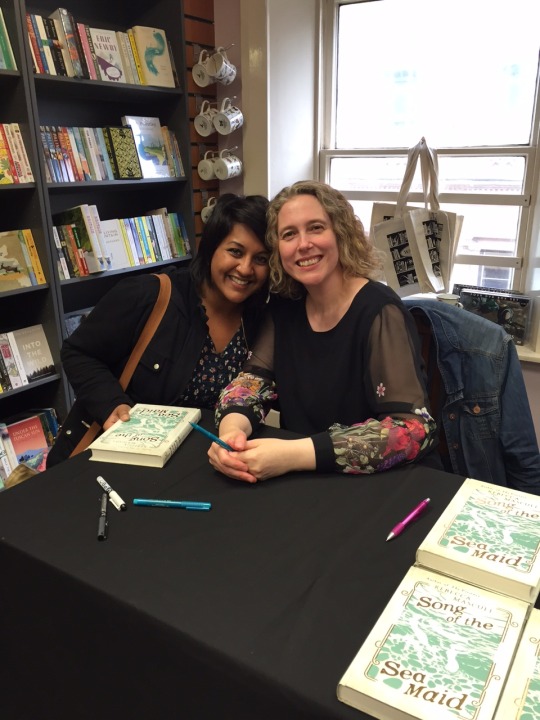 My dear friend Iffy Islam.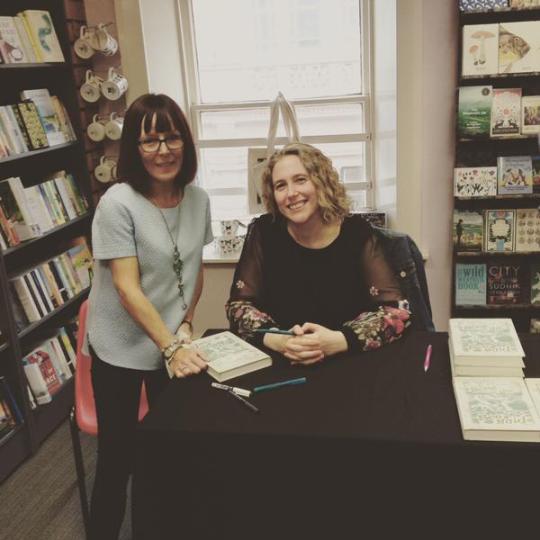 A super bookblogger, Anne Cater.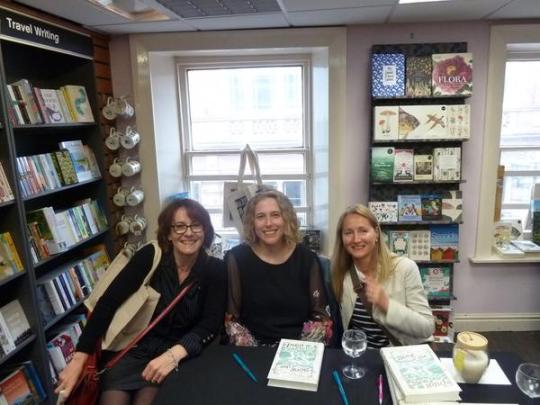 Lots of dear authors also came to the launch – here we have Kerry Drewery and SD Sykes.
And here's a great picture of more authors: Deborah Install, SD Sykes, Vanessa Lafaye & Kerry Drewery.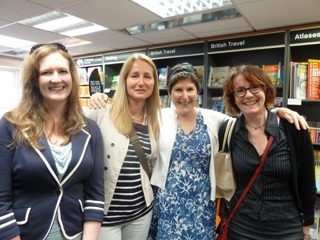 One thing I mentioned in my speech was how wonderful it was to meet authors and readers I'd only ever chatted with on Twitter! I was so very touched and grateful that these lovely people came a long way to the launch to meet up in person – also present were authors Louise Walters & daughter Emily and Iona Grey & daughter Rosie, and Kendra Leighton; and bookblogger Louise Wykes & daughter Pippa and reviewer Vicci Routledge & daughter Ella, as well as author/bloggers Naomi Frisby, Emma Maskell & son Jack and KM Lockwood.
A particular thanks goes to bookblogger Linda Hill, whose husband Steve took several of the photos in this report. Here's Linda at the signing desk: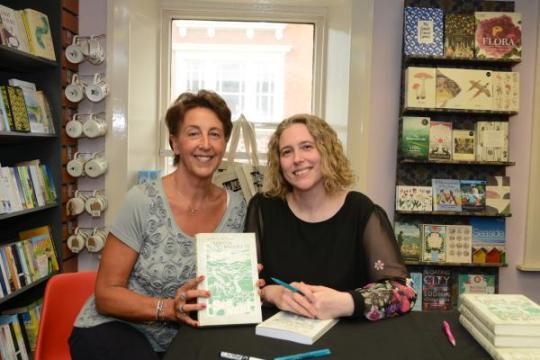 Finally, I'd like to include a full list of everyone I knew of who came – apologies if there is anyone I didn't get to meet who also came! A huge thanks to each and every one of you for making the trip and helping us to celebrate such a lovely occasion.
Mum, Auntie Helen, Auntie Biddy, Vanessa Lafaye
& James, Iffy & Emma, Dr Gillian
Williamson & Adrian, Cathy &
Dora, Sonny &
Tracy, Jon, David &
Donna, Emily &
Alex, Sarah Sykes &
Paul, Jane
Conway-Gordon, Francine Toon, Emma Daley, Kerry
Drewery, Kendra
Leighton, Louise Walters
& Emily, Amy Naylor &
Zoe, Iona Grey
& Rosie, Emma Maskell
& Jack (amazing outfit, Jack!), Deborah
Install; Sue, Steve,
Tom & Emily; Lynn, John,
Abbie and Isobel; Pauline, Jo,
Keira & Amelie (beautiful mermaid costume, Amelie!); Jill Lazarus & Lynn; Healing Book Club: Teresa Rouse, Helen Stanley, Carol England
& Yasmin, Nichola Oldridge & Emily; Rosina Gough (for Alexis); Katy Church, Evie, Poppy Smith & Dan; Anne Cater @annecater; Naomi Frisby @frizbot; Linda Hill @Lindahill50Hill & Steve; KM Lockwood @lockwoodwriter AKA Philippa Francis; Vicci Routledge @VicciRoutledge & Ella; Louise Wykes @jaustenrulesok & Pippa. And last but the opposite of least my homies Simon & Poppy. Such a lucky author and so very grateful.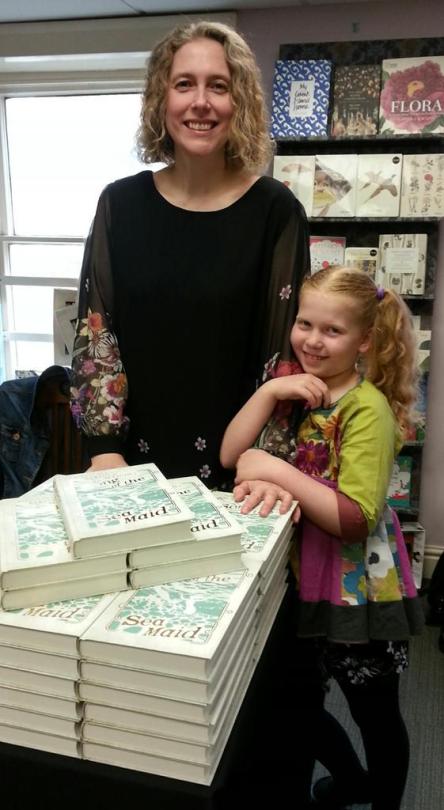 Poppy and I and a lovely big stack of Sea Maids.
And it didn't end there! I also received some wonderful gifts & cards from lovely people:
Flowers from Sue, Marie & Kevin, and Simon: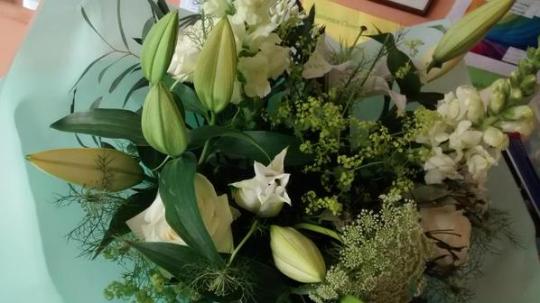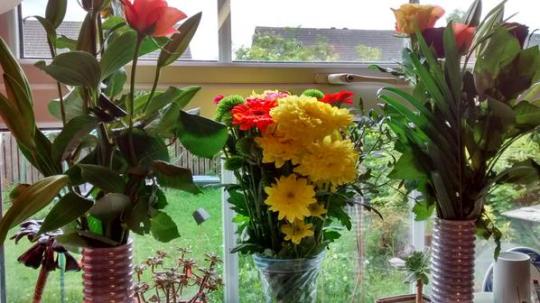 A gorgeous fossil necklace from all at Hodder: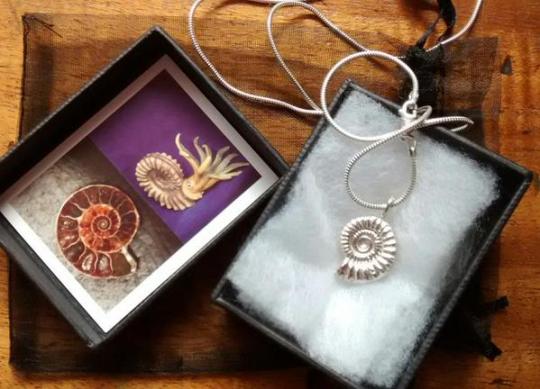 Silk scarf from my mum & card from Auntie Helen: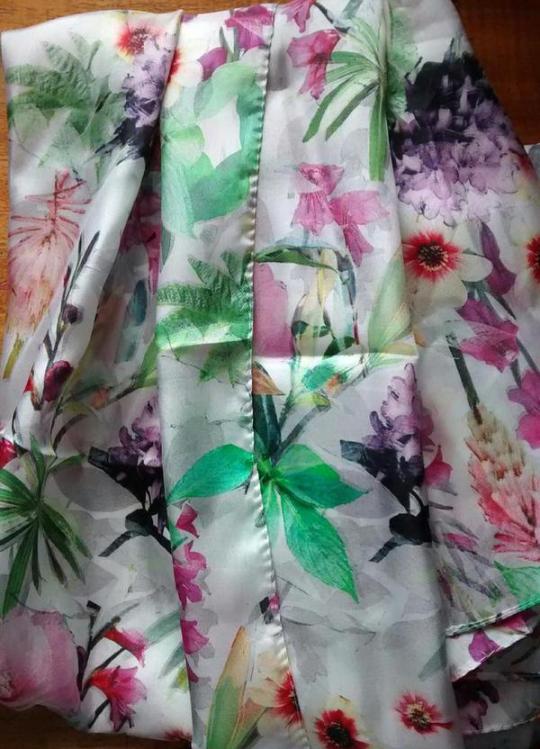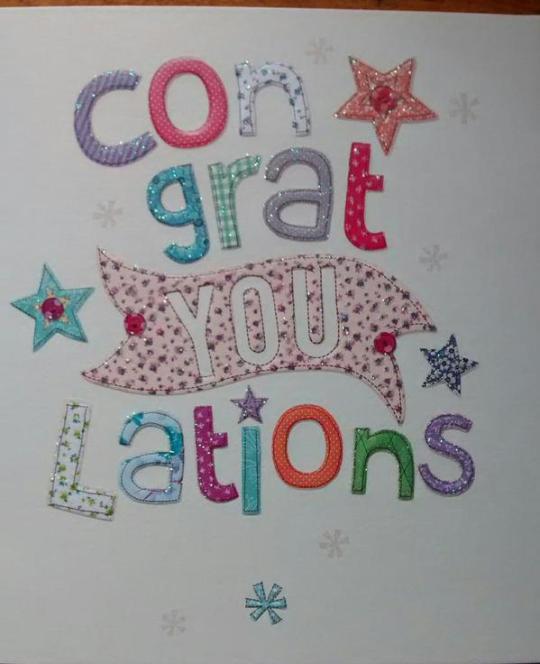 Lovely candle and card from Naomi Frisby: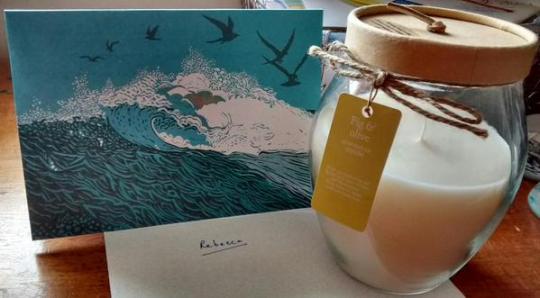 and beautiful notebook from my homies: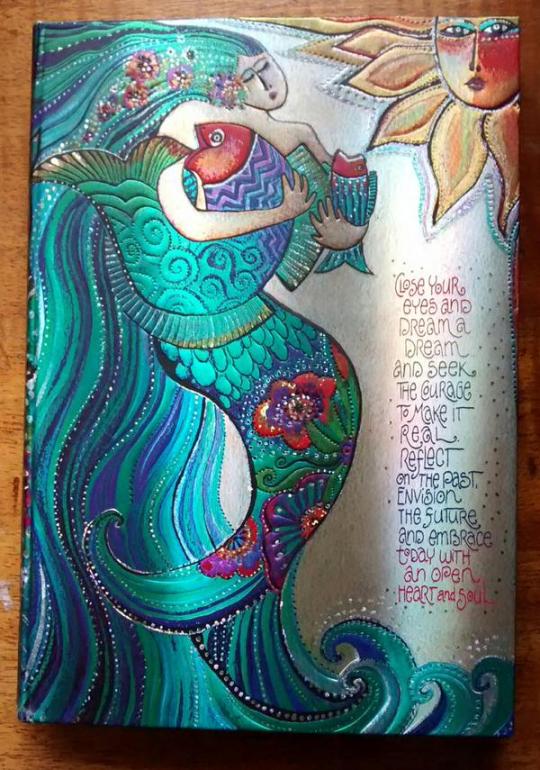 Lastly, a huge thank you to Waterstones Lincoln, our excellent hosts and particularly Claire Hume for all her brilliant help: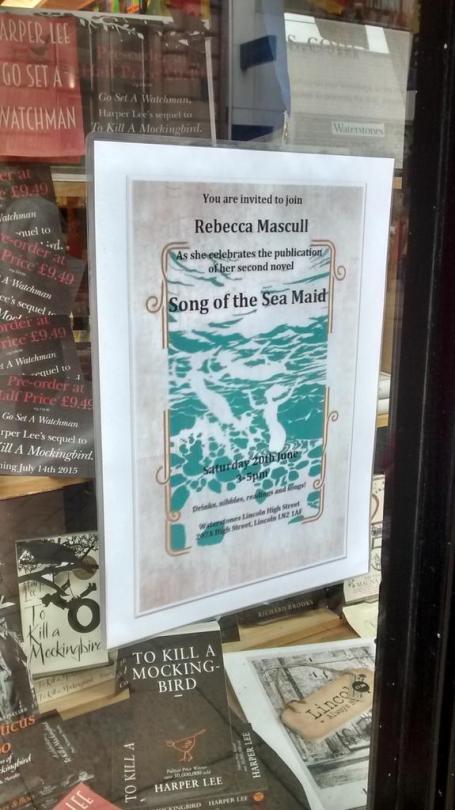 A super event and a massive THANK YOU to all the guests – you guys made it so special. I wish SONG OF THE SEA MAID fair seas and good fortune as it sails off into the wide world…