It's a pleasure to welcome back to my blog Martine Bailey, whose second novel THE PENNY HEART has just been published a few days ago (Hodder & Stoughton).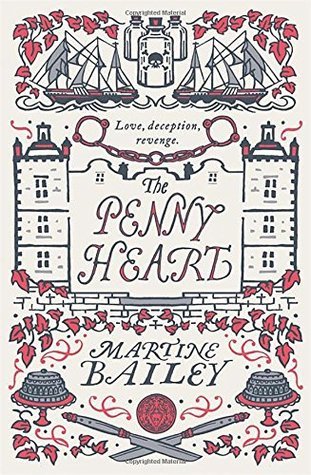 It's the tale of two women, romance, and revenge. The Sunday Times gave it a smashing review: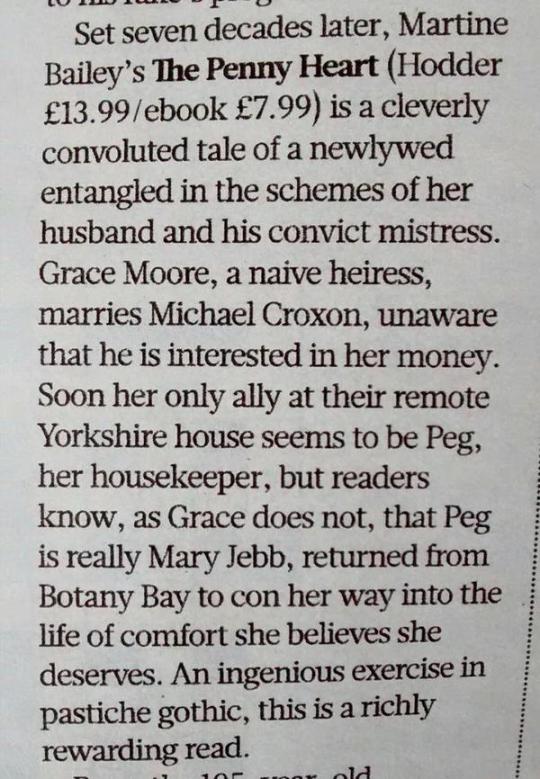 I enjoyed the book immensely – a rollercoaster of a plot that was full of incident and drama, with compelling, richly-drawn characters. Here's what Martine had to say to my questions:
[1] Tell us about the real practice of penny
hearts.
In 1788 the British government sent the first
criminals from its overcrowded prisons to Botany Bay, Australia, a green shore
named by Captain Cook for its variety of botanical specimens. To some convicts
it was seen as worse than hanging, as the Antipodes, at least eight month's
voyage from Britain, were viewed as 'the ends of the earth'.  Penny hearts, or love tokens, were smoothed copper
pennies engraved by convicts with messages to loved ones to remember them by. The
convicts were desperate people about to embark on the Georgian equivalent of a
trip to the moon with almost no prospect of return. Though believed at the time
to lack all humane feelings, they left messages of desolation, pain, defiance
and anger. I mention one poignant coin in The
Penny Heart: a woman who depicted her dog in her cottage garden and the
words: 'This was once my cottage
of peace…Going out of her cottage for life, E.A.' A male
convict depicted in irons wrote: 'How
hard is my fate, how galling is my chain.'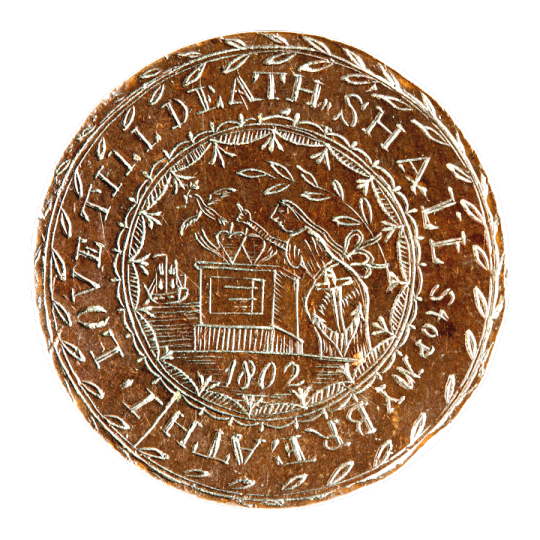 As well as words there is a rich selection of imagery,
such as 'Mary Eater' and her barrow
of fruit or vegetables and another woman releasing a dove beside an anchor of
'Hope' and the words 'I
Love till death, shall stop my breath'. We know from surgeon's
reports that these tokens share the same rich iconography as tattoos: the
chains, anchors, Irish harps and mythical figures that convicts also inscribed
on their skin as statements of defiance.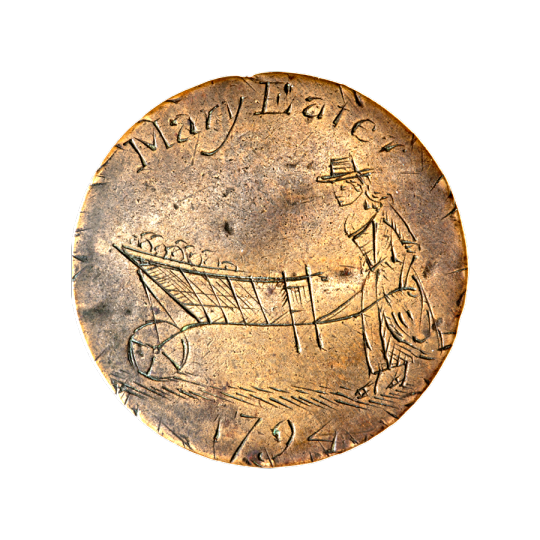 [2] In this book, there is a harsh and honest edge
to the writing, which is very much anti-costume drama! Can you explain this
writing style to us – is it deliberate or just the way it comes out?
I would say that it is the subject matter that is
harsh, and the writing had to reflect that. Because I wrote the opening when I
was living in New Zealand I chose the collision of two subjects – what was happening
in the 18th century in that part of the world, and my own identity as a British
Northerner. The 1790s were a fascinating time, when the Australian penal colony
was struggling to survive, while at home the French Revolution was casting a
dark shadow over a class struggle in the industrialising North.
Once I had read the actual words of convicts, in
letters, trial reports and slang dictionaries of the day, it didn't seem
appropriate to use the standard 18th century language of 'civility'.
Particularly when I was writing Mary's
chapters, I had the criminal slang of 'cant' in mind, and though aware that too
many obscure terms would make it incomprehensible, I wanted to give a flavour
of that vibrant culture.
As for being anti-costume drama, I would say that BBC
2's Banished interpreted a few of the
same events with a lot more testosterone! By contrast, I wanted to present the
women convicts' experience, so the Great Storm needed to be shown. On their
first night on land a nightmarish sexual free-for-all was allowed by the
authorities, because it was 'only to be expected' after months of male
incarceration.  I'm glad you picked up on
the honesty, as I wanted to forcefully contrast Mary and Grace's experiences,
as a result of the 'lottery of life'.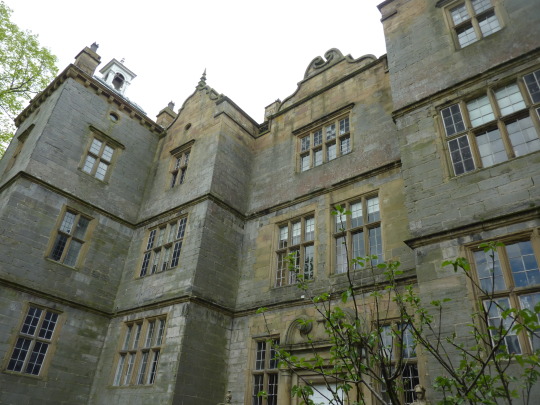 Plas Teg.
[3] Is Delafosse Hall based on a real place? Tell
us about the English settings in your book. Did you, for example, wander the
streets of York?
Delafosse Hall is a hybrid of a number of historical
locations. I imagined the facade to be Plas Teg, a Jacobean manor near my home
that once featured on the BBC's 'Country House Rescue'. For many years it was
abandoned until it was refurbished by Cordelia Bailey (no relation) and it
still has areas of complete dereliction. The carved Jacobean staircase is similar
too, as is the underground kitchen.
But to be honest there are bits of other houses,
too – the Hunting lodge is not dissimilar to The Cage at Lyme Park, and the
general sense of ruin was inspired by Calke Abbey.
Yes, I did walk the streets of York. One particular
scene was set in the Assembly Rooms (now an Ask
Italian restaurant) that still contain the original Corinthian pillars.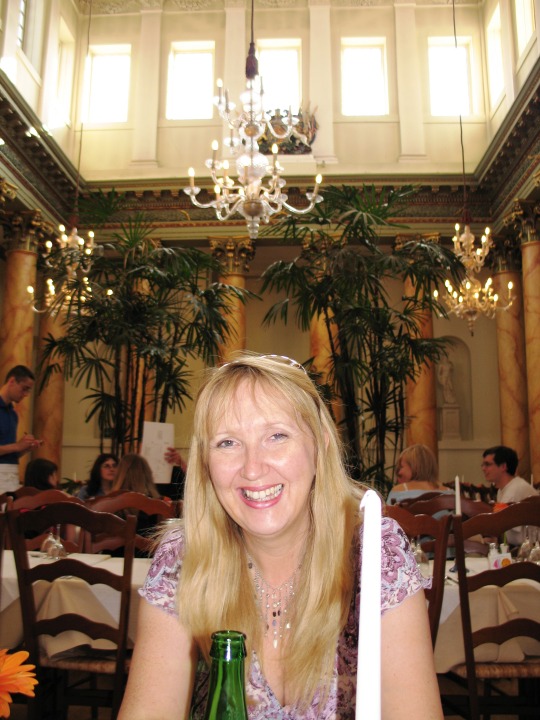 I know
York quite well, through repeated visits to the wonderful Fairfax House, a
centre for many Georgian events and publications. 
(*interrupts* I visited Fairfax House too, when I was researching SONG OF THE SEA MAID. It's a wonderful treasure trove of C18th bits and bobs, isn't it! I used the kitchen there as the basis for the one in Mr Woods's house.) 
It was a pleasure to write
those scenes, because like Grace, it was good to have a break from Delafosse
Hall in a bustling, beautiful city.
The scenes in London had more literary and online
inspirations. Golden Square was well described by Thomas de Quincy as an area
of genteel poverty and there are lots of accounts of Newgate and St James's
Park. Like Sydney, some parts of London are so layered with subsequent development
that it can be easier to describe them from old prints than find evidence of
the past today.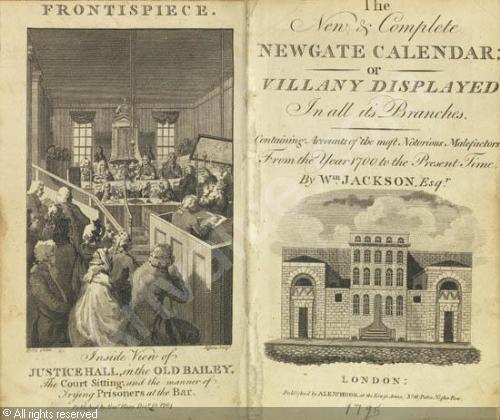 [4] What recipes did you try out whilst writing
this book? And which is your favourite?
So far I've only tried the more familiar
recipes: Apple Pie, Pease Pudding, Cherry Trifle, Gingerbread, Yorkshire Fat
Rascals and some of the decorative sugarwork. The gingerbread is a particular
favourite of mine, though the recipe I give is bulked out with additives to maximize
profits. Wooden
moulds for gingerbread have a long tradition, carved in the shapes of carriages
and animals, heroes and monarchs. There were romantic associations too, in the
baking of gingerbread 'husbands' and 'wives', bought by sweethearts as 'fairings'.
The gilding of gingerbread gave it a glittering appeal, recollected in the
proverb Grace reflects on as she becomes disillusioned by her husband: To
take the gilt off the gingerbread. (Meaning: the fading of an item's glamour.)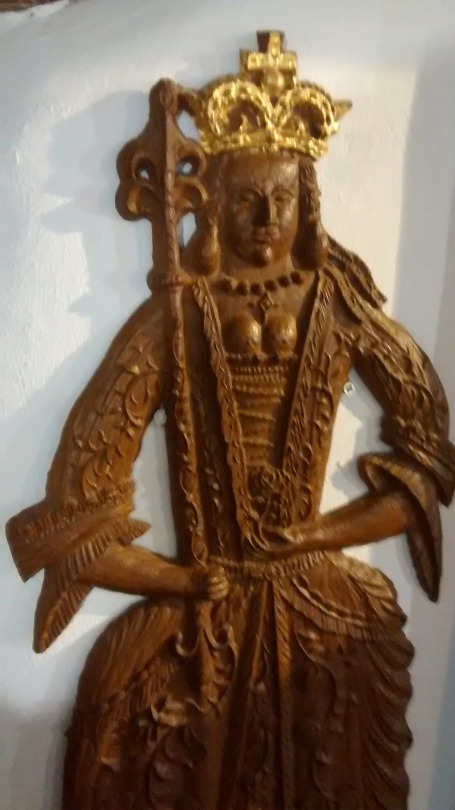 Gingerbread
The
Georgian era was an age of 'remedies' and elixirs, peddled by criminal quacks
and charlatans. I spent a long time looking for quack recipes until it
dawned on me that of course these were entirely secret. There are hints,
however, in home remedies such as Poppy Drops, to help the imbiber sleep, or
old wives' cordials made from narcotic herbs to help women in labour fall into
a 'Twilight Sleep'. In the United States the
novel will be titled A Taste for
Nightshade, reflecting Mary's fascination with sinister additives.
I did try some extraordinary food on my travels,
including Maori foods cooked underground with hot stones in a Hangi pit oven. I also ate kangaroo,
crocodile, paua (black sea snails), campfire damper and grubs. I wanted to look at recipes
from a different perspective – as quackery and aphrodisiacs and also at an
absence of food on people and the extraordinary trust we show when we eat food
made by a stranger's hand.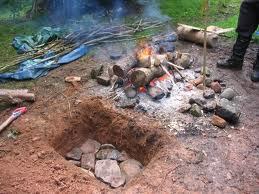 Hangi pit oven
On a
lighter note, when I came back to the UK I embarked on
learning period sugarwork with food historian Ivan Day and was fascinated by
tiny sugar devices, such as a doll-sized bed to be placed on a bride-cake and a tiny cradle and swaddled baby. Just as we might treasure the
'cake-topper' from a wedding or Christmas cake, these are symbols of hope and
fecundity. In the novel however, they do have a double-edge; though beautiful
objects, they are in the end fragile, lifeless, and of course ultimately
edible.
[5] The Australia and New Zealand sections were
particularly compelling for me. I see from the Acknowledgements that part of
the book was written there. Where did you stay and where did you wander? How
did this inform the book?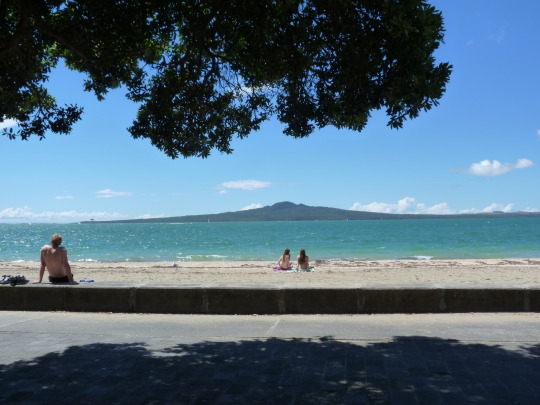 My son Chris lives
out in New Zealand, so it had been an ambition of ours to spend some time with
him and possibly emigrate. Then in February 2011, Chris and his partner were
caught up in the Christchurch earthquake and we speeded up our application to
go as sponsored parents. In September 2011, my husband Martin and I flew out
there after arranging a series of house-swaps through home exchange websites. For
our first year, we lived on New Zealand's East Cape, with an ocean view of the
Pacific studded with the same volcanic islands as those recorded in Captain
Cook's Journal. The solitude and sense
of distance and disjunction from Britain was an immense influence on The Penny Heart.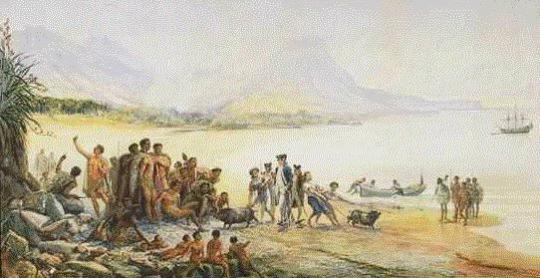 Cook in New Zealand
Martin was
teaching Maori youngsters and photographing local people for a Creative Arts
exhibition, so I was fortunate to get a glimpse of the strong local traditions
of singing, tattooing and celebration around the Maori meeting grounds or Marae.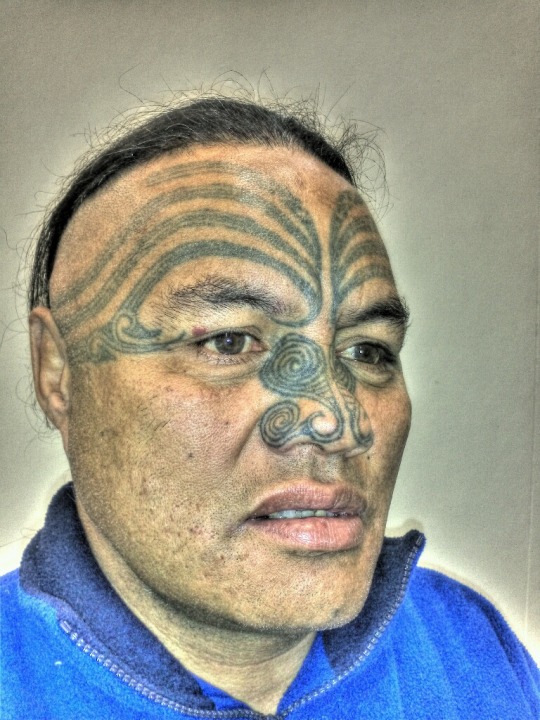 After our first year, we
travelled more, spending time across the Tasman Sea in Australia. There is
political ambivalence about the First Fleet now, and I found it poignant to
visit the plants in the Botanic Gardens, the last remnants of the first Government
Farm. My highlight was a boat ride to Parramatta, where the Governor's house
and first settlers' farms are cherished by heritage institutions.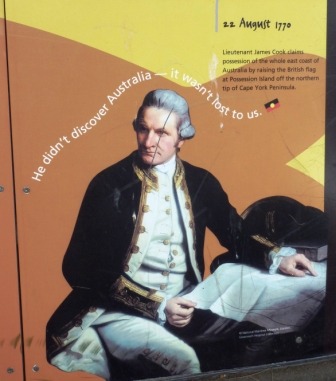 By this time, I
was dealing with my editor at Hodder nearly every day by email and it became
clear that we would return home to the UK. We spent our last months in Auckland
where we lived and worked in an eco-house, and I also gained
a place on the New Zealand Society of Authors' mentorship programme. In New
Zealand we both gained from the uncomplicated 'can do' attitude – which I still
miss, along with the comfortable modern libraries with the best views in the
world.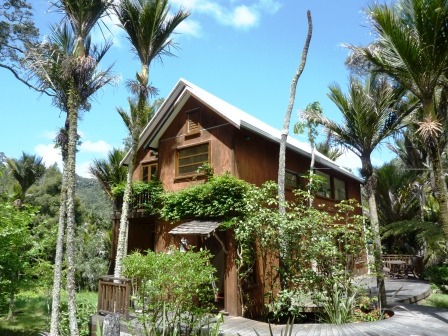 [6] Your writing is rich with historical detail.
Take us through your writing process in terms of how precisely you organise
your 18th-century research into the fictional elements.
The Penny Heart began with memorial objects such as the Penny
heart itself and the factual history surrounding it. Next, I read a great deal,
photocopy interesting history, make lots of notes in notebooks and start to
sketch out the conflicts between characters. My favourite bit is to decide
where and how I can go on research trips – the chance to get out and learn
something new is always attractive.
My day-to-day process is to use a series of thick
notebooks that I scribble nearly everything in as I am writing. This has
brainstorming, mind maps and scraps of dialogue, a timeline and even sketches
of costumes and rooms. I also have a shelf of labelled magazine boxes where I
keep information on subjects such as food, locations, museum brochures, and so
on. Later, I usually set up a big corkboard with images. At some point in every
novel I find myself tested by the sheer amount of research and sadly about half
of it doesn't even get into the final book.
[7] The two female protagonists – Grace and
Mary/Peg – are opposites in many ways. How did you come up with that idea, to
tell the tale of two contrasting women in juxtaposition?
Again, I think the situation I was writing in
suggested contrasts on many levels, whether between wild convicts and respectable
pioneers, or between myself as a new migrant and my more comfortable life in
Chester.  Then of course, we were
literally 'house-keeping', inhabiting other people's homes, driving their cars
and using their household goods – an interloper's role experienced by both
Grace and Mary. Moving to a new country brings an untethering to the past while
simultaneously seeing your past self and your home nation in sharper focus.
That, I suspect, is why so many writers place themselves in various kinds of voluntary
exile. We also met many migrants who had that kind of split in their identities,
and one of my richest experiences was listening to migrants from China and
other parts of the world and thinking about their struggles to bridge the gap
between their old and new selves.
Of course there were lots of literary influences,
too. I remember studying Paradise Lost
and how even Milton struggled to make God an engaging character beside the
fallen glamour of Lucifer.  Mary arrived
fully formed as a character; I immediately admired her cleverness, her pluck
and courage. Grace couldn't help but become the observer of events, a sensitive
everywoman who is forced out of her passivity. I did have a long struggle over
who should prevail!
I like using a dual narrative because it heightens suspense,
as neither character knows the entire story –  but the reader can actively try to piece it
together. I didn't find it easy, and there had to be many re-drafts because of
the time jumps in Mary's backstory. I also love this form in the contemporary
crime novel, for example Barbara Vine/Ruth Rendell's psychological novels,
where much of the fascination with criminal behaviour arises from the reader
observing both victim and prey.
[8] What's up next for you and your writing?
At the moment, I am pleased to be living in one
place again, back in Chester. The Penny
Heart has just come out so there are lots of talks and events to prepare
for. I do have a synopsis and opening for Book 3 and am thrilled my agent likes
it. All I can say at the moment is that it is set in the countryside and I love
the new idea and the Georgian documents that inspire it.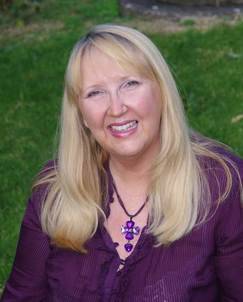 Thanks so much to Martine for fascinating answers – such detail and thought shows clearly that here is a hard-working novelist with impeccable research. If you like the sound of THE PENNY HEART, you should also check out Martine's first novel, AN APPETITE FOR VIOLETS. I interviewed Martine about that here:
http://rebeccamascull.tumblr.com/post/108249339433/interview-with-martine-bailey
and you can find Martine online here:
https://twitter.com/MartineBailey?lang=en-gb
https://www.facebook.com/MartineBaileyWriter
https://www.pinterest.com/biddyleigh/an-appetite-for-violets/