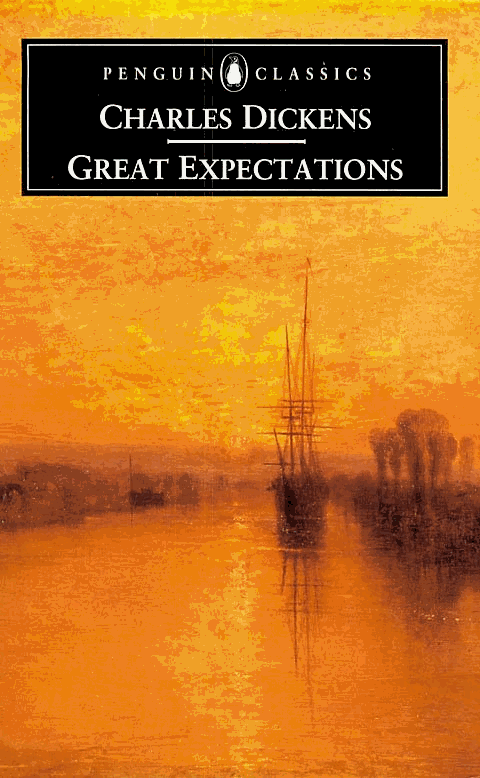 I recently reread this classic book and was in awe! I knew it was brilliant, but reading it as an older, somewhat wiser reader I was quite amazed at the virtuosity of Dickens's writing here. Itching to discuss it with someone equally enraptured, I put the call out on Twitter and found Katherine Muskett @Compleat_Reader and Helen Stanton @Helannsta to share the joy. We had an email conversation about the great book. Here's what we had to say:
Katherine:
First of all I should say
that I am not huge fan of Dickens. I haven't read all of his books (apart from
GE, I've read Dombey & Son, A Tale of Two Cities, A Christmas Carol and
Oliver Twist). What I love about GE is that Dickens keeps the plot relatively
streamlined. Although he deploys many different genres & literary
techniques, they all seem subordinated into the book's psychological realism.
In the first part of the novel, I think he manages to successfully intertwine
the child's perspective and adult understanding (which is no easy task). As Pip
is growing up the reader can see the mistakes he is making (his treatment of
Joe, for example), but by interlacing it with the remorse of the adult narrator,
it allows us not to lose sympathy with him. The other feature I love about
this book is that (unlike some of his other novels) is that he never descends
into sentimentality.  
The book has for me tremendous energy and I think that is in part to do
with its serial publication – the need to keep the reader coming back for the
next instalment.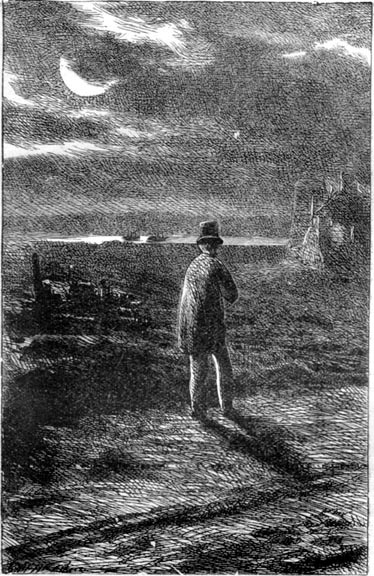 Pip all alone, near the Lime Kiln.
Rebecca: 
I
suppose I should lay my cards on the table and say I AM a huge Dickens fan! But
with the proviso that I don't love all his books equally. There are a couple
that I won't lose any sleep over never reading again, that's for sure. But he
was so prolific, I guess he's allowed a few duds. And I agree that as Dickens
goes, he nails it in Great Expectations. I think you're absolutely right about
the matter of perspective. It would be very easy to judge Pip harshly,
particularly the young man Pip who betrays his roots and – let's face it –
becomes rather an insufferable little snob. Yet the older, wiser adult
perspective looking back so cleverly allows him to comment upon himself and his
failings, that one cannot fail but feel sympathy – there's a great bit where
he's come back from London to his home town and is persuading himself that it
wouldn't be right to stay back at the old forge with Joe and instead lodges at
the Blue Boar and the older voice says: "All other swindlers upon earth
are nothing to the self-swindlers, and with such pretences did I cheat
myself." There are just dozens of these little gems in the book, that
wisdom, that knowing look at our failings.
And
this contributes to what you so rightly said about psychological realism. Those
insights into human nature are present in every character, from the major ones
like the jilted Miss Havisham to marvellous little walk-on parts like Trabb's
boy, who taunts the newly-minted gent Pip as he struts down the street,
shouting "Don't know yah…pon my soul, don't know yah!" That kid certainly
has the measure of Pip! I just love Trabb's boy and all those Dickens folk who
leap off the page.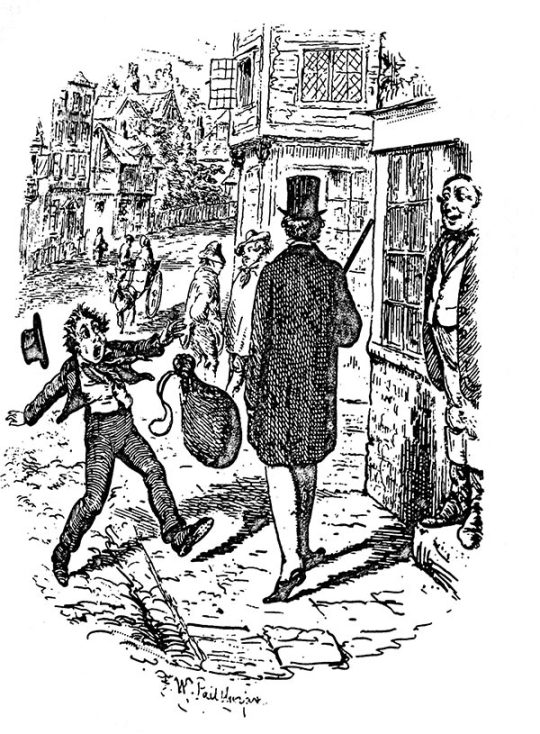 Trabb's boy mercilessly mocking Pip!
And here I come to a criticism often hurled at Dickens, that
he only writes caricatures. I get that, I can see what people mean – but I just
don't buy it. Dickens achieves this rare, rare thing, as he writes such
entertaining stories full of fascinating characters, but at the same time he
has such a deep and precise understanding of the human condition, that all our
foibles and weaknesses and our loyalties and moments of greatness are shared
out equally amongst all characters – such as Joe Gargery, at one moment we are
laughing gently at his ridiculous posturing when he visits Pip in London and
tries to fit with his idea of gentlemanly conversation: "I meantersay…as
it is there drawd too architectooralooral." But moments later, we see his
innate dignity when he says to Pip: "You won't find half so much fault in
me if you think of me in my forge dress, with my hammer in my hand".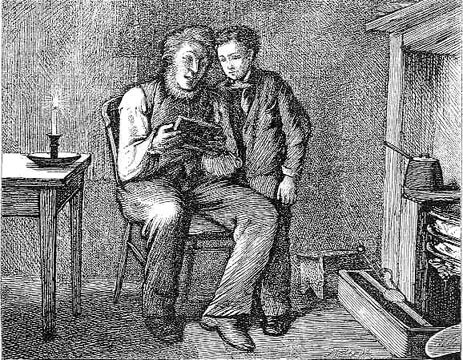 Pip and the wonderful Joe Gargery.
I'm
really interested in what you said about sentimentality too – can you expand on
that for me? Where is it you feel Dickens avoids this in Great Expectations?
And
also can you tell me what genres and techniques you appreciate in the book?
Katherine:
I
think that Dickens (in GE at least) is an expert manipulator of genre,
combining forms and generic conventions in all sorts of entertaining &
illuminating ways. In particular, the deployment of the gothic in his creation
of Miss Havisham. Although she appears weird and fantastical to the young Pip,
her strangeness beautifully communicates her breakdown in a way that seems to
me entirely authentic and believable.  Trabb's boy is another example of
Dickens' generic flexibility.  I know what you mean about caricatures, but
surely the whole point of a caricature is that we recognise ourselves in it?
We're all capable of self-delusion, snobbery and weakness (and perhaps that's
another reason that we manage to keep faith with Pip?).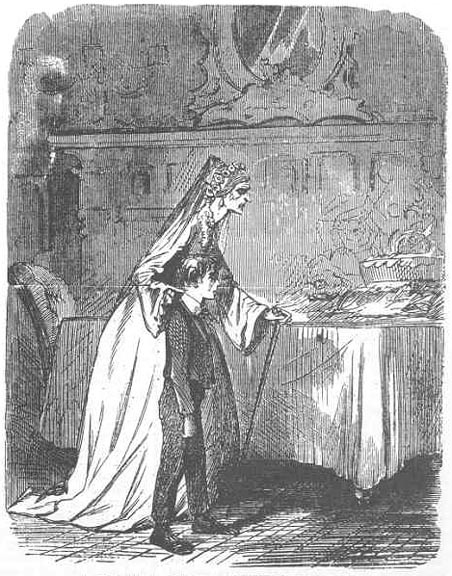 Pip, the skeletal Miss Havisham & the great bride-cake, crawling with spiders.
As
well as aspects of the gothic, I think the story draws on other traditions and
conventions. There's a sense of moral fable, as eventually Pip comes to
recognise that Joe is the true gentleman. Pip sees himself as a sort of fairy
tale character too (at least until his fall from grace), and Estella as his
princess. Underneath that there's a deeper tale of moral redemption – not so
much of Pip, but Magwitch. Dickens' treatment of the convict is compassionate
& Magwitch's court appearance is a fantastic piece of social commentary.
Compared
to Dombey & Son (the Dickens novel I know best after GE), the deaths are
largely free of sentimentality. Of course there are no children or mothers
dying within the narrative, which helps! Pip's two flawed mothers (Mrs Joe
& Miss H) die but as neither of them have been Dickens' 'Legless Angels',
there is less emotional weight attached to their deaths.  Magwitch's death
is moving but I think it's lifted above pathos by his earlier performance in
court.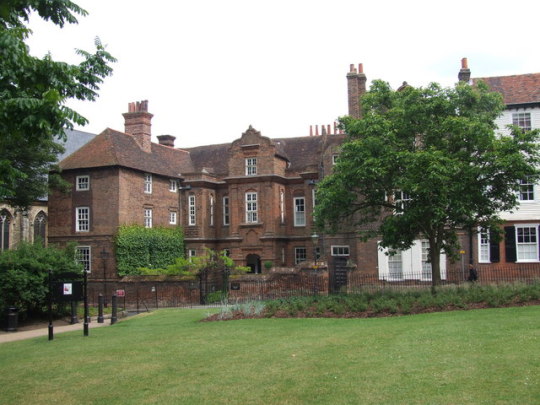 Restoration House, Rochester, the model for Satis House, Miss Havisham's haunted, crumbling mansion.
Rebecca:
Your
email was so fascinating, I read it several times and then it sent me off to
read George Orwell's essay on Dickens! 
Orwell
criticises the messages present in Dickens's works, as illuminating social ills
and yet suggesting no remedy. I love Orwell in many ways, but I'm not sure I
agree that it should always be the novelist's job to provide answers. The very
fact that a middle-class man like Dickens was highlighting the plight of
convicts sentenced to death – in that wonderful court scene you mention where
the faces of the condemned are described in wonderful and pathetic detail – and
through a character like Magwitch, allows the reader some insight into how such
a man is formed. The chapter where Magwitch describes his desperate upbringing
is so poignant and Pip's change from horror and revulsion at the sight of
Magwitch to wishing to spend every moment with him before his death is an
extraordinary transformation, and one in which Dickens shows us the possibility
of seeing people in all their complexity and avoiding simplistic labels, such
as 'convict' or 'gentleman'. As you say, Joe is a true gentleman, and Magwitch
a loving father by the end of the narrative, something which seemed impossible
at the beginning.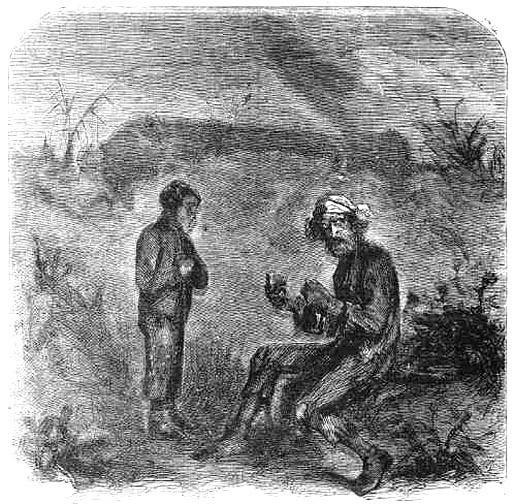 Pip meets a haunted-looking Magwitch in the graveyard.
Although
Orwell criticises many aspects of Dickens, he does have tremendous respect for
him too, and at one point makes this claim:
no novelist has shown the same power of entering
into the child's point of view.
Great Expectations begins with the child, in a similar way to David
Copperfield, yet GE goes deeper into the complex moral sense of how it feels to
be inside the child's mind. Right from the beginning, Pip is laden with guilt
about almost everything he does. Being caught by a convict haunts the rest of his
life, of course, but not only in the narrative sense (as the convict becomes
his secret benefactor) yet also in a sense of guilt.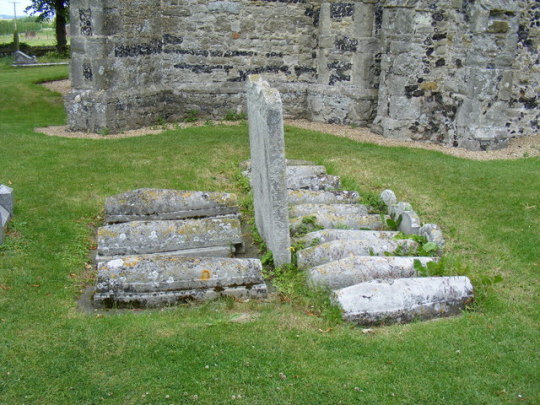 Child graves at Cooling Church, said to be the inspiration for those of Pip's family by which he stands shivering at the book's opening.
Pip commits a crime in
helping the convict – theft of food and the file – for which he is never
punished. On his way with the stolen goods he imagines objects animate and
inanimate accusing him – 'Young thief!' And he never really gets over this
fear. As a young gentleman, when Estella comes to visit in London, she sees
Newgate prison and asks him about it, to which he pretends he knows nothing
about it and yet we know he has recently visited there with Wemmick. He has
been brought up in a particularly strict, moralistic and critical atmosphere by
Mrs Joe and Uncle Pumblechook, who accuse him of being capable of all manner of
terrible things, on no evidence. 
Yet,
perhaps we are all raised in some aspects of this – all children are told off
for behaviour that does not seem wrong to them, so that they are constantly
learning which are the correct desires and those that require denying. That
sense of guilt and wrongdoing that Pip carries around him – I believe this goes
towards the deep psychological realism you mention, but despite the mythical
quality of some of the settings and characters, there is always this sense that
the reader knows Pip deeply, indeed in our own childhoods we ARE Pip! It's this
ability to look back and forgive children their failings and mistakes on the
road of experience, that allows us to keep faith with Pip but also to forgive
ourselves a little bit too.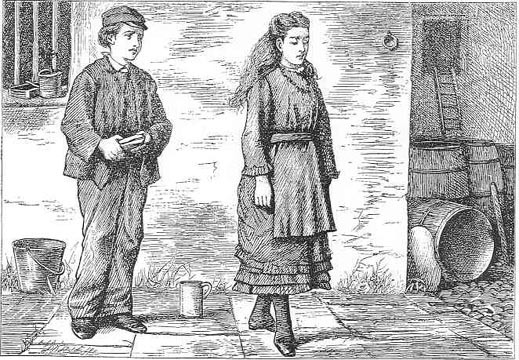 The 'coarse, common' boy Pip and proud Estella.
The
fairytale aspects you mention are very interesting – you're absolutely right
that Pip sees himself as a kind of prince, rescuing Estella from the wicked
witch. And Satis House is like a kind of bewitched castle, such as that you
might find in Sleeping Beauty, whilst the truth about Estella is in fact that
she has a heart of ice, like the Snow Queen. And all this serves to present the
reader with powerful, memorable imagery – such as the astonishing scene of the
bride cake infested with spiders. Yet beyond this, Pip learns that life is not
a fairytale, and in Dickens's original ending, things do not end happily ever
after. It is a very honest novel in that way, that Pip has his illusions
shattered and thereafter – instead of coming home with the great prize – he
simply makes the best of things, as we do in our real lives. I have a real soft
spot for the hero's journey as a narrative, yet the realist in me also sees its
fakery. The brilliance of Great Expectations is that it merges the fairytale
and the real, in a way perhaps no other Dickens novel does so well.
Katherine:
I've been flicking through GE & noticed the way in which Dickens turns
people into objects & animates objects. Wemmick is described as having a
'post-office of a mouth' (vol 2 ch.2] and Miss H becomes increasingly
identified with her rotting cake; Drummle is 'a heavy order of architecture'
(vol 2 ch. 4).  Objects become animated (usually malevolently) in ways
that externalise Pip's sense of guilt – 'a meek little muffin  confined
with the utmost precaution under a strong  iron cover' (vol 2 ch.14), not
long after he 'had Newgate in [his] breath' (vol 2 ch. 13). Jaggers 'stood
frowning at his boots as if he suspected them of designs against him' (vol 2
ch.17).  As Pip's fairy tale collapses he lies in bed 'the closet
whispered, the fireplace sighed, the little washing-stand ticked' (vol 3 ch.6).
I think Dickens creates a sense of an almost malevolent world in which objects
are animated and people dehumanised.
Pip
is haunted by guilt throughout, which he traces back to the first encounter
with Magwitch but I can't help thinking there's an underlying sense of his own
wickedness, inculcated from birth. I wouldn't quite call it Original Sin,
because his tormentors and accusers (Mrs Joe, Pumblechook) don't seem to have
any sense of their own moral failures, but Pip is made to feel that he is
inherently wicked (it reminds me a little of Mr Brocklehurst in Jane Eyre and a
vicious desire to break the child's spirit). In a sense perhaps, although I
don't think it's articulated anywhere, Magwitch is a manifestation of Pip's
sense of guilt, even before he has stolen for him.  One of the critics has
something interesting to say about a similar role for Orlick.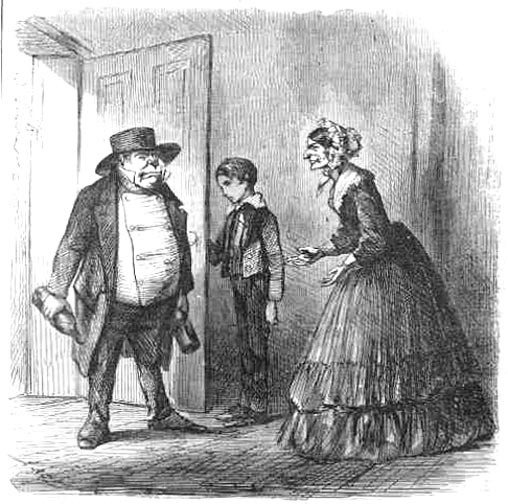 Uncle Pumblechook and Mrs Joe picking on Pip, as usual.
Returning
to Pip, I think at one point we feel Dickens talking to the reader directly
through him, in an extraordinarily moving passage (vol 1 ch.8) in which the
adult Pip describes his feelings of childhood injustice: 'In the little world
in which children have their existence whosoever brings them up, there is
nothing so finely perceived and so finely felt, as injustice' – the more times
I read that passage, the more I feel this is Dickens himself addressing the
world directly.
Rebecca:
I think you're absolutely spot on as regards Pip being born with a
sense of guilt – he does seem to carry it about with him & it's a brilliant
point that Magwitch is like the spirit of his shame somehow. Perhaps it stems
from the death of his parents and most of his siblings, and that Mrs Joe
constantly makes him feel guilty for ruining her life. Perhaps that's partly
where the guilt comes from, a kind of survivor's guilt in the first instance,
and then the guilt of being a burden thrust upon him in the same way Mrs Joe
detests her apron!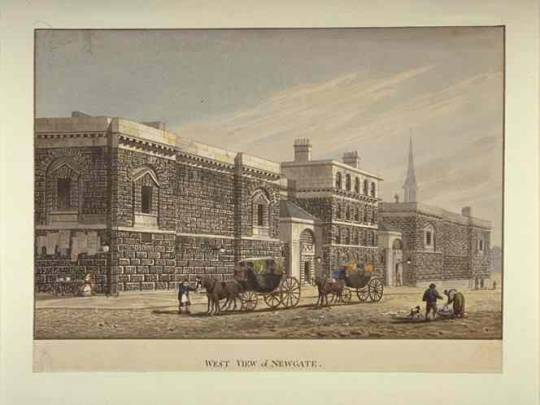 Newgate Prison in Dickens's time, perhaps another manifestation of Pip's guilt.
Helen:
My
Dad's response to me when I was a young and (as I saw it) rebellious young
student and I told him (a huge Dickens fan) that I thought CD was unrealistic
with cardboard cut-out characters. My Dad just responded very calmly that as I
got older I would realise that CD captured the essence of human nature in a way
that very few writers since have been able to…and I have found that to be
absolutely true.
In
Pip he doesn't just portray the bewilderment of an abandoned child but also the
sexual obsession of a young man totally unable to express himself because of his
life experience as well as social conventions of the time.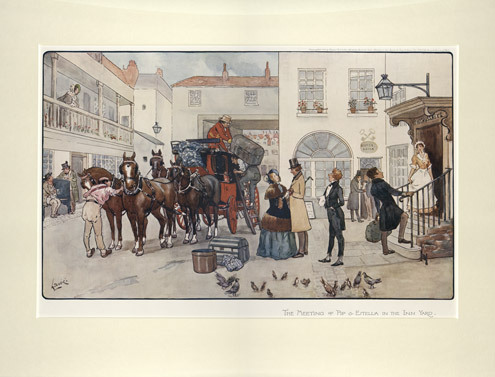 Pip meets Estella outside the Blue Boar.
I
think the only other point I would make is to agree with Katherine ….yes CD
did often create caricatures but usually he used them to highlight a serious
point about human behaviour. Miss H is a fantastic creation but she does show
how obsession and jealousy not only poison your own life but those of people
around you.
Finally, of course, there is his humour. He remains one of the few writers who can
make me laugh out loud on a train… What larks, Pip, what larks!!!
Rebecca:
Absolutely! Here's a classic quote, pure Dickens comedy. Here is the description of a very minor character, Mr Hubble, yet one whose bandy legs will live on forever in my memory and, indeed, make me laugh out loud on trains:
"a tough, high-shouldered stooping old man, of a sawdusty fragrance, with his legs extraordinarily wide apart so that in my short days I always saw some miles of open country between them when I met him coming up the lane."
In my short days!!
Sawdusty fragrance!!!
As my mum says, 'Who could ever have thought of that except Dickens?!'